#TheChoiceOfPros for
Virtual instructor-led trainings
The enterprise grade solution for professional virtual training.
Generic meeting tools, built for quick collaboration, offer basic audio, video and screenshare, falling woefully short of critical capabilities required to power advanced use cases. Hence rarely the choice of professional educators and training leaders.
Virtual instructor-led trainings ≠ Internal collaboration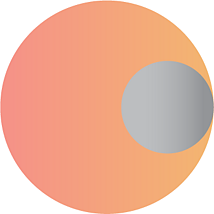 Virtual instructor-led trainings
Critical capabilities for virtual instructor-led training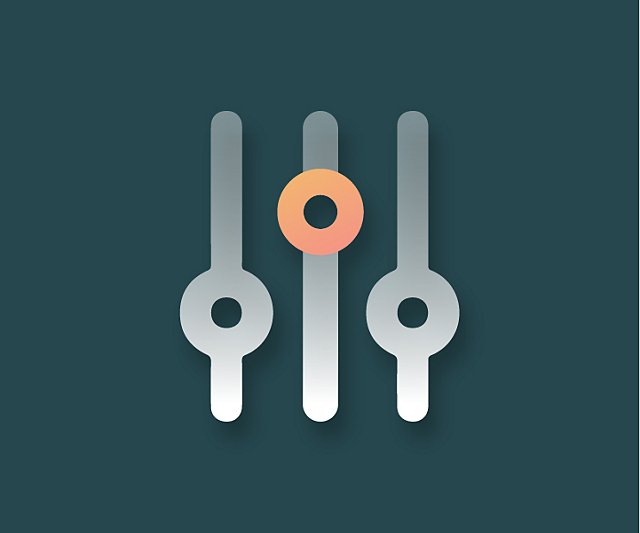 Ability to add visual aesthetics, structure, motion and focus to virtual sessions.
Adobe Connect
Allows trainers to design engaging virtual experience proven to drive retention and ROI.
Generic meeting tools
Built only for single click collaboration with a cookie-cutter, the boxed approach using just screen share, video, and chat.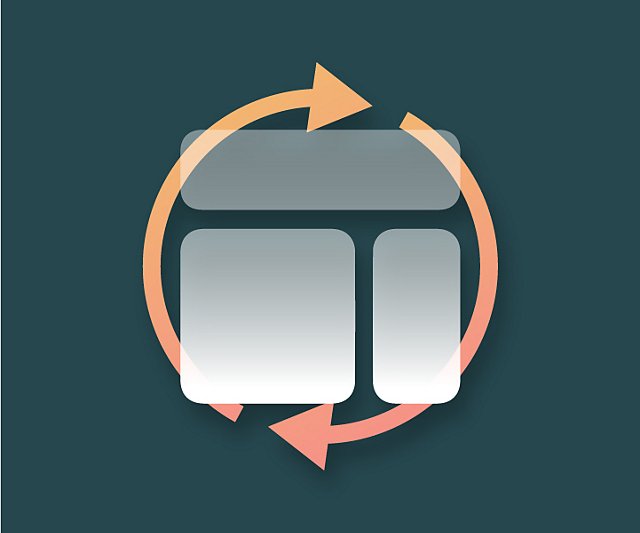 Reusability for efficiency & scale
Pre-configurable rooms that maintain state and content for productivity at scale.
Adobe Connect
Is built to support goals of high-quality training & learner retention, with speed & effciency. Trainers can setup virtual classrooms with preloaded content, storyboards & activities ahead of time & reuse it, perpetually.
Generic meeting tools
Mostly point products for video and screensharing rather than prepared lessons. Trainers end up delivering disjointed sessions with sharing and unsharing while switching between apps and files.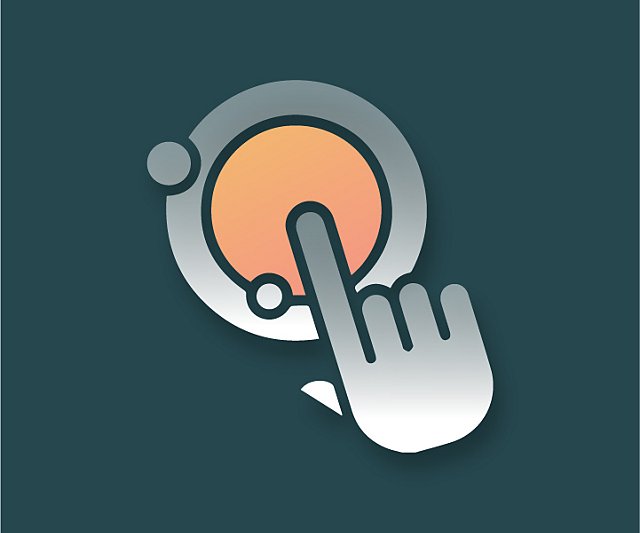 Ability for advance preparation, orchestration and granular host control.
Adobe Connect
Offers unique capabilities to let trainers be prepared ahead of the live session and in complete control during the live session. Trainers can run enrolments, share pre-reads & post-session assessments, attendance & reports all from same the tool.
Generic meeting tools
Basic tools fall woefully short on letting the trainers be in control of when and how to engage the learners.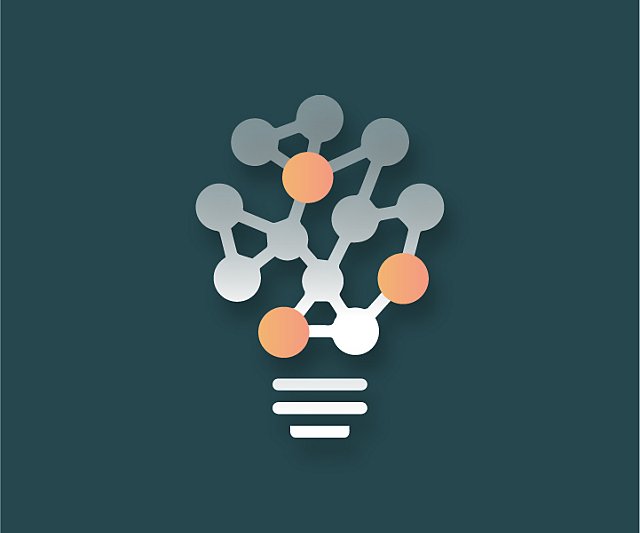 Complete Digital Learning Solution
Adobe offers a complete eLearning Solution with Authoring tools, Learning Management Systems (LMS), and Virtual Classrooms with tight integrations and data flows.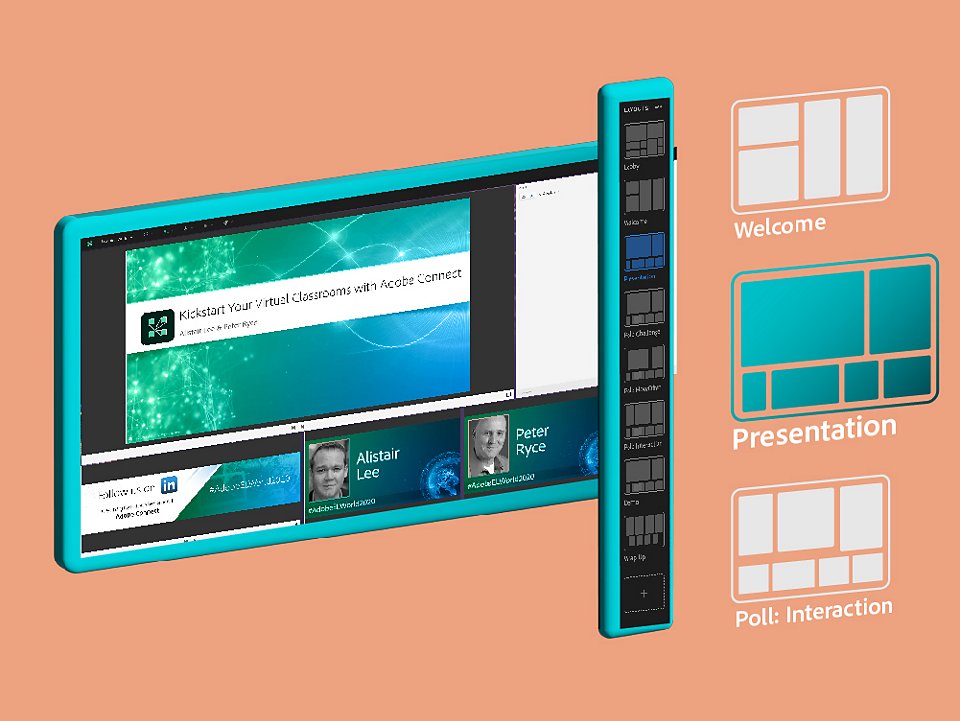 Adobe Connect - rooms can be used as a canvas to set up trainers' content according to their style and goals. They can create layouts using a multitude of resizable, custom-labeled Pods. Layouts help add motion, structure, and focus to a virtual classroom.

Generic meeting tools - have a single static view. No custom layouts, ability to transition between layouts or multiple interactive in-room pods.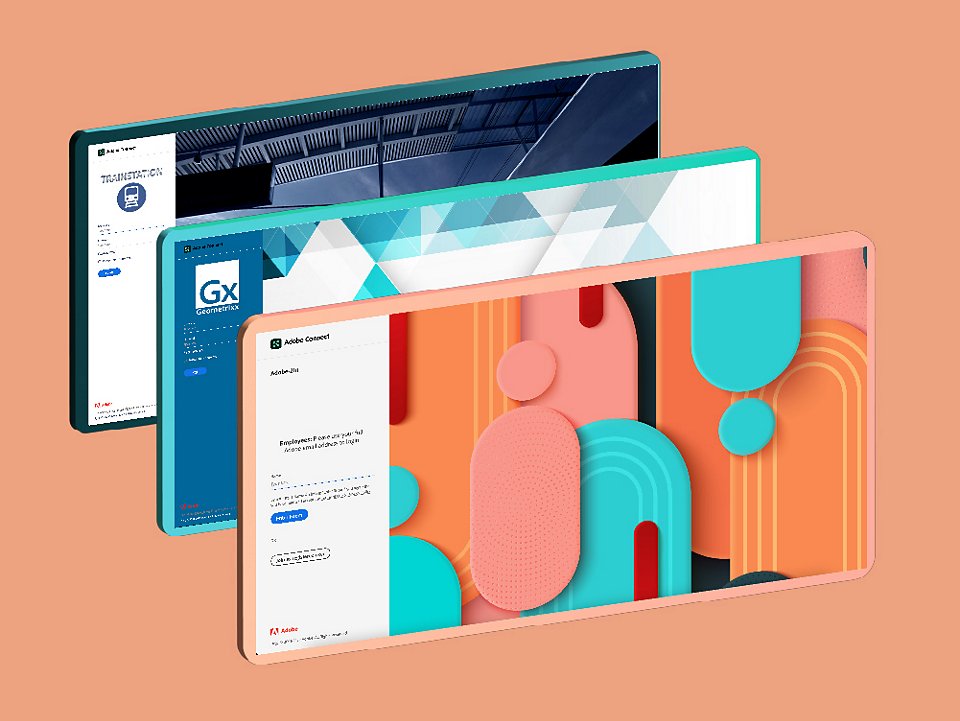 Adobe Connect - allows customizable visual aesthetics of the virtual room with background images, wallpapers, custom banners, logos and brand colours and custom domain URLs of the enterprise/university/school.

Generic meeting tools - have limited to no visual aesthetics or brand/domain customizations.

Adobe Connect - Trainers can create virtual offices or classrooms with learning aids staged for learners to consume as they drop in before a class. Trainers can prepare multiple such rooms & stay logged into them simultaneously for live, flipped & blended virtual learning formats.

Generic meeting tools - Not built to support content persistence or reusability. The virtual space is single use where chat, content & interaction are lost as soon as the session ends.

Adobe Connect - Templates serve as a blueprint for new Adobe Connect rooms. Shared Templates make it incredibly fast & easy to set up new rooms using existing room designs, content, layouts & backgrounds, instead of starting from scratch. It also ensures standardization on best eLearning practices across the organization.

Generic meeting tools - Trainers tediously redo the same drill for every class or simply rely on screenshare & video hoping that the virtual learners are still listening. Imagine trainers having to setup student seating, rosters/duties, posters and activities in physical classroom everyday!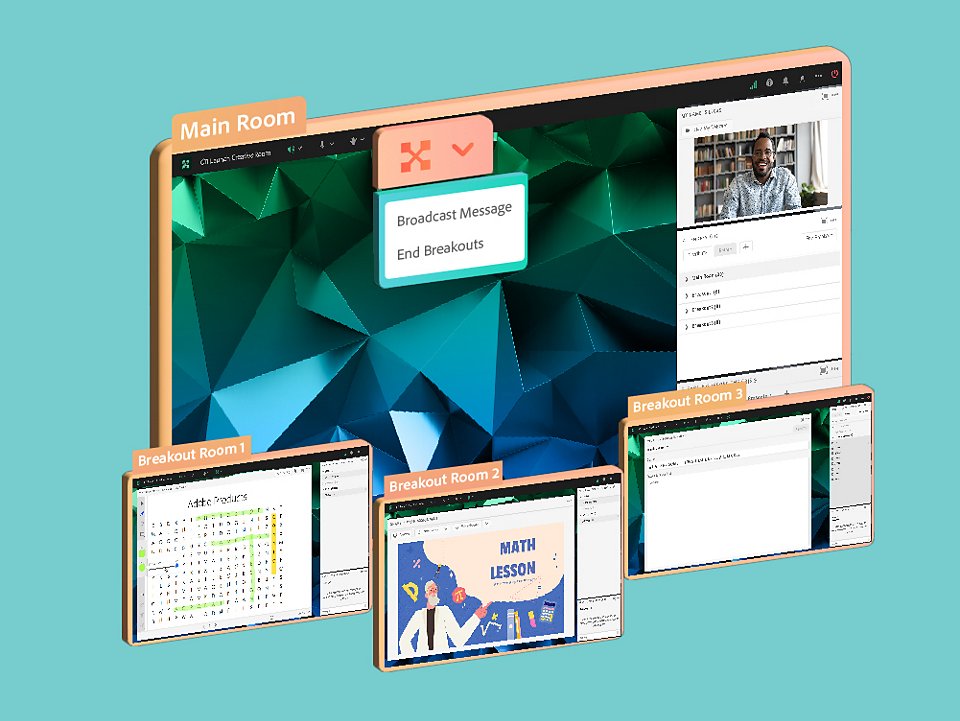 Adobe Connect - Prepare multiple breakout rooms with content & activities ahead of time. The content & chat from the breakouts can be brought to the main room for collaborative learning. Rotate participants with a single click.

Generic meeting tools - The breakout content and activities cannot be setup ahead of time. The live interactions and chat are all lost as soon as the breakout is closed.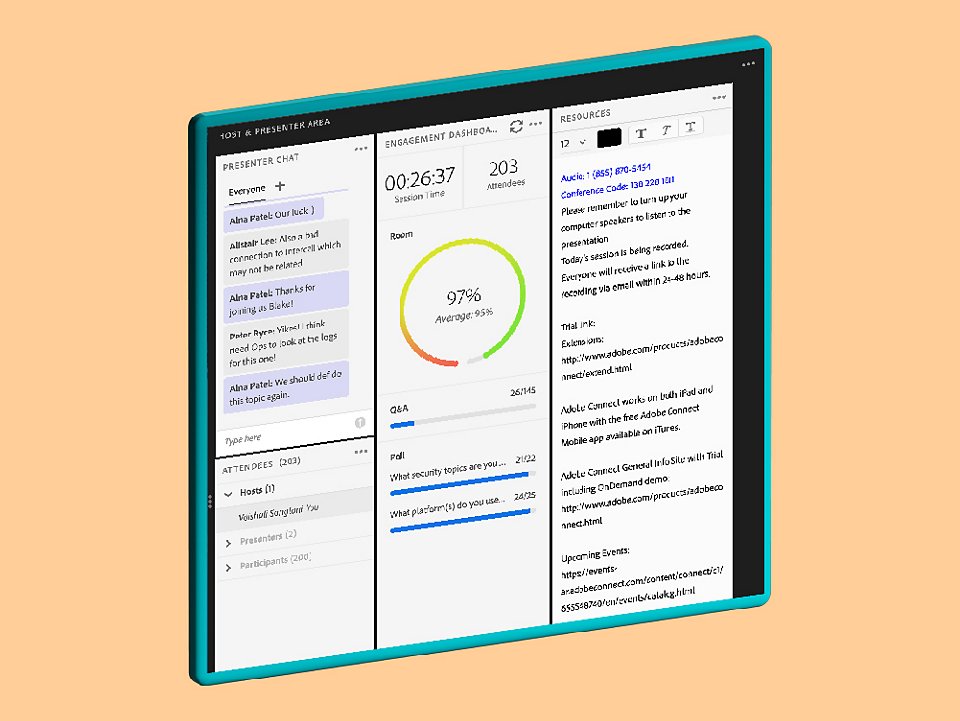 Adobe Connect - is designed for a trainer-controlled environment. It empowers trainers with strong, role-based privileges that allow safe, controlled access to the room and in-room participation for learners.

Generic meeting tools - These tools are built for democratic peer interaction instead of being instructor-controlled.

Adobe Connect - Offers advanced tools to drive & measure engagement in real-time. Engagement metrics are based on live interactions, polls, hand raises, chats, downloads and mouse clicks aggregated both at class & at individual learner level.

Generic meeting tools - Most tools don't measure live learner engagement and even if they do, it only captures screen-in-view and not active live interactions. Trainers completely miss the opportunity to adjust pace & format to drive higher engagement.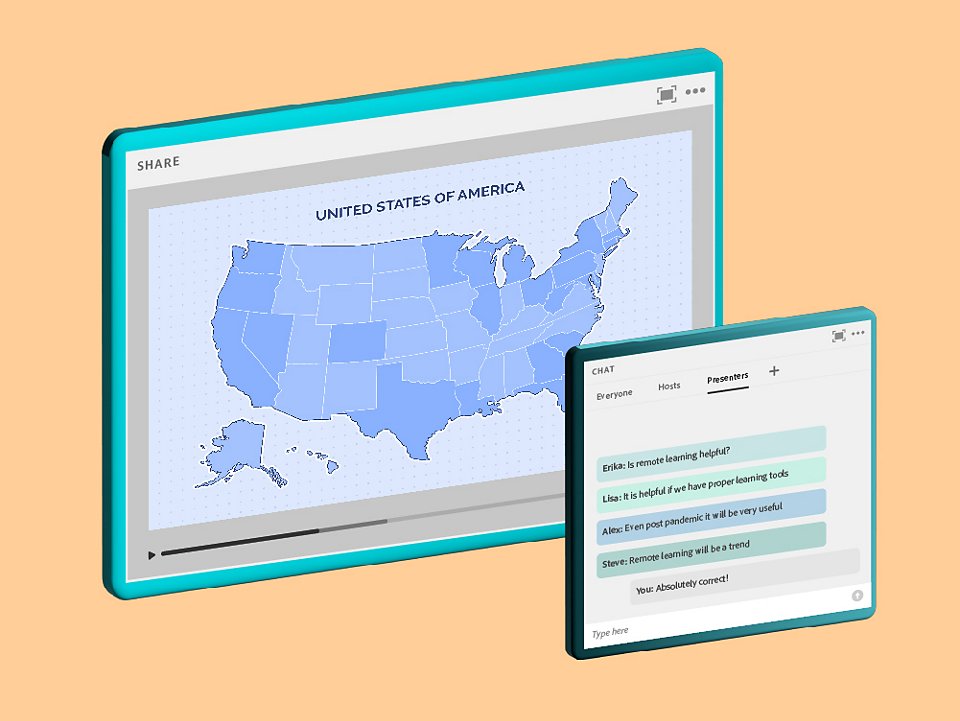 Adobe Connect - Trainers can setup the versatile stage with multiple Pods. The multiple Chat Pods can be named by topics to allow participants to engage in relevant peer interactions. The multiple Share Pods can be arranged as a dashboard of adjacent screens with a variety of content shares by trainers or screenshares by learners.

Generic meeting tools - Cookie-cutter UI design & functionality with a static, single-window video/chat/screenshare view.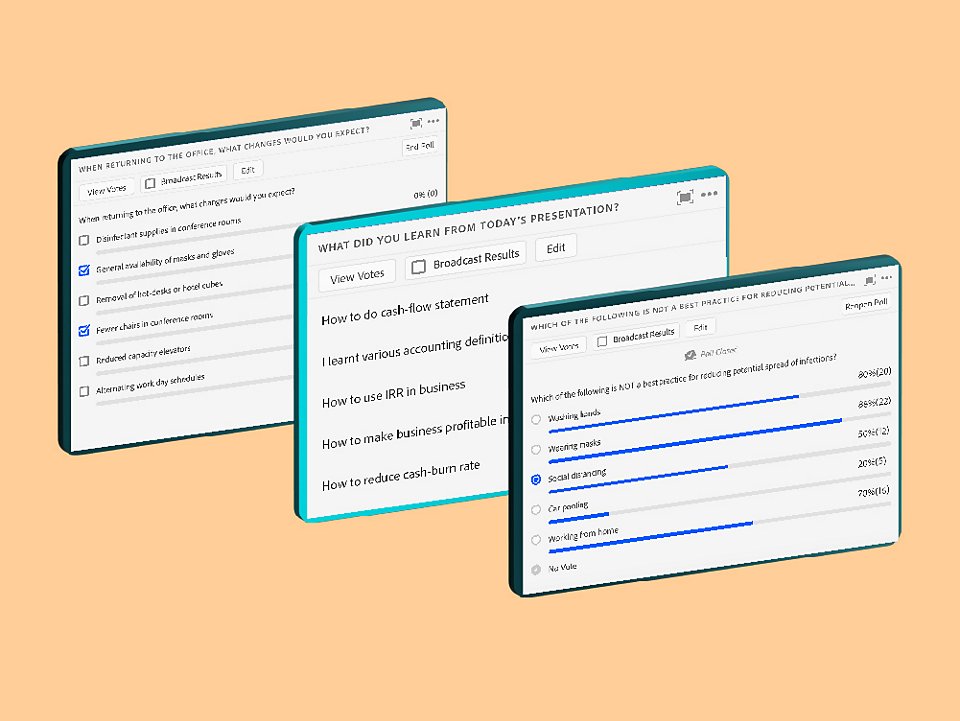 Adobe Connect - Persistent & flexible polls/quizzes for knowledge checks & assessments, whose results can be viewed & shared during as well as after the live trainings.

Generic meeting tools - Most basic tools don't allow viewing results during live sessions.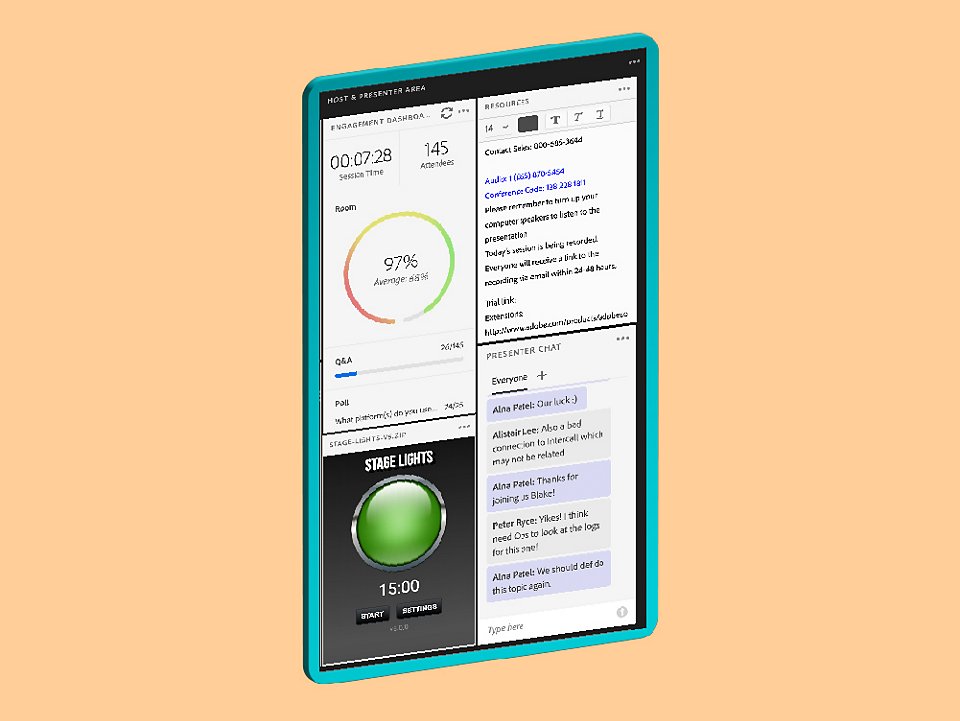 Adobe Connect - The unique backstage is used by trainers to prepare content, quick polls for instant feedback, and then move to the main stage. Backstage can be setup with attendee list, agenda, notes, presenter's chat, engagement dashboard, and presenter view of the moderated chat, hidden from the main stage. A special Prepare Mode allows trainers to discreetly set up layouts, content, and flow without affecting the class.

Generic meeting tools - Don't provide dedicated host & presenter areas or preparation modes allowing trainers to ready material outside the learner view.
Are you looking for interactive webinar solutions?
See how Adobe Connect compared to generic meeting tools.