Create video presentations that keep classrooms engaged.
Learn how to craft teaching sessions or class projects that keep eyeballs on the screen with compelling video presentations.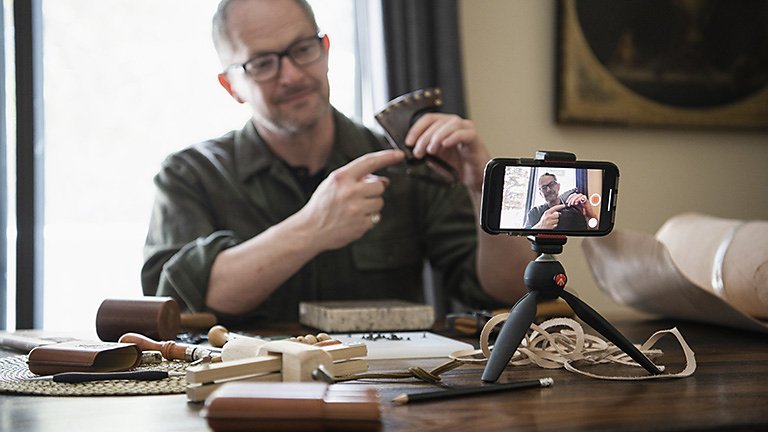 Spice up learning with a video presentation.
As the world shifts toward the virtual classroom, teaching and education tools are moving into digital spaces, as well. With video presentations, students and educators alike have a powerful resource to make learning exciting and fun.    
For educators, a video presentation can help to introduce topics visually and hold the attention of a class longer. For students, video presentation projects draw on creative and analytical skills that they'll use throughout their lives.
Go beyond simple PowerPoint slides and explore how Adobe Premiere Pro can help any video presentation maker create their own videos and live presentations that compel audiences with video, animation effects and more.
Limitless video presentation ideas for any creative occasion.
In a virtual learning environment, students are exposed to limitless knowledge with the drop of a link. Videos offer digestible amounts of information that students can rewatch later to help retain new knowledge.
For teachers, video presentations add variety to teaching materials, which can help to keep eyes on the lecture screen instead of the phone screen. Making video presentations can help both students and teachers express themselves, share ideas and make meaningful learning progress.
 Expand the possibilities of virtual learning for students.
 Some subject matters lend themselves better to a video presentation than other teaching formats. For example: 
Real-world events and experiences:
Watch a video tour of the Parthenon ruins in Greece or experience rare green mambas hatching from their eggs in West Africa.
 
Art, creativity and visual skills:
Learn about painting, drawing, geometry and more with visual aids to help better understand the topic.
 
Complex or technical topics:
Get a 3D view of the human skeleton to help learn about anatomy or show all of the elements of the periodic table in action.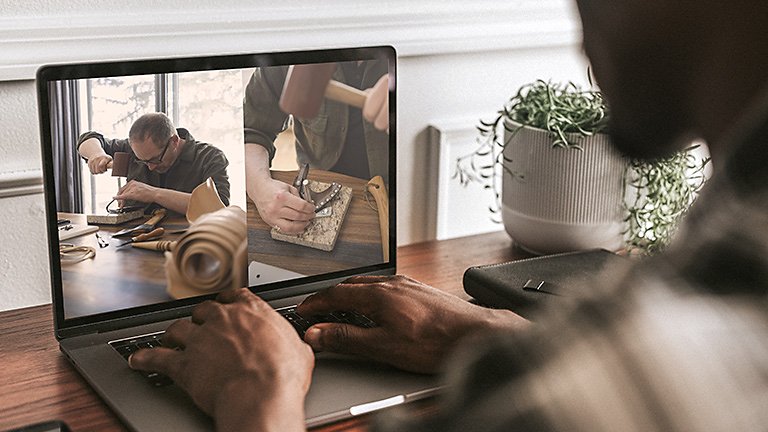 Make teaching more accessible and engaging.

Keeping students interested can be a challenge, especially in a virtual classroom setting. Try using videos to change up your course content — and give you a break from lecturing. But, entertaining as videos may be, there are lots of other good reasons to use them in the classroom:
Inclusivity:
Online video presentations with subtitles can accommodate all audiences, including students with hearing impairment. Subtitles can also help students who are learning a new language better understand their teachers.
 
Information retention:
Smaller chunks of information tend to be easier for learners to remember. Engaging visuals can help to overcome learning curves so students can grasp concepts more easily. 
 
Time efficiency:
A brief explainer video or short clip can save you time with lesson planning and help share information from experts in their fields. 
 
Effortless studying:
Students can revisit and rewatch videos outside of the classroom and have time to reprocess the course material.
Types of video presentations.
There's no limit to what you can create with your video presentation, from a video of you dancing the cha-cha to an animated infographic or even funny GIFs for a dose of comic relief. Here are a few types of videos you can make yourself — or find online — to use in the classroom:
Personal narratives:
As a class assignment, a personal narrative video can help students learn about themselves and each other. Or, share a personal narrative of people related to the subject you're teaching. 
 
Instructional videos:
Step-by-step tutorials are a versatile way to break down complicated topics. Try making a how-to video on linear algebra, novel writing or even a DIY art project.
 
YouTube videos:
Try using a YouTube video in your presentation slides to connect with younger students in their own language. Many YouTube stars cover educational topics. Or, within a larger video presentation, pop in a short video or two from credible YouTubers to help students stay attentive.
The makings of an engaging video lesson.
Whether you're a student with a video project assignment or a teacher looking to change up your lesson plan, a solid outline will help you or your students create a cohesive video presentation. Start by writing an outline that includes the following:
1. Introduction of your topic:
Hook your audience with an exciting story, fact or anecdote about your topic.
2. Agenda or overview:
Provide a slide of the talking points you will be sharing with your audience so they can see the full breadth of the presentation.
3. Explain your topic or subject:
Tell the audience about the most important aspects of your topic as you work your way through the sections you presented in your overview.
4. Examples and discussion points:
Get practical on your topic and dive into detail to get the conversation going.
5. Conclusion:
Wrap up your presentation with any last remarks or touch back on the theme of your presentation.
Use Adobe Premiere Pro to create your presentation.
You don't need a vast knowledge of video editing software to craft a quality video presentation. Adobe Premiere Pro features many video and presentation tools that you can use to customise and finalise your video. Choose from several themed video and presentation templates, slide transitions and features that let you add subtitles, music and much more.
Polish off your video by adding some creative components.
Take your video presentation to the next level with these creative tips: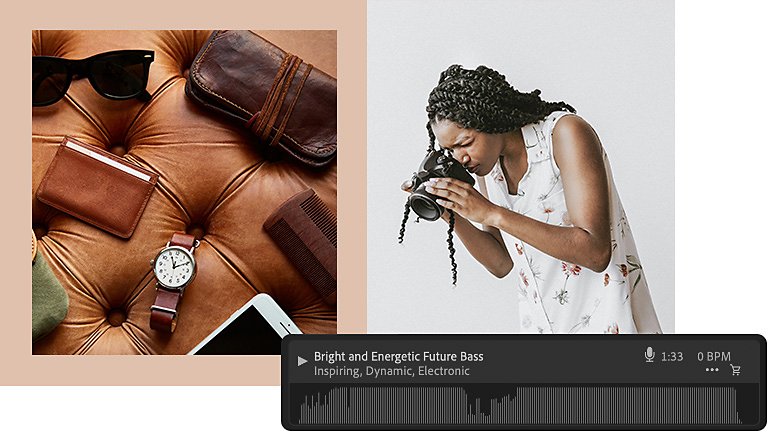 Editing ideas:
Select short clips:
Pick a quick video clip to add variety as a visual aid, but keep it bite-sized so it's easier for your audience to grasp. You can add video files and clips easily in Premiere Pro and use video templates to speed up that work.
 
Add transitions:
Premiere Pro features many fun transitions and animated effects you can use within your presentations to keep your audience's attention.
 
Throw in some music:
Sometimes a little background music can make a presentation more engaging. Keep the tempo up by adding a tune. 
Add the final touches:
Choose a colour scheme or overall design:
Slideshow and presentation templates can help you to unify the colour and theme of your presentations to ensure nothing distracts the viewer. Customisation controls can help you to update those colour schemes too.
 
Use stock images:
Select a few stock images as visual aids to place throughout your presentation to add high-quality visuals to your piece.
Read more about Premiere Pro tutorials so you can hone your video editing skills and start putting together an engaging video presentation for your next lesson plan or class assignment.
Explore related creative projects and topics…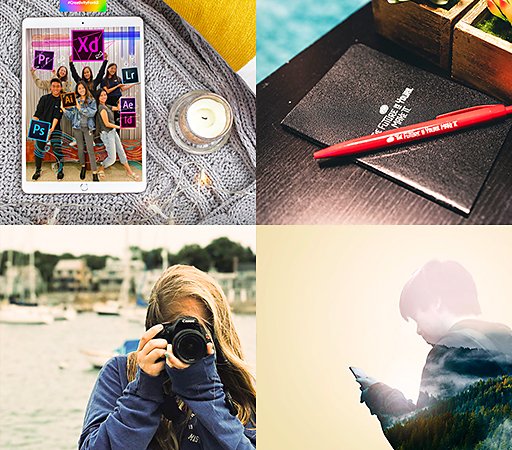 Shaping the future. One student at a time.
Adobe Ambassadors and campus clubs make it easier to get started with Creative Cloud.

Get the apps on all your devices.


Access the latest version of all the apps.
Students get all apps for the price of a single app. 
Creative Cloud for students and teachers 
Get 20+ apps, including Photoshop, Illustrator and lnDesign. Save over 65%.
---