Define your company's singular style with a brand kit.
See how establishing a visual identity can add consistency to your branding and efficiency to your team's workflow.

Artwork by Supernova Design.
A recognizable brand starts with cohesive visual elements.

From your business card to your web page, each piece of content you create for your company will be more effective if it reflects your brand identity. Creating a comprehensive brand kit will ensure that your marketing consistently represents your brand, building familiarity and trust with your audience along the way. And by taking the time to establish this type of brand style guide, you're also giving your team what they need to turn around beautiful, impactful creative work with less hassle.
 
What is a brand kit?

A brand kit is the be-all and end-all documentation for what your brand is and what it isn't. It clearly lays out the brand colors and typefaces to use and to avoid, which fonts to use for your tagline, and how the design might differ between seasonal campaigns and yearlong efforts. It's the source of truth for your creative team to refer to when they create any visual content. Once all the do's and don'ts are compiled in a handy PDF and the brand assets needed to design projects are shared, any team member — or any creative partner or freelancer — can dive right into creating on-brand work for your company.
Brand kits versus brand guides.
The line can seem blurry between a brand kit and a brand guide. However, there are a few key differences. Brand guides can encompass strategies and tactics that shape all the ways in which a brand interacts with the public. Brand kits are focused only on the visual assets of a brand. And while brand guides may include language around the philosophy of a brand or its mission, a brand kit serves to provide the physical building blocks to create its content — like fonts, color codes, spacing requirements, and logos.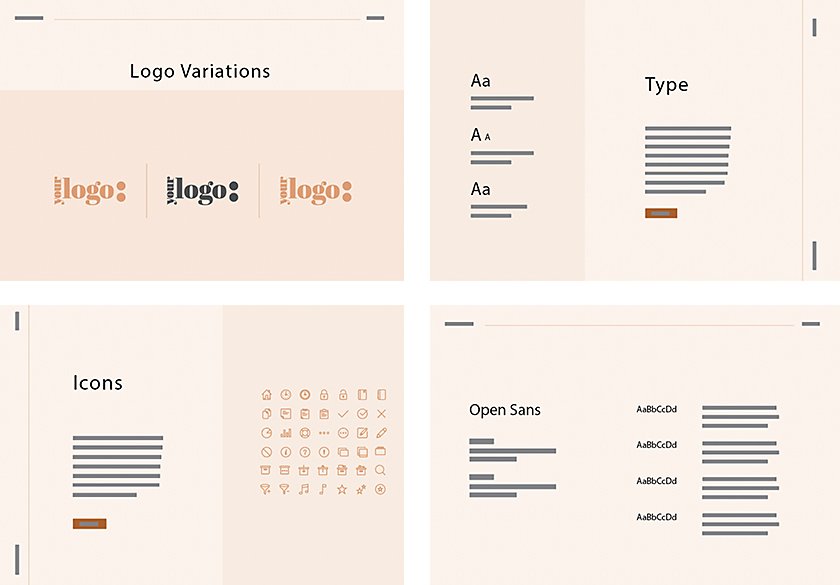 The purpose of brand kits.

Brand kits not only reinforce a solid identity for your company but also make it easier for your creative team to do their jobs. Having one authoritative place for your brand elements to live limits confusion around how to build out visuals for your brand — everything from web pages and business cards to billboards and product packaging.
Designers will know to refer to the brand kit to retrieve design elements quickly, and the end products they make will be visually cohesive and always on-brand. Plus, whenever there's a change to a color or logo, updating those new details in your brand kit will minimize any creative roadblocks stemming from a brand refresh.
Different types of brand kits.
The steps to a finished brand kit will vary based on your business, but design tools like those available in Adobe apps have everything you need to get there. First, the elements of your brand kit can be designed in Adobe Photoshop and Illustrator. Draw and design logos and icons from scratch in Illustrator. And use Photoshop to fine-tune your imagery, explore color swatches, and adjust graphics for the web. Then compile your brand elements in one of the forms below.
 
Digital booklets are the easiest way to share all of your brand assets and guidelines with people outside your company. Once you have the elements of your brand kit ready, jump into a page layout app like Adobe InDesign to set up your graphics and instructions and create a visually appealing booklet or eBook. Then you can print your booklet to show it off in your office or at trade events.
 
Interactive design systems laid out in Adobe XD are a great way to give your team every guideline and asset necessary to build all the visual content associated with running your business. Lay out prototypes and templates of digital designs, complete with spacing guidelines and full-size logo files. Organize different styles of layouts by type. And store all your graphics within your XD pages.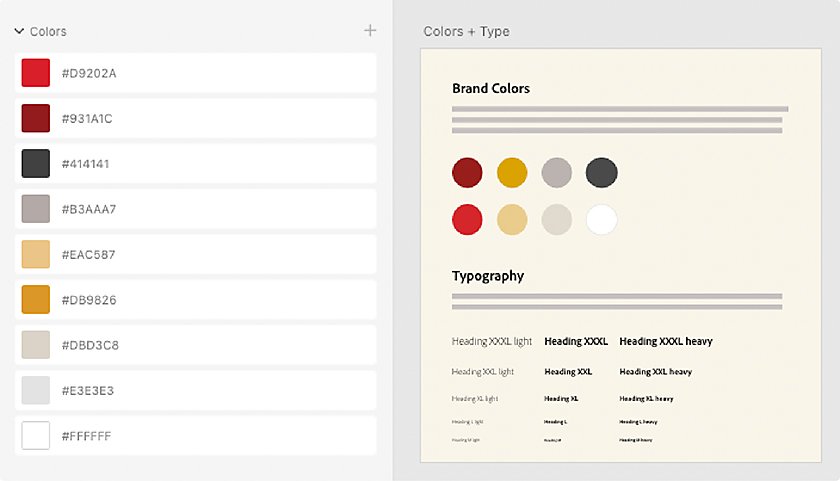 Shared libraries.

Creative Cloud Libraries are another way your team can stay united on your brand. Save your color palettes, logos, and graphics to a shared library so your team can access the correct elements right within Photoshop, Illustrator, or whichever Adobe application they're working in.
What should your brand kit contain?

While the content of branding kits varies, and it can be expansive or simplistic depending on the company, here are some of the main brand guidelines you'll want to include:
Fonts and typefaces.

How words show up in your brand's marketing materials is an important visual cue to your customers. Selecting the right typography and keeping it consistent across your brand is a crucial step in unifying your content and customer communications. A typeface is a style of type and its bold, italic, or condensed versions are all fonts. You can create your own typeface and its corresponding custom fonts or select from many options available in libraries like Adobe Fonts. Making a choice and giving your creative team rules helps ensure that your materials feel unique while remaining on-brand.

In your brand kit, you'll also want to show examples of proper and improper uses of fonts and typefaces. Do you use bolds and italics? Does your font have thin or heavy variations? Is either off-limits? And which of these is correct for a headline versus body copy? By building a clear roadmap for text, you'll be able to unleash your creative team on work without worrying about an off-brand asset coming through at the approval stage.
Logos and logo treatments.
Whether you have a logo or a wordmark treatment of your company name, setting ground rules for how a designer or creative partner can use them is important. You won't see Target's red bullseye colored purple or Apple's apple lying on its side — it's inconsistent and, therefore, detrimental to the familiar brand experience you want to build.


Your brand kit is the place where you can explain the rules for your logo and what should never be done. Does the logo always have to be in your brand's color? What are the rules when used on a colorful background versus a white background? Are there other variations of the logo (a symbol and the company name versus just the symbol) and how do those vary? From digital assets to business cards, t-shirts, and beyond, try and sort out all the ways you plan to use your logo and create rules for those uses.

Artwork by Tomás Salazar.
Color palette and uses.
Your brand kit should establish your primary brand colors and any secondary colors your team and partners can use. Color consistency is incredibly important for brand recognition and, whether consciously or subconsciously, an asset that doesn't jibe with your brand colors will confuse your audience. As with your logo, think about the ways in which you may use color across digital and physical marketing materials and start to build your brand kit rules from there. You can always add to those rules later, but the goal is to prevent seeing first drafts of creative assets that need a full-color rework.
How a good brand kit pays for itself.

Within your company, brand kits add efficiency by streamlining creative workflows. They give everyone a common visual language to work with and rules to keep assets from veering off course. By providing the answers before questions can even be asked, you're cutting down on wasted time while setting up your team for better work.


Externally, brand kits help you achieve consistency to boost brand visibility. And that brand consistency will help you stand out in a competitive marketplace. Confusion is a killer. Beyond its many efficiency benefits, consistent branding can increase revenue by up to 23 percent. Even big, well-known brands have overperformed revenue goals by 28 percent with the help of consistent branding.
 
If you're looking for a tech solution that gives you all the tools you need to craft a brand kit, consider Adobe Creative Cloud for teams. Make a logo in Adobe Illustrator, create web design assets and fine-tune imagery in Photoshop, and tie it all together with beautiful graphic design in InDesign. Plus, with Creative Cloud Libraries, your team can share branding assets across apps and devices — and stay in sync.
More topics you might be interested in…
Find creative ways to grow your business.
CUSTOMER STORIES

See how Adobe customers are building great experiences with Creative Cloud for teams.
Choose your Creative Cloud for teams plan.
All plans include the Admin Console for easy license management, 24/7 tech support, unlimited job postings on Adobe Talent, and 1TB of storage.

Your choice of one Adobe creative app such as Photoshop, Illustrator, lnDesign, or Acrobat Pro.*

Get 20+ Adobe creative apps including Photoshop, Illustrator, InDesign, Adobe Express, XD and more.

* Acrobat Pro, Lightroom, and InCopy single apps come with 100GB storage.