Loop video with Adobe Premiere Pro.
Repetition can be a great artistic tool for enhancing the impact of videos. Use Adobe Premiere Pro to turn a single video into a looping clip of any length.
Not sure which apps are best for you?
Not sure which apps are best for you?
Take a minute. We'll help you figure it out.
Take a minute. We'll help you figure it out.
Looping videos make compelling web content, music videos, marketing videos, social media posts, and more. They help you add style to simple motions or add emphasis to instructional footage by showing them again and again.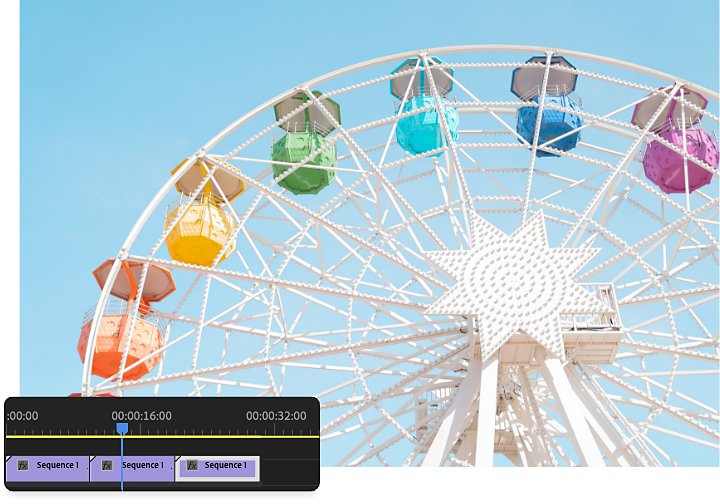 How to loop a video in Premiere Pro.
While there's no loop-video button in Premiere Pro, you can create a looping video in just a few minutes by editing to create a duplicated clip that plays over and over to appear as though the video is looped.
Launch Premiere Pro and click New Project in the Start screen. Then tap Add Media to upload your video. Premiere Pro supports several types of video files, including MOV, M4V, and MP4.
Cut your clip down to just the section you'd like to loop.
Highlight your clip and press Ctrl+C (Windows) or Command+C (Mac) to copy it. Then press Ctrl+V or Command+V to paste a copy of it on the timeline. Repeat this as many times as you need to achieve the length of video that you want.
Click and drag to highlight every clip on the timeline, open the Effects panel to the right, and pull a Transition onto the timeline to smooth out the change between clips. Cross Dissolve is a great option for this.
Take your looping videos to the next level.
Try these more advanced editing options to really make your looped videos pop.
Make a video loop that plays forward and then reverses.
You can reverse a clip in Premiere Pro. Duplicate your video and then reverse every other clip for a fun effect where the action plays forward, then backward, again and again.
Make a surreal moving picture in Premiere Pro.
A cinemagraph is a more artistic take on the GIF. One action of a clip is isolated and looped for a dreamlike moving image that appears to loop forever. Learn more about cinemagraphs and how to make them with this tutorial.
Looking to make a GIF? Head to Photoshop.
If you want to play videos that repeat forever, like for a web page or presentation, a high-quality GIF is the way to go. Follow these instructions to make an animated GIF from images or a video in Adobe Photoshop.
Why loop videos with Premiere Pro?
You might be tempted to use a free online video looper to quickly loop a video file. But a more complete video editor is a better way to make a video loop that is professional in quality, doesn't have a watermark, and can be exported in various aspect ratios for different platforms.
Don't have original images or footage to work with? Find amazing static and video assets in Adobe Stock to create imaginative looping videos on any subject you can think of. The options are limitless.