Explore the basics of videography.
Discover what it takes to step behind the camera. Learn how to get started on video production with this handy guide.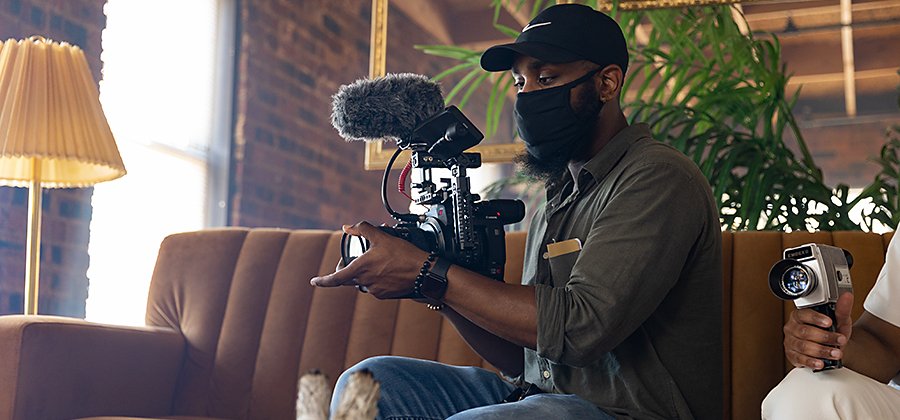 What is videography?
From a technical standpoint, videography refers to the electronic capture of moving images on electronic media, such as digital cameras, videotapes, and streaming media. This includes specific methods of video editing and post-production as well. From a layman's standpoint, it describes a certain style of hands-on video project, typically smaller in scope. 
Cinematography covers high production music videos, short and feature-length films, and commercials. Comparatively, videography is usually shot guerilla-style, requires less artistic direction than standard film production, and is shot digitally — not shot on film stock.
When videography calls.
While both capture motion pictures, the differences between cinematography and videography are dependent on a few factors. To find out what approach best fits your project, consider the size and scope of the work, the size of crew, the amount of pre-production needed (such as creative brainstorming, writing scripts, creating storyboards, etc.), and who's in charge of creative direction.

When it comes to the scope of the work, whether it's a concert, news piece, or special occasion like a family reunion or birthday, videography is ideal for documenting dynamic situations and supports a sense of spontaneity.
"Videography is geared toward live events or weddings, or something that's not necessarily planned with a giant crew or any filmmaking setup that you usually see in a movie," says professional filmmaker Whit Ingram. "It's usually a broadcasting camera, which works better in a run-and-gun-type shoot, where you do not necessarily know what you're shooting until you start."
While the actual video production is often smaller scale, don't let that description fool you. "Videography has this connotation that you don't work on big projects, but that's not true," cinematographer Josh Miller adds. Videographers work on smaller teams or, at times, by themselves, but they can and will get asked to work on complex projects with a broad reach, like corporate training videos, capturing sports events, and aerial drone footage.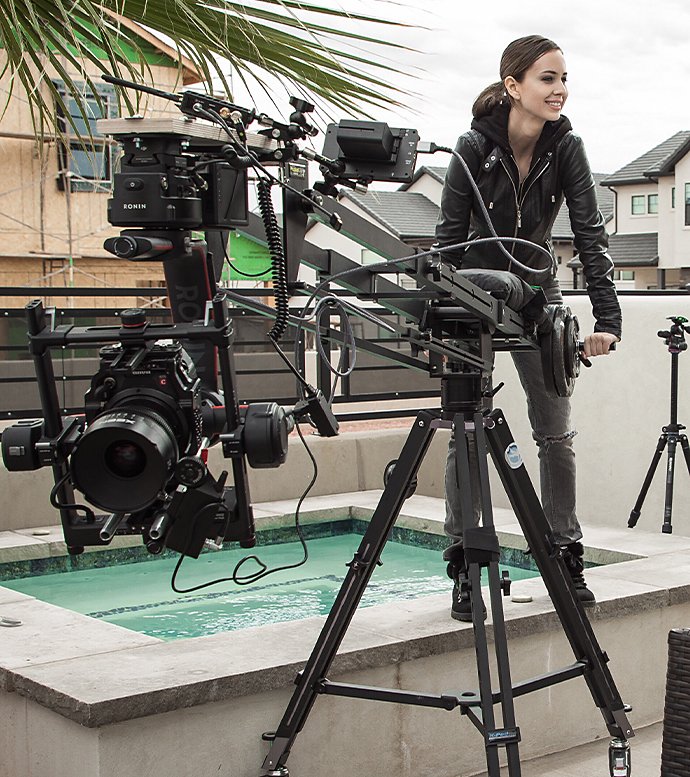 Video and image by Whit Ingram 
The right stuff for videography work.
It's safe to assume that you'll always need a video or DSLR camera to get started, but due to the unpredictable nature of videography, you'll need a good familiarity with gear. Make routine use of the gear listed here to build skills and familiarity that will help you react better in the moment and get the best shots for your next video project. Depending on the type of event you cover, some equipment will be more essential than others, but each serves a role in producing high-quality video content.
Stabilizer 
A foundational piece of any shoot, a stabilizer reduces video camera movement and makes your shots consistently steady, whether you use a tripod, Steadicam, or mount. As both documentarians and wedding videographers know, some events respond well to the handheld style of filming, but it's helpful to keep a stabilizer on hand for times when you need to set up certain shots beforehand.
Lighting equipment
Proper lighting is essential to keep the visual quality of your clips high. "You may want to bring your own lighting, depending on how big a setup it is, so there won't be any flicker," says Ingram. If it's a DIY project or your crew doesn't include a lighting director, you may need to speak with the venue coordinator to get a sense of how much light you'll be working with.
Sound accessories
"On-camera microphones for videographers are super helpful," says Miller. Certain mics work better in specific environments and conditions. More often than not, shotgun mics prove to be one of the most effective camcorder tools for sound capture due to their ability to block sounds from the rear and sides while prioritizing the sound in the front. Excellent sound production isn't limited to just one method, technique, or piece of equipment, so use and gather as many of them as possible to learn what you need to capture crisper audio in the situations you work in.
Multiple lenses
Although it doesn't have the same artistic direction as cinematography, videography deals with certain stylistic choices, including the type of shots that appear in your work. Depending on the project's needs, bring different lenses along when you shoot to show your subject in a different light and keep your viewers on the edge of their seats. If possible, use a shot list to keep track and stay organized during your project.
Backups
Since video uses a considerable amount of footage, make sure you bring backup memory or SD cards in the event you run out of space on your camera. 
Tips for budding videographers.
Videography requires versatility. Besides sometimes being their own camera operator, videographers must have comprehensive knowledge and skills in many different areas, accounting for the lack of resources readily available and the chaotic nature of live events. Here are some skills that will help:
Stay on your toes.
Things don't always go according to plan, so videographers need to be prepared for anything, especially given the nature of what they cover: slice-of-life moments that usually can't be reshot. "You need to learn how to think quickly on your feet and make something as good as you can with what you have," says Miller.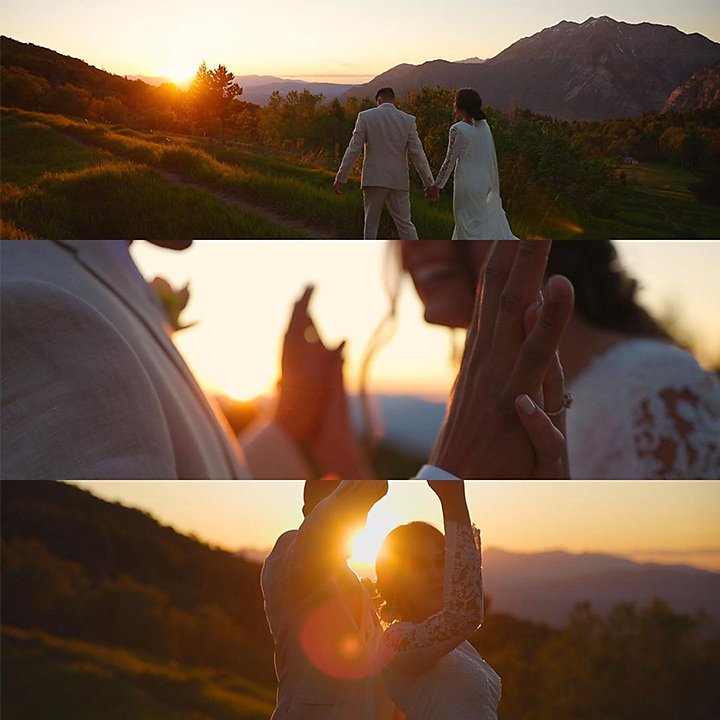 Scout your location.
You don't want to miss any of the action. Understand the best angles to shoot from. That will help you adapt in the moment. Scout the location before the shoot to orient yourself to the best places to set up your equipment. Refer to other forms of media for inspiration about different angles you can use and other types of shots you can incorporate in your work.
Prepare and adapt.
Organize your shoot with a thorough pre-production plan to lay the foundation for successful video production. While on the shoot, keep a checklist of your plan handy. That way, no matter what happens during the event, you can stay on track.
"You need to be well prepared and organized," says director Shawn Foulks. "It's a different type of organization in videography because you have to know where everything is, if you have all the equipment you need, and what you're getting yourself into. But at the same time, you need to have contingency plans just in case something unexpected happens." 
Guide the shoot.
The ability to articulate yourself during the shoot goes a long way toward producing the results. In particular, knowing how to direct the action or the subjects you film is invaluable. While not as involved as directing actors in a film, the ability to give direction is a necessary skill that comes up on a regular basis. "Directing is a huge, huge part of being a videographer," says Miller. "Even if it's a wedding, you need to direct people in a way that they feel comfortable with, and that's going to come across on camera."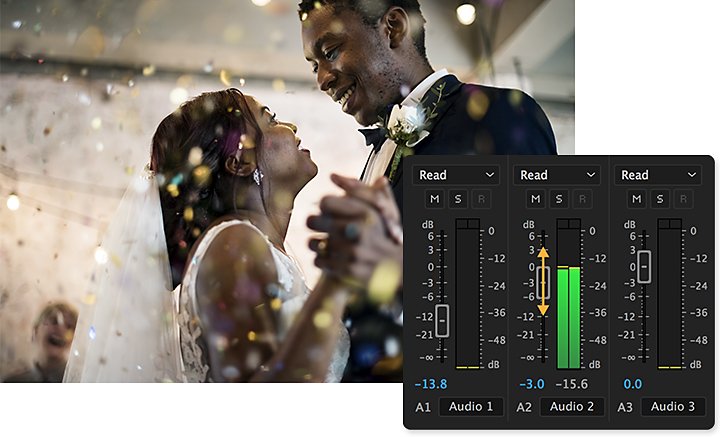 Go a cut above with Adobe Premiere Pro.
While you want to get every bit of footage when you film, you'll be glad to have options in the editing booth due to the in-the-moment nature of videography. With the industry standard in video editing software, you can make professional video production–style edits to your footage quickly and easily, whether you're a 10-year vet or a rookie. Automatically resize footage shot on your cell phone, customize the color grading of your clip directly on your timeline, add and rearrange audio tracks from Adobe Stock, and more. 
With AI-powered tools and seamless integration at your fingertips, raise the bar with your next video project.
Do more with Adobe Premiere Pro.
Make visually stunning videos virtually anywhere — for film, TV, and web.
You might also be interested in…
Get Adobe Premiere Pro
Create flawless productions with the industry-leading video editing software.
7 days free, then Rp314.463/mo Termasuk PPN.