Turn DIY projects into fun DIY videos.
If you can do it yourself, you can record yourself doing it. Learn how to make DIY videos on everything from woodworking to nail art.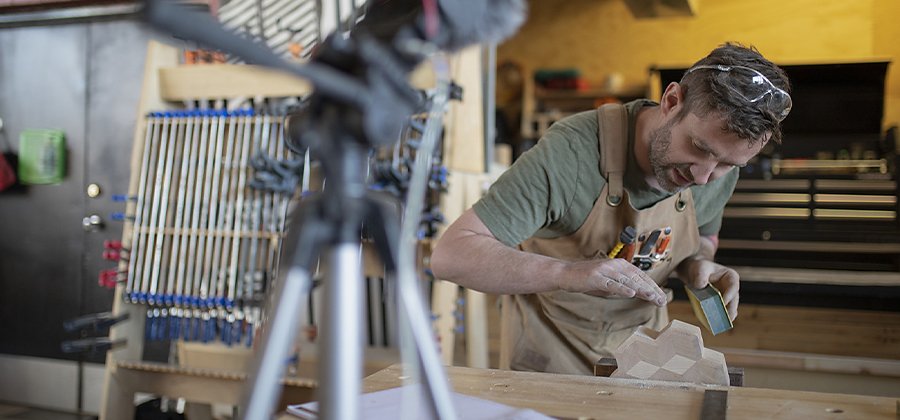 Show other DIYers the way.
Whether you're a pro or you just like to do things yourself and learn as you go, you can share your experience and know-how with the world through DIY videos. With equipment you already own and a basic knowledge of video editing, you can walk others through your step-by-step process for paper crafts, living room makeovers, life hacks, faucet installations, or anything else you do yourself.
Where to begin.
From kids' crafts to kitchen hacks to home remodels, your project just has to be something that you need or want done. Brad Rodriguez makes furniture, home improvement, and woodworking DIY videos. He starts by brainstorming DIY ideas with his wife. "We list out the things we need, like rooms that we'd like to remodel, but it's a mix of things we're excited about and things that will interest others," says Rodriguez.

If you're not sure what will interest others, use the internet to find out. Whether your audience is homeowners or fans of Christmas crafts, you can see what videos are performing well on YouTube or social media. You can also search Google Trends to see what's currently popular.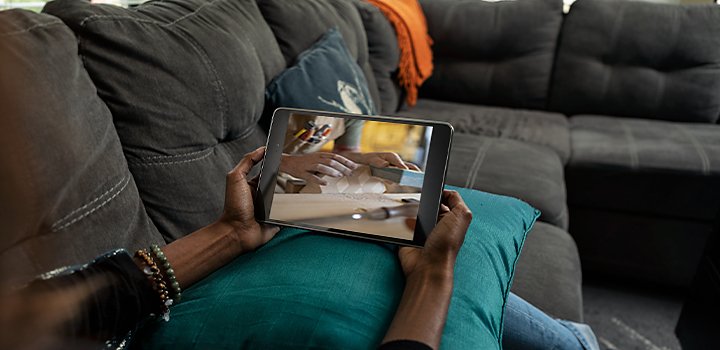 Consider your audience.
Before you start your project, imagine your ideal viewer. What do they know? Do you have to slow down and explain some basics?
"Cater your content to a specific person, and that will guide everything," says Rodriguez. But if you're just getting started, you don't need to know who that person is yet. "Just put it out there and see what audience gravitates to you," Rodriguez adds. "If they're asking a bunch of questions in the comments, you should consider scaling it back or making content to answer frequently asked questions."
As you start to set up your project, make sure your audience can follow along. "If the project is large, and there are a lot of steps, I'm going to give you all of them," says home decor DIYer Amanda Badgley. "I just want people to be confident in what they're doing. And if that means that I ramble on about these little quirky things that I think I would do differently, then I'm going to do that," Badgley says.
If you haven't done anything like your project before, search sites like Pinterest and Instagram for examples that inspire you. The more specific you get in the planning stages, the more likely you are to end up with something you're happy with. You can also check out websites and YouTube videos by other DIYers.
Watch other people's DIY videos for more than how-to information. See what you can learn from them about the craft of the DIY video. "I definitely get inspiration from watching other creators and how they make their videos," Rodriguez says.
Badgley recommends that you write out step-by-step instructions for yourself, and read them with your audience in mind. Will they be able to follow along? Are there alternative ways of doing things that you want to mention? Tools or materials people can substitute for ones that are expensive or hard to find?
The more accessible the DIY project is, the more people can participate.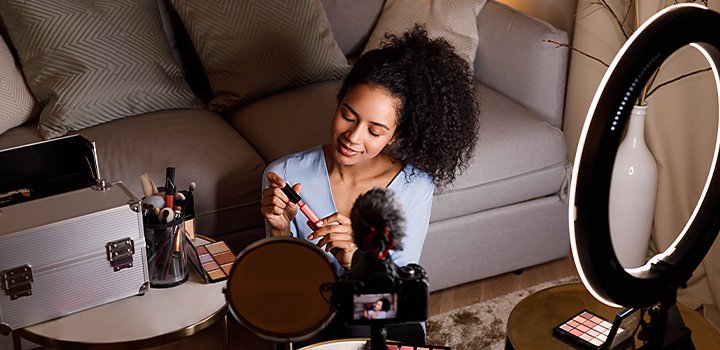 Gather your supplies.
Make a list of the tools, materials, and anything else you'll need to do the project. It's best to have everything you think you'll need before you begin, so you don't have to interrupt your flow. Then make sure you have all you need for video production.

Smartphone or video camera
Especially as you start your first videos, don't worry about buying expensive equipment. Most smartphones have HD cameras that are good enough to use for cool DIY videos.
You don't need a tripod, but you can find an inexpensive one so you don't have to prop up your camera against books or other objects.
Microphone
In-camera microphones don't pick up voices very well, but you can use a wireless microphone or record your narration in voice-over.
"You can record with your phone using your earbuds just like you're on a call," says Rodriguez. "Then just sync up the audio with the video clip." If you make several videos and find that you aren't happy with sound quality, you can upgrade to a wireless lapel microphone or shotgun mic.
Pay attention to the sound in your shooting environment. Make sure air conditioners and fans are shut off. "It's always easier to address noise pollution on the front end than try to deal with it after the fact," Rodriguez says.
Lights
Good lighting is important for any video production. If your space is a room with big windows, make sure you shoot at the right time of day when it's not too dark or too light. You can also buy an inexpensive ring light or a light you can clip onto your phone. 
Production tips.
A DIY video doesn't have to look like a big-budget movie, but the goal is still to engage the audience. That starts with being patient with the process. "If you want to create a tutorial, you have to give yourself extra time," says Badgley.

Before you do anything else, test your video and audio to make sure you're in frame, the camera is recording, and the microphone is picking up your voice. Especially with DIY, it can be expensive, frustrating, or impossible to go back and reshoot parts of a project.
Then film yourself doing each step of the project in a way that will help your audience see exactly what you're doing. "At the end, you can piece it all together," says Badgley.
"I make sure to document the project through photos and videos, and sometimes I'll record a time-lapse just so I have that from start to finish. It's really cool to see a bigger thing going from beginning to end in a 30-second span," says Badgley. Most smartphones have a time-lapse feature in the camera app, so you can capture repetitive steps or long processes.
Be yourself.
"Be authentic. Talk to the camera like you're talking to a friend," Badgley advises. "DIYers of all kinds have the same mindset. We're creative and we like to try new things, so just talk through what you're doing. Even if you might think something is common knowledge, it might not be for someone else."
With camera angles as with everything else, think about your audience. What shots would be most helpful and informative? What shots add to the narrative of your video?
Rodriguez sticks to the rules of filmmaking. "I want to get a wide establishing shot, I want to get a mid-shot, and I want to get some tight shots. Those are kind of burned into my mind."
"One thing I've learned is to turn the phone around on my tripod so I have the screen facing me," Badgley says. "Then I can see what's being recorded and know that if I'm just filming my butt, I need to move it."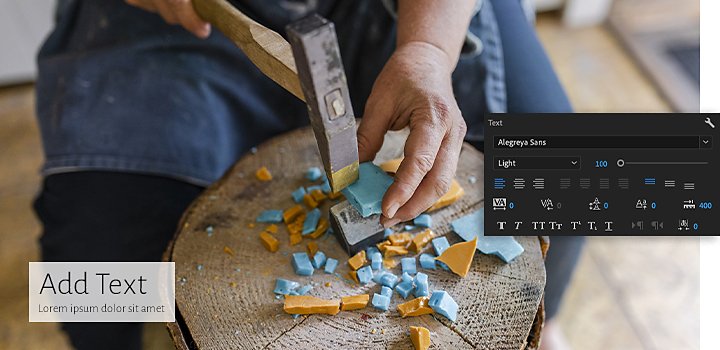 Easy DIY video editing.
Once you've finished the project, it's time to construct a narrative out of your footage in a video editing app like Adobe Premiere Pro. You can begin with an explanation of the project, the materials and tools required, and maybe a preview of the end result. Then drop clips of each step into your timeline and go through them chronologically. Keep the essential parts only.

You can record voice-over and narrate the steps of your project that way. "I review the footage and piece together my story, and that's when I'll write my script," Rodriguez says. "I try to add value with the small things and add talk about details that might not be obvious."
Add music to your video. "When I was doing my cabinets, it was a fun project, so I did dance music," Badgley says. "It's all about creating a feeling that I want my viewers to feel too."
Add text to your video. "You can write all of your little tips and tricks on top of the video to help explain what you're doing, or how you might do it differently," says Badgley.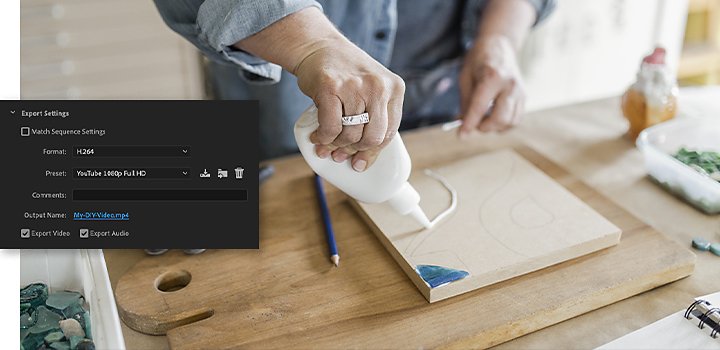 Share and measure.
Once you post your video, you can monitor your views and comments on your social media platform to see what you can learn from them. You can gain insight about who your audience is and what they want, and then tailor your next video to appeal to them.

"With views, likes, or comments, you have an extremely discreet feedback mechanism," says Rodriguez. "We've found that home remodeling stuff does well: bathroom remodels, flooring, things that people can do on their own that aren't too involved."
Rodriguez says they've also found, with so many creators making videos, the importance of adding a spin or a hook to your project. What twist can you put on your DIY video that's unique to you? 
Do more with Adobe Premiere Pro.
Make visually stunning videos virtually anywhere — for film, TV and web.
You might also be interested in…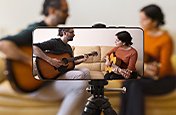 Get Adobe Premiere Pro
Create flawless productions with the industry-leading video editing software.
7 days free, then A$31.35/mo. incl. GST