How to create a YouTube channel: a complete step-by-step guide from the experts.
Over one billion hours of video content is streamed every day across the globe. Successful content creators are boosting their brands, growing their audience, and making money from uploads.

Want to learn how to create a YouTube channel and make money on the fastest-growing content platform on the planet? We spoke to Daniel Hashimoto and John Spannos, two established YouTube creators, to get their top tips for starting a YouTube channel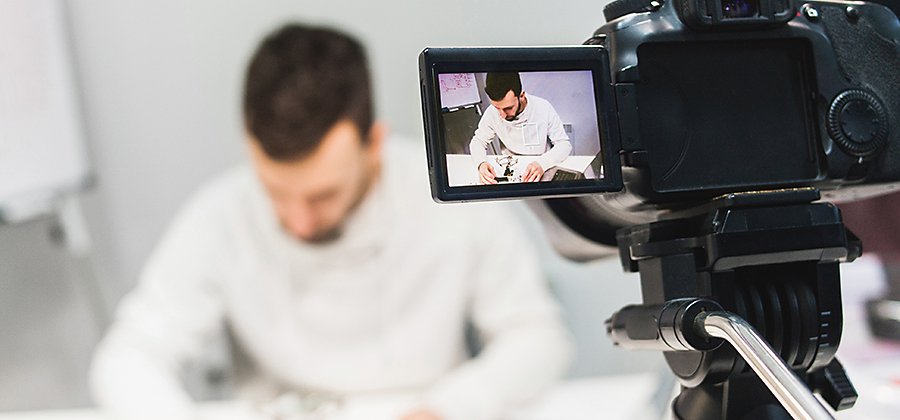 What you'll learn:
 

How to create a YouTube channel – the quick way.

Uploading your video content to YouTube is straightforward if you've already recorded your content. Once your videos are saved on your desktop or mobile, follow the steps below to create your first channel:
Sign into your YouTube account.
Select the Create a Channel option.
Create your channel name. (The default name is the same as your login email, so you might want to make it something less personal and more suited to your channel.)
Add details about your channel in the About section. What is your channel about?
Choose a profile photo and header image.

Hit the Upload button and select your first video from your hard drive.

Begin uploading video content to your site.
The YouTube interface might look a little different depending on whether you're uploading on desktop or mobile.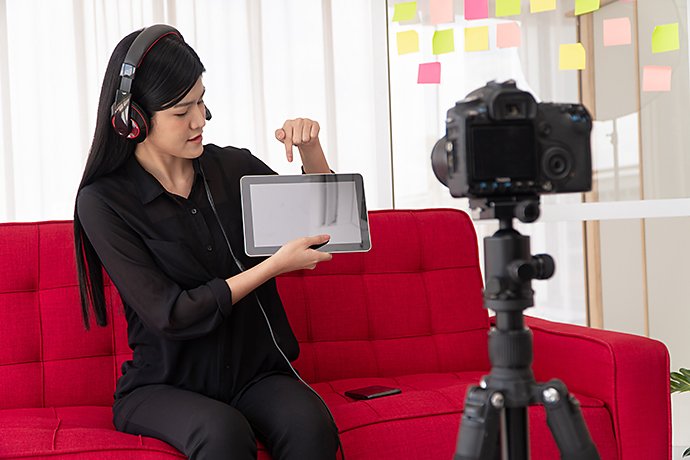 How to create a YouTube channel – from start to finish.
If you're keen on creating a channel but haven't recorded your first video yet, read on to find out where to begin your YouTube creator journey.

Planning your YouTube channel.
First off, you'll need to decide what kind of video content you want to make. More than three quarters of 16 to 35-year-olds are regular YouTube users[1], which gives you a huge multi-interest audience to tap into. You can find videos covering just about any topic on the popular streaming platform – from music videos to magic shows, and from video game reviews to sports discussions.

Choose something you are passionate about. That way you can bring your own interests and point of view to a particular topic. There are bound to be other people creating videos similar to yours, but presenting your own ideas in your own unique style can set you apart from your competition.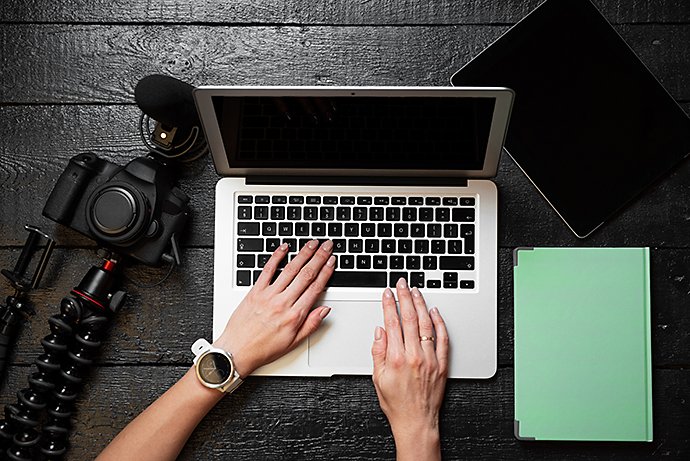 "I truly believe that every successful YouTube channel has a spark of something that is very personal to whoever is creating it. It's less important to chase trends and try to mimic something you think will be popular. It's more important to dial down to something really important for you personally." 
– YouTuber Daniel Hashimoto


Before you find out how to make a YouTube video, draw up a detailed plan of what you want to achieve and what you'll cover in your first few videos.

Think about:
 
Why do you want to make a YouTube channel?
There are many reasons you might want to manage a YouTube channel. Some of the more common reasons include:
 
1.    Product or brand promotion.

YouTube can be a great platform for promoting your business or product set. Think about how you can offer good, useful content to your audience. Your videos don't have to directly advertise your product either – instead, you could work towards positioning yourself as an industry authority.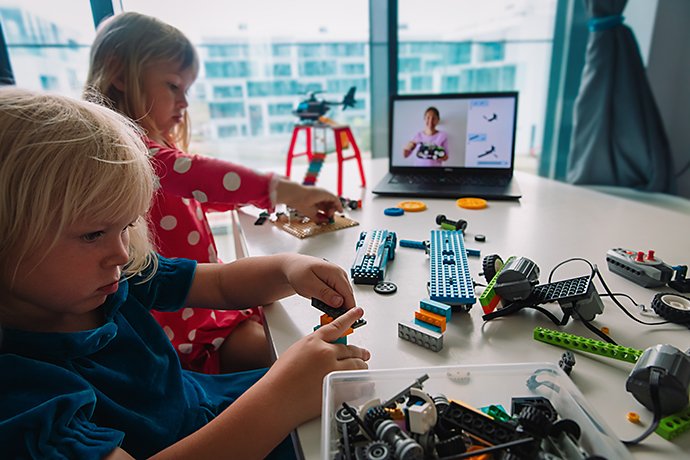 2.    Monetising content.

Many creators earn money via YouTube, whether through advertising other products or bringing in revenue as a popular channel. In the last three years, the platform has made $34bn in advertising revenue alone.

There are many ways to monetise your YouTube content – whether driving business to your own website or positioning yourself as an influencer and advertising products for other businesses.
 
3.    Building an audience.

YouTube is ideal for building an audience. People will regularly tune in to content creators they enjoy. Creating interesting and unique content will set you on your way to building a loyal and passionate base of followers.

4.    Fun.

You might just want to create a YouTube channel simply to enjoy the experience. Sharing your interests and passions with like-minded individuals across the world is, above all else, pretty fun.
 
Who is your YouTube audience? 
You'll want to make videos that appeal to a particular audience, so have a think about who you want to target and produce content for. Are they interested in certain topics, points of view, or products?

As with any content, you have to give a reason for your audience to choose you ahead of all the other options. Why should people watch your video and what will they gain from it?

It's worth considering your niche, too. If you choose to make videos on a hugely popular topic, like the latest film releases, you'll likely face a lot of competition. However, if you have a more niche topic, or even something new to say about something already popular, then you are more likely to prime yourself for success.
What's the best format for your YouTube videos?
You'll need to plan out how your videos will look and flow behind the camera before you get in front of it. Good content is well-planned content. Consider what points you want to discuss and how to get them across in an informative and engaging way.

First off, consider your channel name. Your channel name conveys a lot about what your audience can expect from your channel. Whether you choose a pun-based name, a title related to your chosen topic, or just use your own name, what you choose will become your YouTube brand. While it should clearly summarise the type of content you're producing, you can still have fun with it. Most of all, it's important that you're happy with it.

What type of format your video takes will depend on what best suits your chosen topic and the expectations of your audience. Some of the more common styles you might find on YouTube include:
 
Product reviews
Vlogs and personal life updates
Scripted drama and comedy content
Recorded live shows
Gaming videos
Discussion shows
How-To and educational videos
Comedy and skit videos
Memes and shareable videos
Q&A and interview videos

Of course, there's much more to discover on the platform, so decide which ones best suit your topic and abilities before getting started.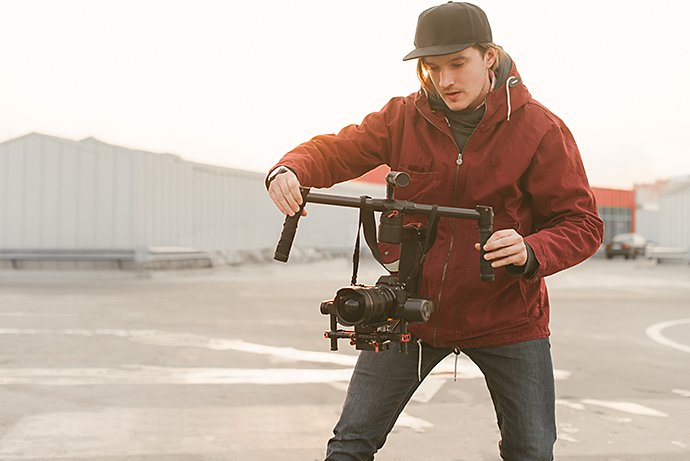 What type of content is best for YouTube? 
Various kinds of content perform well on YouTube. It really depends on your audience and your chosen topic. Short-length videos might suit a show consisting of comedy sketches, while a longer form video might suit a lengthy discussion on a topical event.

Like any form of content marketing, your video style should be one that best fits your target demographic.

Shareable content performs well. After all, you want your fans to spread the word about your great show. Word of mouth will generate new fans and bring more people to check out your channel.

"If your goal is sharing your work with a large audience, you have to consider that large audience as part of your process." 
– YouTuber Daniel Hashimoto

As with any product or marketing, your biggest fans are your best asset. Producing content that is shareable across social media and creates discussion is the first big step to success.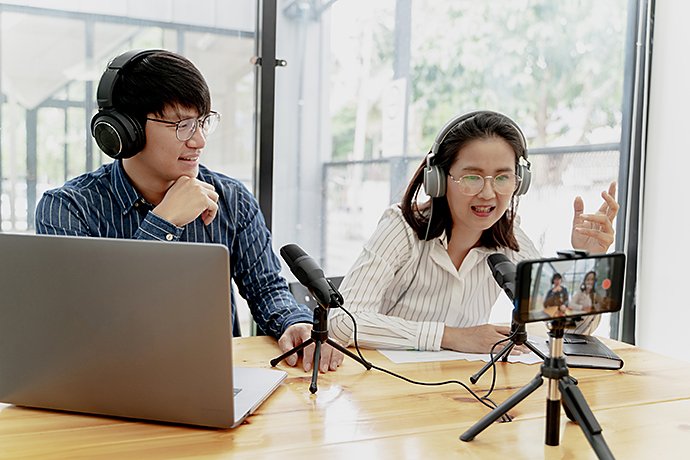 How should you plan your YouTube channel episodes?
Successful YouTubers keep a regular production and video publishing schedule.
 
"The algorithm likes consistency. My audience expects once a week. I think that's what the YouTube audience as a whole expects." 
– YouTuber John Spannos

How regularly you upload to your own channel will depend on several factors:
 
How often you can commit to making videos
How quickly you can make, edit, and upload content
How often you can make content. Is your content generally time-sensitive? Does it tie in with product launches or news headlines?

Put together an upload calendar – a clear plan of what content you want to produce and when.

If your channel does focus on current events, you might find it hard to keep up with developments, or to plan ahead. Creating evergreen content (content that has long-term appeal) can help you plug the gaps in your upload calendar.
"Nowadays on YouTube, you're competing with huge people who already have loud voices. I definitely recommend trying to post something regularly. Come up with a schedule of production that makes sense for you." 
– YouTuber Daniel Hashimoto
Is your YouTube channel a series or self-contained?
Many YouTube creators upload content weekly, but it might suit you more to create a series of videos and upload them all in one go.

Your show could even be part of a series or season – just like a TV show. You might choose to have a 10-episode season one and follow up with later seasons if your show is a success. What style you choose will depend on your ability to create content and what best suits the demands of your target demographic.

Just remember that the YouTube algorithm – which promotes videos across the site and makes it easier for audience members to find them – generally prefer more regular uploads.
Editing and producing your YouTube videos.
Editing your videos is essential to cutting separate clips together, fixing any errors, and giving your videos a more professional feel. Below you'll find out how to edit and produce your YouTube videos.


How do you edit a YouTube video?
Editing your videos, using software like Adobe Premiere Pro, gives you a chance to add a professional look to your content, iron out mistakes, and get your video ready for upload.

You can use video editing software to cut clips together, edit scenes, and start to build your story. You'll be able to add transitions and special effects too if you choose.

Don't forget to pay attention to the sound. You could use a tool like Adobe Audition to stabilise volume across your video, add sound effects, or edit out any recording mistakes.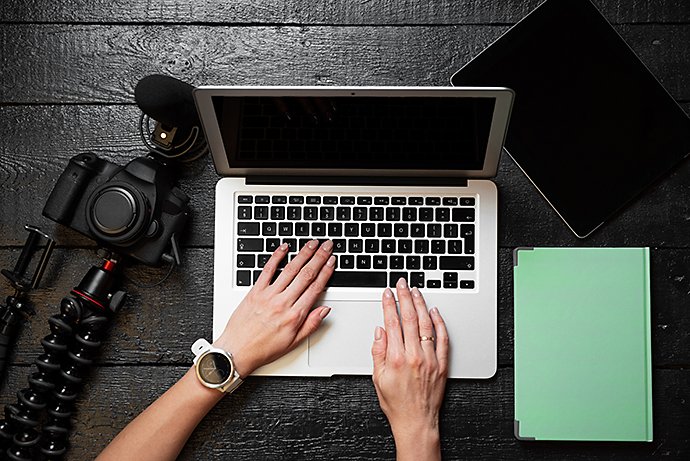 Find out more about editing videos for social media.

You might want to add graphics or on-screen special effects. Adobe Illustrator is ideal for designing images, subtitles, and art that you can edit into your video.
 
Can you use music for your YouTube channel?
Using music can add another dimension to your YouTube videos. However, you might not be able to use popular songs and your chart-topping favourites if you plan on monetising your videos. Copyright law means you can't use tracks created by other artists if you plan on financially benefitting from your videos.

However, you can use copyright-free stock tracks. You can find a library of free-to-use music and sound effects on Adobe Stock.

If you feel capable, you could always make your own music or sounds to use in your video.

When using music as a background track in your videos, just make sure that the audio levels are edited to be a lot lower than your voice so your audience can hear you.
 
How should you publish your video content?
When publishing content to your YouTube channel, there are several elements you'll need to add to make it easier for people to find your video and decide whether they want to watch it.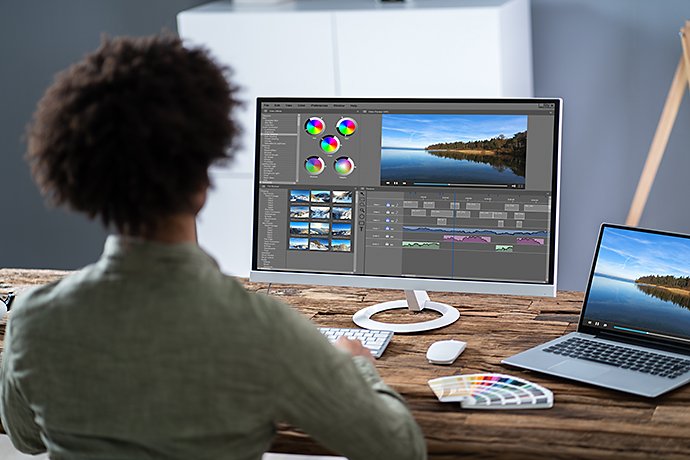 Before you publish, you'll need to:
 
Tag your video. Adding tags to your video, such as gaming reviews, can make it easier for YouTube to understand what your content is about – and promote it to people searching for similar content.


Description. Add a short, engaging description that lets people know what your video is about and why they should watch.
 
Like and subscribe. Remember to let people know they should subscribe to your channel for more great content. The more subscribers you have, the more chance you'll have of monetising your content.
 
Schedule. You might want to schedule your video to go live at a certain time every week, rather than just uploading it there and then. Choose this time and date before you publish.
 
Banner art. You might want to add banner art to your video as an engaging and eye-catching title slide. Make sure it conveys what your video is about and attracts people to watch.
 
"You have to find a balance between telling people what the video is about and clickbaiting them. The best way to get people to watch is to offer just enough information to be enticing, but to not give too much away that people no longer feel the need to watch your video." 
– YouTuber John Spannos
 
Promoting your YouTube video.
Promoting your video is the best way to drive up views and subscribers. You'll want to spread the word across YouTube, your social media channels, and your own website.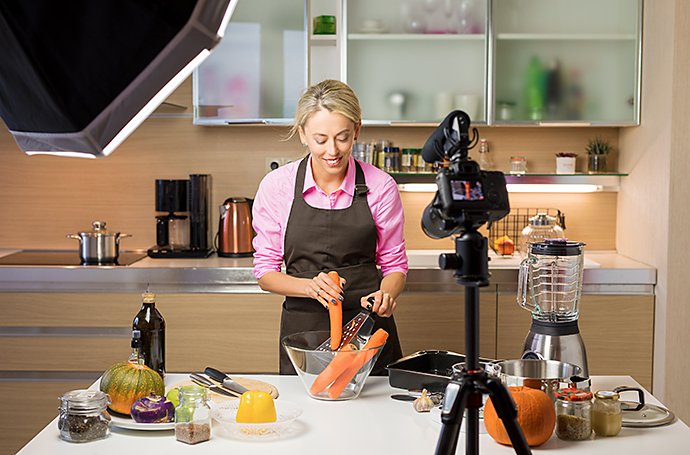 How do I make my YouTube channel popular?
There are several techniques you can use to try and promote your channel. Here are some top tips from our experts:
 
Share your video on social media.
 
Optimise your tags and titles. By making sure your tags and titles are related to words that people are likely to search for, you can give your video more chance of being discovered.
 
Engage with your audience. Create discussion around your videos. Respond to comments and take on any feedback you get (though try not to take negative feedback too personally).
 
Customise your thumbnail. Your thumbnail is the little display picture that people see before they click on your video. By default, it'll just be a frozen shot from your video. Customising it can help build your brand and let people know what your content is about.
 
Remind people to like and subscribe after they've watched your video. More likes and subscriptions will make your channel more popular.
 
What is the best way to promote my YouTube channel?
You can choose to promote your video organically. That means you'll promote your video without spending any money on advertising. You can do this by sharing your video across social media, on your website and by optimising its content to make it easier to find.

Alternatively, you might want to spend a little money on YouTube promotion. Using a particular online advert service, like AdSense or Google Adverts, can help you drive traffic to your channel.
 
How do I get traffic to my YouTube channel?
Getting traffic to your channel is key to making it more popular and driving up those viewing figures.

You can get traffic by creating great content that people want to watch, tagging it correctly, and promoting it across the web – so that people know where to find it.

 
How to create a YouTube channel: frequently asked questions.
Here are some quick answers to some common queries about creating a YouTube channel.
 
Should I start a YouTube channel?
Absolutely. If you've got an interest in producing YouTube videos and something new and exciting to share with the world, then YouTube could be the platform for you.

How many views do you need on YouTube to make money?

Your channel needs to have a certain level of popularity before you can apply to join YouTube's advertising program. If your application is successful, you could earn money for every 1,000 views. Some of the criteria for acceptance to the YouTube Partners' Program include:


At least 1,000 subscribers
4,000 valid public watch hours in the past 12 months
AdSense account registered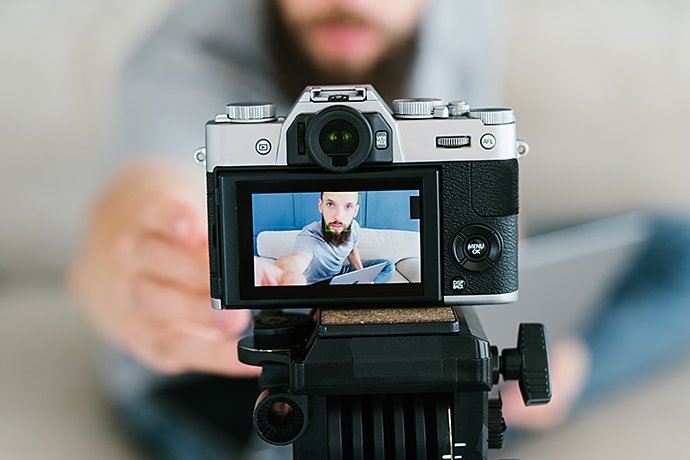 What makes a YouTube channel successful?
A YouTube channel's success is down to the content you create and how you promote it. Great content that generates discussion and is well promoted can stand above the competition.

If you're looking for tips on producing video content, find out more about creating YouTube-ready videos in our expert guide.
 
Adobe's YouTube channel experts.
Here's some more info on the two experts who helped create this guide to starting a YouTube channel.
 
Daniel Hashimoto is a popular content creator on YouTube, running the successful Action Movie Kids.
 
John Spannos is a comedy creator and runs the popular ViloniousTV channel.
You might also be interested in…
Take your music video from concept to post-production with these tips from veteran filmmakers.