The fine art of maternity photography.
Get tips from family photographers about how to shoot maternity portraits that soon-to-be parents will cherish for years.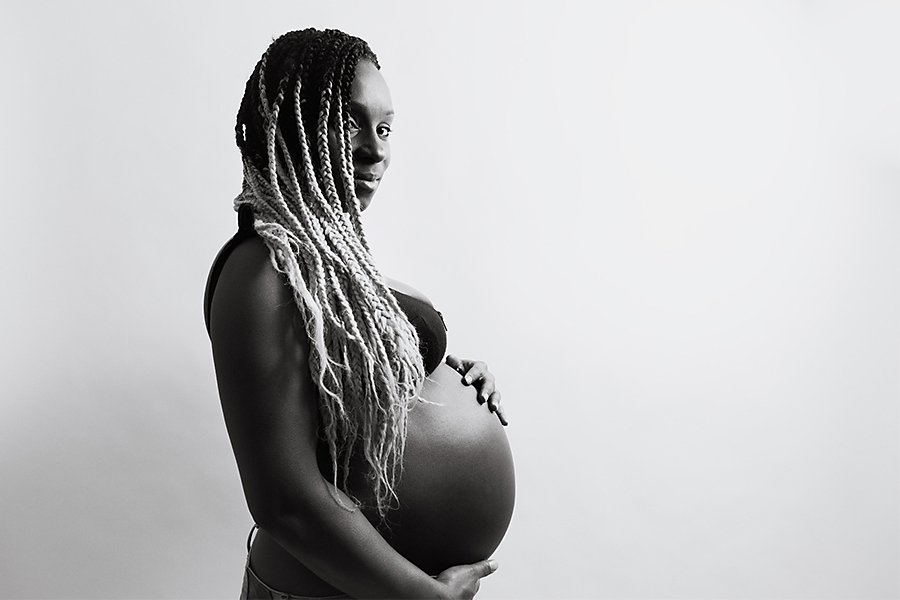 Capture the magic of pregnancy.
It's no surprise that many people want to document the exciting and special time of pregnancy. Whether you're starting out as a professional photographer or you just want to capture some professional-looking shots of that baby bump, here are some tips to get you started on maternity photoshoots.
Time your photo session.
The ideal time for a maternity photoshoot is roughly between 28 and 35 weeks. After 28 weeks, the soon-to-be mom should have a beautiful belly — and plenty of time left to get photos printed for a baby shower display. After 35 weeks, however, she may be too uncomfortable to enjoy posing for photos.
Prepare for the photoshoot.
Communicate with your subject.

If you don't know each other well — and even if you do — your client may be nervous about posing for photos. Your first job is to find out what she wants from the maternity session and tell her everything she needs to know to feel comfortable. "It's really important from the get-go to provide the client with all the information. Get on the phone and just have a quick chat beforehand, so that when she comes into the studio you're already a little acquainted," says maternity photographer Natalie Buck.
Consider timing and location.
While many subjects want outdoor sessions, others prefer the controlled environment of a photography studio. If you plan to shoot outdoors, be sure to account for the mobility of the expecting mom, any weather concerns, and optimal time of day. Golden hour photos are beautiful, but they present challenges like rapidly changing light conditions and walking back to the car in the dark. Don't make your subject climb a mountain so you can capture sweeping views of the surrounding area if it means walking a dangerous path at night.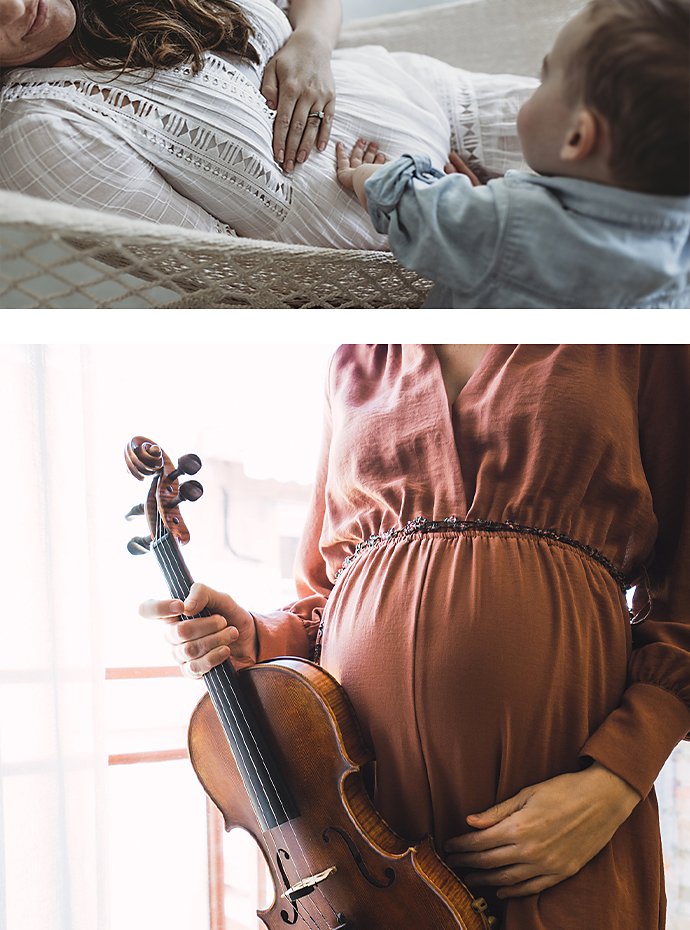 Determine wardrobe and makeup.
Discuss with your client what she plans to wear during the shoot. If you intend to devote yourself to maternity photography, you might consider building your own wardrobe department stocked with maternity gowns for your subjects to wear. "It's easier to just carry maternity dresses in every size for my clients," says says photographer Jacqueline Vega. "The dresses are so expensive and you're only going to use them for a month or two."
In addition to wardrobe, be sure you talk about makeup with your client before the shoot. If they're doing it themselves, they should practice beforehand. Send them some recommendations or tutorials in advance if they don't have much experience.
Partners and older children might join for family portraits to go with the maternity shots. Make sure they all pick out their wardrobe, as well as any props (ultrasound printouts, baby shoes, toys, etc.) ahead of time.
Plan the photos you want to capture.
As with all lifestyle photography, the more prepared you are, the smoother your photoshoot will go. If you're totally new to these types of photos, look through example photos online to pick up maternity photography ideas. Get a sense of the styles, poses, and composition you like. Don't copy others, but take inspiration wherever you happen to find it.
Put together a list of shots you'd like to try, so you have a solid sense of what you want to accomplish during the photo session. This shot list will help you stay on track and avoid wasting time wondering what to do next.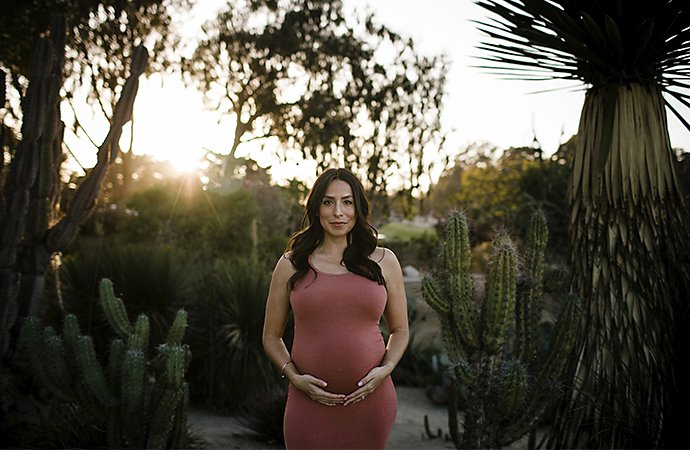 Tips for the photoshoot.
Bring everything you might need.

In addition to your camera equipment, you might want wardrobe options, props, and a mirror. Vega says she always brings pasties and double-sided tape to help arrange clothes to cover a subject's body or hide their underwear while showcasing a baby bump.
Make your subject comfortable.
Third trimester can be an uncomfortable time. As women approach their due date, they may feel self-conscious about their bodies and uncomfortable being photographed. Your first job during a maternity shoot, therefore, is to put them at ease. Buck recommends putting on some music and doing whatever you can to create a relaxed environment.
Give directions.
Tell your client how to pose. That will help them feel more comfortable so you can get the shots you want. "Direct them exactly where they need to put their arm, what they need to do with their head, close their eyes, look down, hold their chin out. Otherwise they're just standing there, and you're just taking photographs, and they're feeling weird," Buck says.
Note the details.
Get wide, medium, and close-up shots, and include partners and older children in some of them. Shoot from different angles, and keep in mind that people often look their best if the camera is slightly above them. Try posing the mom at a 45-degree angle to the camera to show off the baby bump. Pay close attention to how every part of your subject looks, and don't hesitate to rearrange wardrobe or hand placement for the best look. Hands above and below the belly can help draw focus to it.
Check your camera settings often.
Look at your camera settings throughout the shoot to make sure you're capturing as much detail as possible. If you're shooting outside at sunset, check your histograms and keep adjusting your settings as you lose light. You don't want to get home and find that half of your photos are dark and grainy. "Get into the habit of making sure that you're continuously taking a photo, checking, taking a photo, and checking again," Buck says.