Concert photography and all that jazz.
Explore these music photography tips from pros and learn how to capture concert photos that showcase the atmosphere and energy of live music.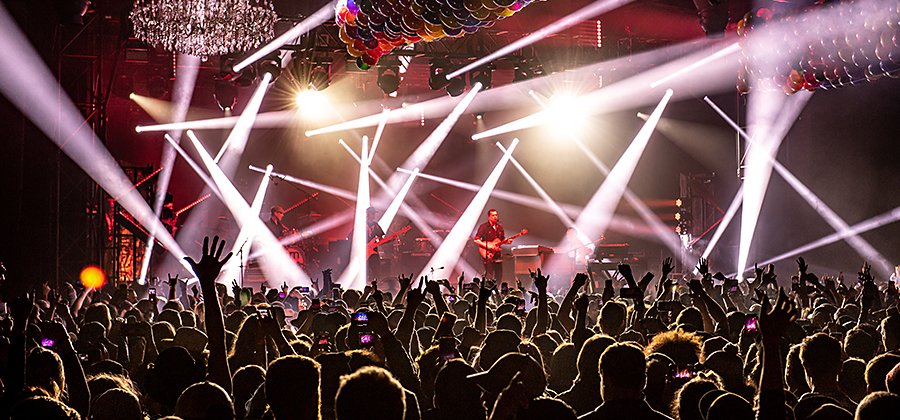 Casual vs. professional concert photography.
Anyone can use their phone to snap a few photos at a live music event. But many venues prohibit photography, and the odds of getting great shots from deep within the crowd are pretty slim. To capture beautiful concert photos for documentary or journalistic purposes, you have to do a bit of legwork. "It's a formal process," says photographer Mark Tepsic. "It requires the proper credentials, the proper skill set, and a good bit of experience as well."
Ideally, this type of music photography captures the feeling and atmosphere of the show and portrays it accurately. It's a way to appreciate the artists and their live performances, and it can also allow people who couldn't attend the event to read a review, see the accompanying visuals, and get a taste of what they missed.
"It typically involves getting credentials from a publication, a venue, or an artist. And you need to understand the rules and the process of taking photos at a concert. You also need to know how those photos are then edited, published, and delivered to the end customer," says Tepsic.
Explore the live music scene.
Small vs. large venues
For great concert photos, you have to be able to adapt to the environment. An intimate show at a jazz club requires different strategies than a pop concert held in a football stadium or a giant outdoor festival with multiple stages. So when you get started with concert photography, be sure to keep your venue in mind, as well as the style of music and the type of audience.
"I think when you're starting off in concert photography and you want to build a portfolio, you should go to a small venue with a local band," says Tepsic. "They'll usually allow — if not encourage — you to bring your camera and take some photos. You're not getting paid for it, but you're there to build your portfolio. It helps the band, it helps the venue, and there really aren't any restrictions."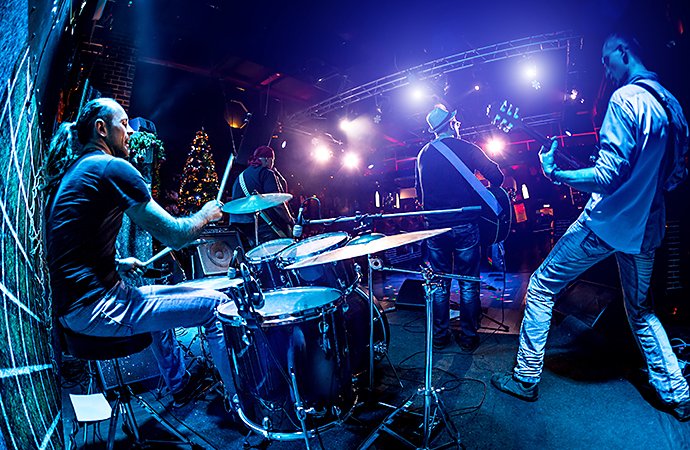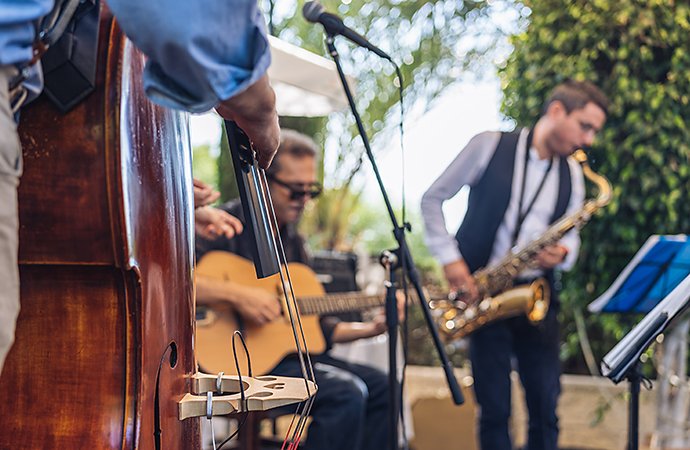 Indoor vs. outdoor events
Indoor concerts tend to look and feel dynamic in photos because of the bright, artificial lighting directed at the performers. But some small venues have low light that can make it tricky to snap a great shot. "If you can put together a portfolio of good shots from really bad lighting in a small venue, that gives publications confidence that you'll be able to capture the right photo later on," says Tepsic.
The weather and the timing of an outdoor performance can impact your job as a concert photographer. Outside shows during the day are great places to start because most DSLR cameras operate better with more light. Natural light is a photographer's best friend, but be sure to pack the right camera gear and protect your equipment if there's rain in the forecast.
Prepare for the concert.
Get the right credentials.
You need a photo pass in order to professionally shoot concerts. To get one, be proactive and contact publications, promoters, publicists, and venues before the show and send them your portfolio. By collaborating with established organizations, it's easier to get the right permissions. When starting out, find a mentor who can introduce you to the community and help you network and build rapport.
Research the band.
As you prepare for the show, learn about the band and performers. The size of the band, the style of music, and the instruments they play will affect how you document the show. Do research on the band's setlist too, and watch recordings of previous shows to help you anticipate what you want to photograph. You should definitely find out what songs they'll play first, as this can dictate the stage lighting and setup.
Get to know the venue.
Depending on the venue, you might shoot concert photographs from the side of the stage. You might also take photos from the pit — an area blocked off by security located between the front of the stage and the audience. In other venues, you'll likely shoot from the soundboard — the place where sound technicians adjust the sound quality and audio levels during the concert.
If you shoot from the soundboard, you'll be farther away from the stage, so bring a telephoto lens to get nice close-up shots of the performers. Where you shoot will change based on the venue's restrictions and the artist's preferences.
Consider industry standards.
"The rules for most concerts follow an industry standard, and you'll hear it in almost every acceptance email you get. If you're allowed to shoot the show, it's going to be the first three songs, and no flash," says Tepsic. Unless otherwise stated, photo passes cover only the first three songs of the concert, and then music photographers are expected to leave.
The focus of the show is the band and the audience, so you don't want any bright flashes to spoil a big entrance or ruin the atmosphere. If you want to leave a good impression, always be respectful of the rules.
Pack the right camera gear.
As with any style of photography, you've got to have the right equipment. You need a camera that works well in low-light situations, so consider a DSLR camera, like a Canon or Nikon, and a few different lenses. "What's really adaptable is a 24mm–70mm zoom lens with the ability to have a pretty wide aperture, with a basic DSLR camera or mirrorless camera. That's enough equipment to get great photos for your portfolio," says Tepsic.
Many experienced photographers bring different cameras, each with its own lens, so they don't have to worry about switching lenses during the show. Since concerts are often fast paced and exciting, this can save time and help you capture the perfect shot.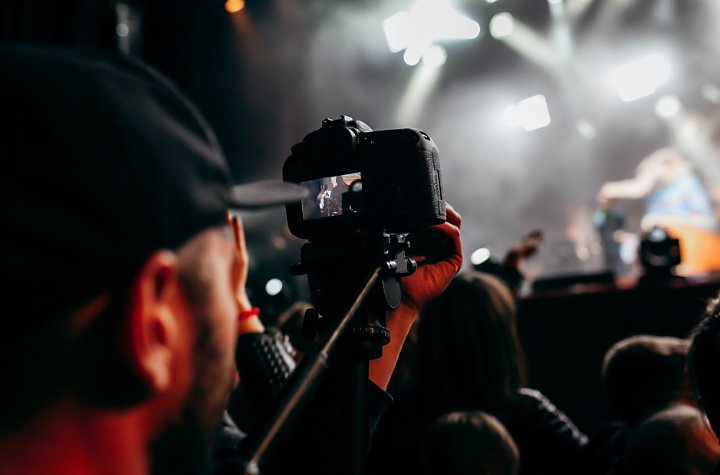 Aside from the camera and lens, be sure you've got extra camera batteries and memory card storage. Don't forget to bring earplugs, because you'll likely be close to the sound system and you want to protect your hearing — especially if concert photography turns into a full-time gig.
"My prepping usually starts the night before. I'll come home from a show and I'll upload my photos to my computer right away, and then I'll also start charging my batteries and getting ready for the next day," says photographer Derek Brad. "I'll make sure that I've got everything on my computer and back it up to two different hard drives. Then I'll clear my memory cards, so I have my cameras ready to go."
What to keep in mind while shooting.
Adjust your camera settings.
Be ready to change your aperture, shutter speed, and ISO settings to meet the needs of the show. Most concerts have low-light conditions, meaning you'll need a wide aperture to get successful exposures. If you shoot in aperture priority mode, you can set the aperture of the camera, and the other settings will change as needed.
Don't rely on your camera's auto-focus settings. Since band members tend to move around the stage quickly, you want to be able to track and adjust them yourself without the camera taking over. "I have to be reactive since I shoot in manual mode. So it's never the camera's fault if I don't get the photo. It's on me," says Tepsic. 
Capture the atmosphere.
Concerts are all about the setting and feeling of the event, and you want to capture what it feels like to be there. To do this, get a variety of shots that encapsulate the show. "I try to take my time and get the mood of the show. Or if it's a band, I always try and get one or two pictures of every member in the band," says Brad.
Concert photography is a form of journalism, so remember to take a step back from the camera and take in the bigger picture to make sure you don't miss out on certain elements. Interesting and unexpected things happen at a show, so be aware of your surroundings, and you might capture a unique shot.
Focus on the composition.
Be mindful of your framing and the composition instead of just shooting endlessly. Center your subject in some images and practice different angles and framing (like the rule of thirds) in others to give yourself a variety of shots to choose from and develop your personal creative style.
"When you use the rule of thirds, the composition completely changes. If I see an artist moving from left to right on the stage, I'll put them on the left side of my focus, because I'm leading them to the other side of the photo," says Tepsic. "But because things happen so quickly, I'll make mistakes and I'll have photos that I have to throw away. Or I'll have photos that aren't exactly composed the way that I wanted in-camera."
Be respectful of the event.
When you photograph a concert, you're there to do a job. "I personally try and stay out the fans' way, or I'll get down, so fans can see what they came for," says Brad. Be aware of the people who purchased a ticket and are there to enjoy the show, so you can make sure you don't block their view. And in smaller, more intimate shows, be mindful of the clicking sound of your camera.
Additionally, be respectful of the performers. "When you're there, you're being trusted to be close to the artist. You don't want to abuse that privilege. If the artist is right in front of you, don't reach up and grab them," says Tepsic. Also don't distract the artist. Turn off the orange focusing light and the flash on your camera, and don't sneak additional photos after the first three songs are finished. If you do break the rules, you risk losing access and the chance to shoot at that venue in the future.
Be mindful of the other people working the concert. Make room for other photographers, and don't spend all three songs in the best place in the photo pit. "I stay out of people's way as much as possible, so I always remain conscious of that," says Brad. "Another good practice is to always be nice. Over the years I've even made friends with security guards that are in the pit." Everyone working the show has a job to do, and over time you'll get to know the people behind the scenes.
Take it into post-production.
When it's time to edit your photos, you can take a journalistic or artistic approach. From a journalistic standpoint, keep photos in their truest form and enhance them only subtly. From a creative standpoint, it's okay to use Adobe Photoshop to cut out distracting objects, such as a fan's hand or a mic cord in the frame.
"I do a lot of work in Adobe Photoshop Lightroom. And I'd say for concert photography, specifically, 90% of my post-processing work is done in Lightroom," says Tepsic. Whether you adjust contrast, apply a custom preset, or improve the brightness of an image, subtle adjustments can help you elevate your photos.

"I don't do too much editing with my photos because it's journalism. I want to always keep the feel of the show," says Brad. When you decide how much editing to do, just consider your client and their needs. If a publication paid you to take photos, make sure you know what kind of images they expect to receive. If they want clear-cut journalism, you should edit with a light touch. If it's for an editorial piece, you may have more room to play creatively.
Concert photography is an exciting way to improve your skills and build an interesting portfolio. Plus, you get to enjoy some wonderful music along the way. So whether you shoot in small, intimate clubs or inside enormous stadiums, just stay in the moment and focus on the energy of the performance.
You might also be interested in…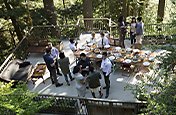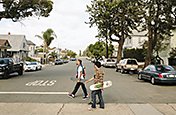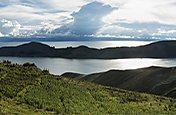 Open up the scene with lenses that literally broaden your horizons. Learn the different kinds of wide-angle lenses, when to use them, and how to take stunning shots at wide focal lengths.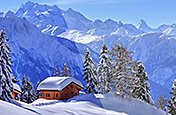 Lightroom plan
Edit, organise, store and share photos from anywhere.
7 days free, then 12,09 €/mo. 
Photography
Get Lightroom, Lightroom Classic, Photoshop and 20 GB of cloud storage. 7 days free, then 12,09 €/mo.
All Apps
Get the entire collection of creative apps and more.
7 days free, then 67,57 €/mo.