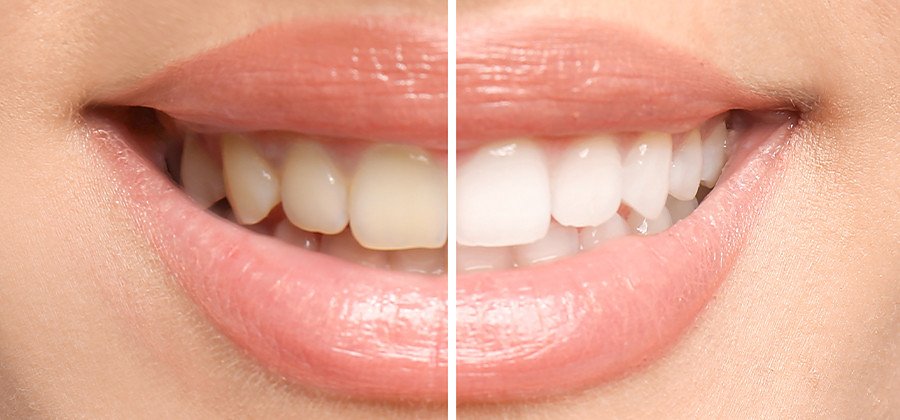 Discover how to whiten teeth in Adobe Photoshop.
See how to use saturation for teeth whitening and for all kinds of other photo editing tasks in Adobe Photoshop. 
Not sure which apps are best for you?
Not sure which apps are best for you?
Take a minute. We'll help you figure it out.
Take a minute. We'll help you figure it out.
Bring the smiles with a brightened one.
Use the saturation adjustment layer and Lasso tools in Adobe Photoshop to improve the look of anyone's smile in pictures, from pro headshots to commercial photos. Plus, practice your new skills with a range of easy-to-follow Photoshop tutorials, including:
Tooth whitening in headshots
Adjusting portraits on mobile
Working with layer masks
Take your best shot by giving the same to them — get all the details below.
Learn to retouch yellow teeth in photo editing.
Make a good first impression with a professional headshot or pop the brightness of an athlete's smile in commercial photography by learning how to adjust for white teeth in Photoshop — a skill that can help you combat years of subjects' teeth-staining habits. Learn how to tweak a new Hue/Saturation layer to bring lightness to teeth and other objects to add impact to your photos. 
Start with the Lasso tool and a new adjustment layer.
---
1. Create a new adjustment layer over the original image so your work is a flexible adjustment. Make sure to check the Layers panel to ensure you're working on the correct new layer. 
---
2. Using the Lasso tool, make a selection that goes along the edges of the teeth. If you capture some of the lips or gums, that is OK. 
---
3. In the adjustments drop-down menu, select the Hue/Saturation adjustment layer. Photoshop will automatically convert your selection into a layer mask. 
---
4. In the Properties panel of your Hue/Saturation layer, click the options bar labeled Master and select Yellows, as that is all you'll want to adjust to whiten teeth.
---
5. Decrease the Yellows in your selection by moving the saturation slider to the left. 
---
6. If you notice a harsh edge to your selection, fix it in the Properties panel by selecting Masks. In the Masks panel, increase the feather slider to give your selection a soft edge. 
---
Using this same method, you can edit pet photography to brighten a dog's eyes against its darker fur. Simply select the eyes and then pull out the dark color to amplify the highlights. 
Watch Photoshop tutorials on teeth whitening.
Get started with editing tutorials on teeth whitening and build your skills with these editing photography tips.

By growing your knowledge with those tutorials, you'll be ready to move on to more advanced tasks. See how you can use a brush tool and the Levels adjustments to brighten dark photos or learn more about using adjustment layers to pop different colors in photos — all foundational skills you can build upon by watching simple teeth-whitening tutorials.