Create new worlds with matte paintings.
One of the oldest visual effects in film, matte paintings provide fantastic landscapes and backdrops for films, TV and video games.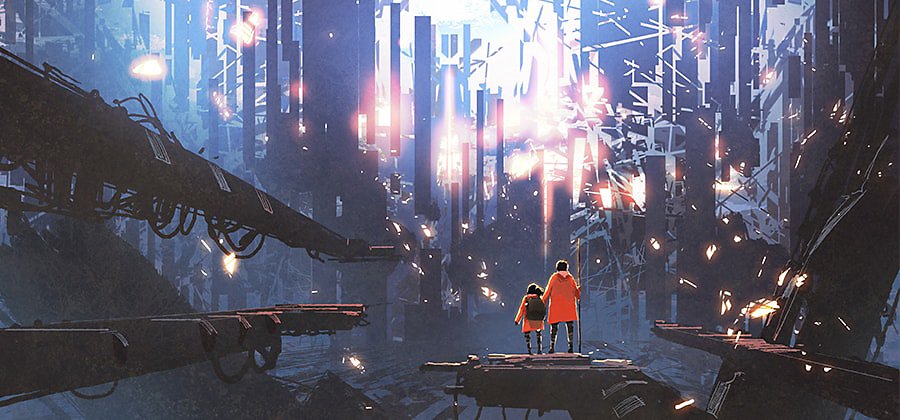 What is a matte painting?
Through films and TV, we've been to the far corners of the world with Indiana Jones, we've fought dinosaurs on Skull Island with King Kong and we've seen a galaxy far, far away in Star Wars. In all of these instances, filmmakers have created fantasy and sci-fi landscapes and cityscapes via matte paintings.
Matte paintings aren't just limited to fantasy and sci-fi. They can be buildings, cityscapes and even the Titanic in all its doomed glory. The very best ones don't even look like paintings. "Alfred Hitchcock did a great job with matte paintings to the point where, unless you're really looking for it, you can't tell it's a painting," says illustrator Jonathan Case. "They'd get these really great oil painters to do a giant painting they'd place in the background." Characters looked like they were in a vast library or outdoors but in fact were standing in front of a two-dimensional image.
Work as a matte painter.

Films, TV and video games result from the combined efforts of hundreds of people and matte painters have to incorporate the visions of the director, writer and artistic director even as they express their own ideas. "If I'm in Hamlet, I'm not going to start improvising lines," says matte painter Paul Topolos. "It's like a cake. I'm doing the icing, but the cake has already been made." 
Before a matte painter starts working, they'll meet with a project's creative leads to find out more about the assignment. "Usually you get what's called a kickoff, when you'll get a sense of what the shot is about and where it is in the story," says Topolos.
That kickoff meeting might include storyboards or concept art for the scene or instructions about the look and feel of the shot. "If you're working with an art director, they give you notes about the colour temperature, camera depth, values and mood of the scene," says Case. "You work from those notes and build something out."
Regardless of the scene, matte painters need to know how actors, VFX or other visual elements are going to be positioned in relation to the matte painting. "You need to leave room for the overall composition that the director is working toward," says Case. Matte paintings are not really works of art unto themselves. They always exist in relation to other elements in a film, TV show or video game.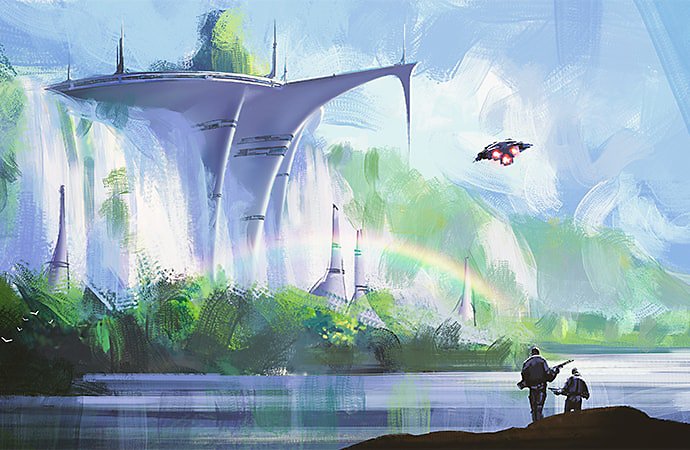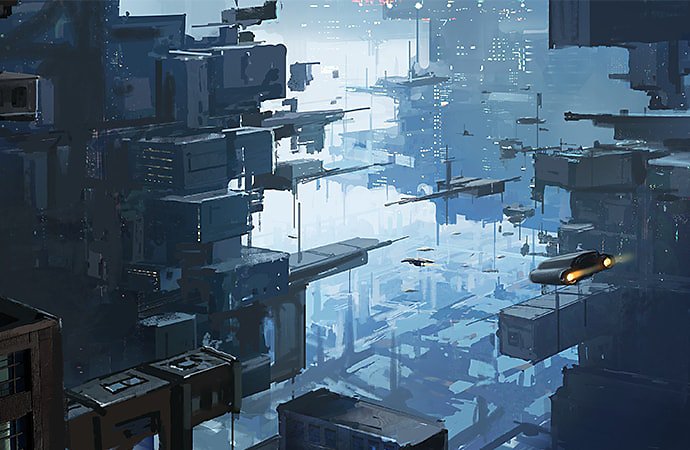 Find the Creative Cloud plan that's right for you.
Photography (20 GB)
RM47.07/mo (incl. SST)
Lightroom on desktop and mobile, Lightroom Classic and Photoshop on desktop and iPad. Learn more
---
Lightroom on desktop and mobile, Lightroom Classic and Photoshop on desktop and iPad. Learn more

Adobe Photoshop Single App
RM98.91/mo (incl. SST)
Get Photoshop on desktop and iPad as part of Creative Cloud. Learn more
---
Adobe Photoshop Single App
Get Photoshop on desktop and iPad as part of Creative Cloud. Learn more
All Apps
RM250.16/mo (incl. SST)
Get Photoshop on desktop and iPad, plus the entire collection of creative apps.  Learn more
---
Get Photoshop on desktop and iPad, plus the entire collection of creative apps.  Learn more
Students and teachers
RM94.20/mo. (incl. SST)
Save over 60% on the entire collection of Creative Cloud apps. Learn more
---
Save over 60% on the entire collection of Creative Cloud apps. Learn more