What is commercial photography?
Learn about the many avenues of commercial photography. Get insider tips about how to work with clients, plan your shoot and be the best freelance commercial photographer you can.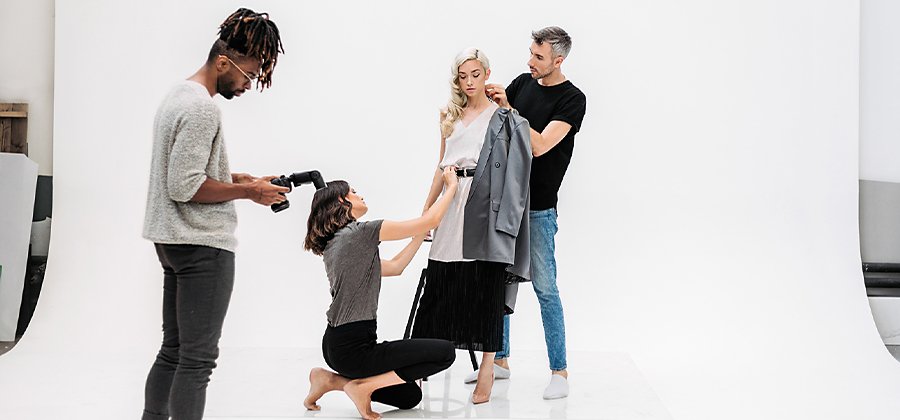 Step into the world of commercial photography.
Commercial photography is a genre that encompasses any photos used for a business or publication. "It's photography that helps sell things," says photographer Andrew Bennett. "When I do commercial photography, it's because a company has a product or service to sell and needs content to help sell it." From websites to billboards to social media campaigns, there's almost no limit to the potential commercial uses for photos.
Types of commercial photography.
Food photography, fashion photography, architecture photography, headshots and portrait photography are just some of the types of photos that fall under the commercial umbrella. You can work in a studio to produce a unique, stlylised photography shoot or a company may simply license a photo you took independently.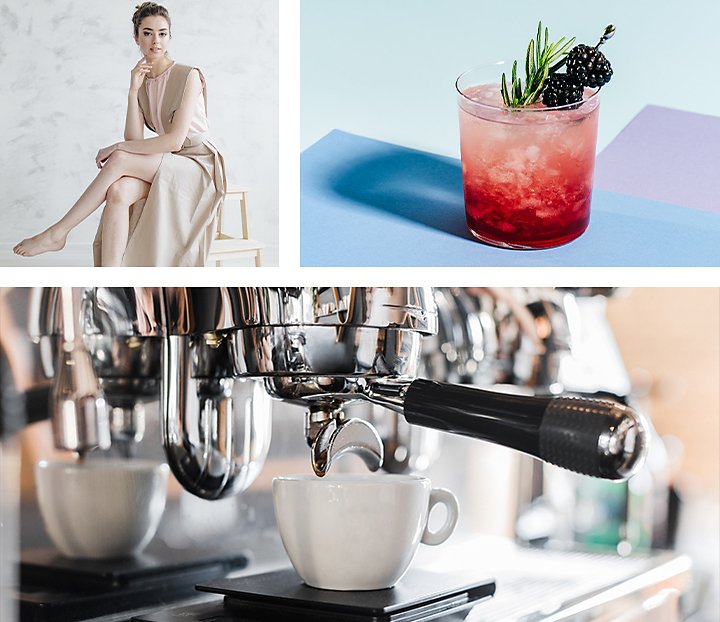 While lifestyle photography predates social media, the authentic look of photos that brands now seek out has transformed the advertising photography landscape. Instead of product photography done in a studio, the commercial genre has branched out to include the nebulous and wide field of lifestyle photography, which "has a human element in it or shows interaction with a product," according to Bennett. In lifestyle photography, the actual product or service may take a back seat to the environment or the artistry of the image. The goal is to create an image that shows the product or service seamlessly integrated into the subject's lifestyle.
No matter what kind of commercial work you want to get into, there are a few surefire ways you can set yourself up for success in the industry.
How to break into the commercial photography industry.
Build your commercial photography portfolio.
While there are many routes to a commercial career, from real estate to sports photography, the most important thing you need to land gig is a strong portfolio of work. It's okay if you don't know what type of photography you want to specialise in straightaway. You might not have the luxury to start out shooting exactly what you want.
As a general rule, stay away from providing your services for free. This can devalue your work and the photography industry as a whole. But that may be a judgement call worth making for a new photographer. "It's vital that you fill your portfolio early on with the kind of work you want to shoot. And if that means shooting it for free, then that's what you should do. No one's going to hire you for things you haven't shot before," says Bennett.
Do projects on your own time and agree to gig that pay and build experience. As you go, pay attention to what you're drawn to. "It took years to figure out what I like to shoot and what my point of view is," says photographer Caydie McCumber.
Get hired as a photo assistant.
"I started out as a lighting assistant and I recommend that to anybody trying to get into the commercial photography world," says McCumber. "You get to learn about all the different types of light modifiers and become proficient in how to light any subject. You also learn set etiquette, which is really important." Set etiquette is knowledge about how a set runs and why, from understanding who's who to the dos and don'ts that make up spoken and often unspoken rules of life at a photoshoot.
Assistant jobs are a great route for aspiring photographers because, apart from technical know-how, assistant jobs introduce you to a variety of working professionals. It's a great opportunity to network, build connections and land future jobs.
Which projects should you take on?
As a new photographer, you might find it tricky to balance the pros and cons of different projects. Use this simple rule of thumb to help you to weigh potential profit with portfolio work: "With every project there are three factors: portfolio, people and price. You must have two of those to take on the project," says Bennett. For example, if a project comes up that would really boost your portfolio and the clients are easy to work with, you should consider it even if the payout isn't high. On the other hand, if a project pays really well, but would add no value to your portfolio and the clients are difficult, you might want to pass.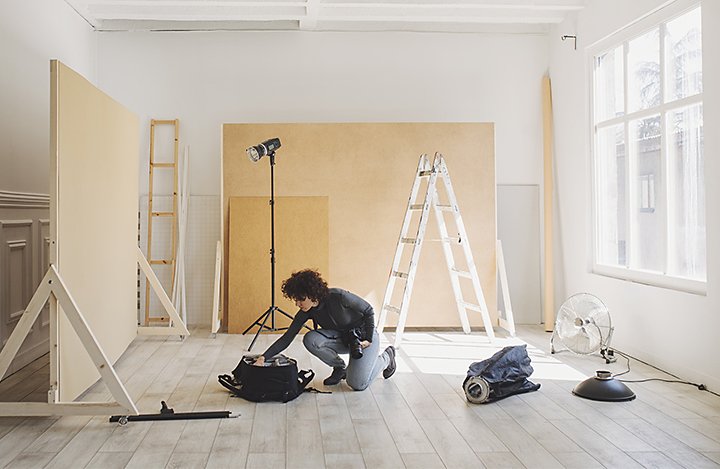 How to prepare for a successful photoshoot.
You need a solid plan to make sure your shoot goes smoothly, from contract negotiation to final file delivery.
The best way to set yourself up for success is to build a strong relationship with your potential client. Ask lots of questions and know the brand or job inside out, so you can go into the assignment with confidence and clarity. This is especially doable if you work with small businesses or business owners.
"At pre-production meetings, find out which brands your clients admire or want to emulate," advises Bennett. "Ask clients about any previous experiences with photography and what they liked or didn't like about that experience." These questions help build a relationship with your client and set expectations for each of your roles in the collaboration. Some commercial clients like to be in the loop about everything, while others prefer to hand you the reins.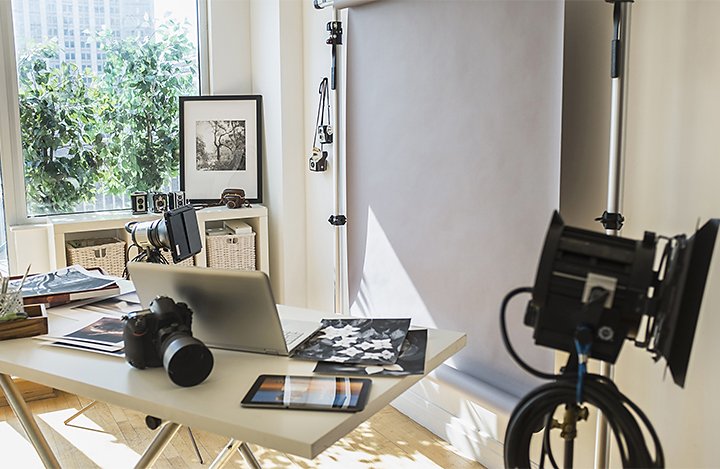 Plan your gear and your shot list.
Once you've scoped out the marketing strategy and the type of photography you'll be doing, dive into the plan for your shoot. The client will likely provide creative direction and a list of images to capture. On a personal shoot, however, you'll need to build a mood board, make a shot list and create a gear list. These lists help you to keep track of what you need to get in your shoot, to make sure nothing gets overlooked or missed accidentally. The goal in the pre-production phase is to eliminate as many unknowns as possible, so you don't waste time or money on set.
Don't forget that the photography service your client is paying for doesn't mean just the files, it's also your creative ideas and conceptualisation skills. "A big part of what we sell is creative consultation," explains Bennett. "Those first meetings are about landing the gig. I'm always trying to pitch a few creative ideas, because it shows that I'm not someone who will just show up with a camera and say, 'Tell me what to shoot.' I'm going to show up and take the lead in a creative sense."
Navigate contracts and compensation.
Don't overlook the legal side of your professional photography business. Model releases, usage rights and compensation bids are essential pieces of a legitimate job. Contracts are legally binding, so it's important to get the details of your agreement in writing to guard against any legal hiccups down the road.
It's common for clients to outline the exact use of a photo and how long they will use it in the contract, but full buyouts are increasingly common, as McCumber notes. In a full buyout, the client can use the image on any platform at any time, indefinitely, which gives them freedom and makes it an easier option for social media and online usage. This is typically the most expensive option, as the copyright to the images transfers to the client in a full buyout.
Whatever terms you settle on, make sure they're expressed clearly in your contract for all involved parties to agree on.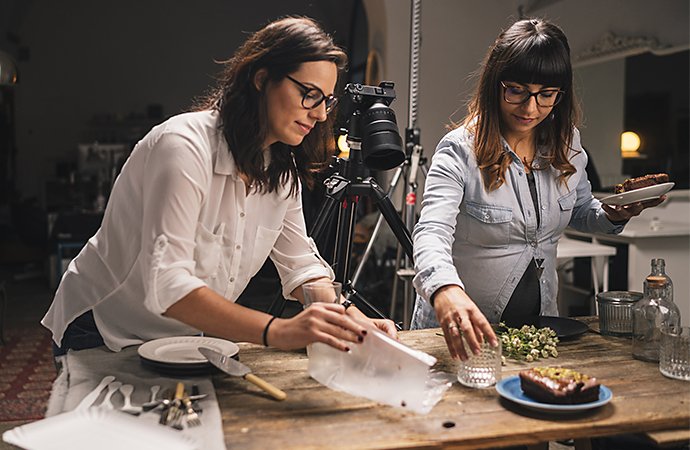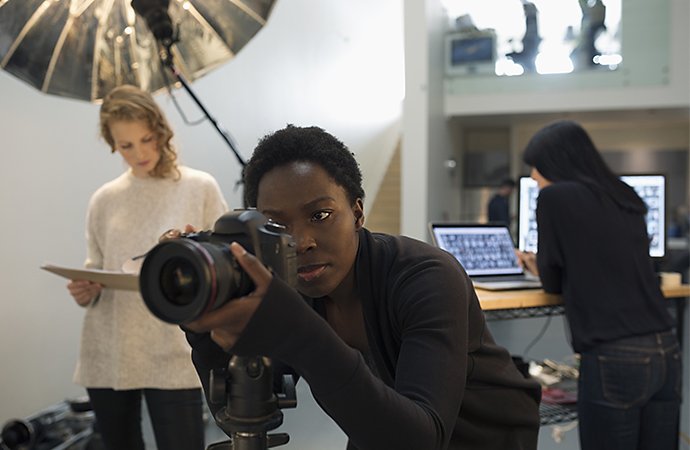 Tips for a smooth day on set.
Scout locations ahead of time, arrive early, test your lighting and have backup plans in place. "Every job is a little different," says McCumber. "You can get the same outcome a couple different ways. Which route you take depends on what your client needs and what you think the best way to execute it may be. It will also come down to the tools and skill set at your disposal."
If your clients are on set with you, actively collaborate with them throughout the shoot to get feedback and adjust as you go. Don't be afraid to shoot more than you think necessary, as there likely won't be time to redo a shot; it's better to cover your bases and capture more images than find out you didn't get the shot you needed after you pack up.
Nail your post-production workflow.
Many professional photographers choose to hire a retoucher to all handle post-production needs. "Retouching can be really expensive and time intensive," McCumber notes. "It's better to get the image correct in-camera than relying on additional retouching. It will save time and money for your client later."
But some editing is almost always necessary and, especially if you're just starting out, it's beneficial and more cost effective to do this yourself. Knowing how to edit, retouch and manage files is a vital skill for photographers and many commercial photographers use a combination of Adobe Photoshop and Photoshop Lightroom for post-processing. When it's time to showcase your new work in your online portfolio, make a professional site with Adobe Portfolio.
When your final selections are ready to be sent, remember that "it always pays to have happy clients who feel they got more than they were expecting," Bennett explains. "My proposals usually include a delivery of, say, 50+ edited photos. And often I'll send 50% more than that or even double it." Don't include throwaway shots to boost your numbers, but if you can, it's better to over-deliver rather than under-deliver.
With this inside scoop on all things commercial, you're ready to get out and start drumming up some business. Promoting your work on social media or your portfolio site is a great way to build an audience and get your work in front of potential clients. Every project will bring a new set of creative challenges; with each shoot you complete, you'll be a step closer to perfecting your craft and landing your dream gig.
You might also be interested in…
Explore the world of culinary photography with advice from industry professionals.
Get Photoshop Lightroom.
Edit, organise, store and share photos from anywhere.
7 days free, then US$ 9.99/mo.