Discover the monochrome world of
black-and-white photography.
Working in black and white is a great place for photographers to hone their skills and perfect their art. Dive in to explore the intricacies of working in grayscale.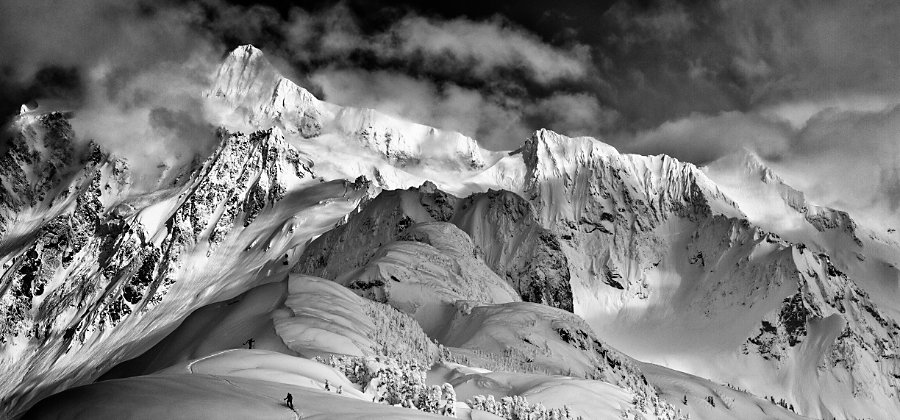 The importance of black-and-white images.
When photography was invented, all photographs were monochrome (black and white, blue and white, and brown and white), using the available materials of the time. Nowadays, "black-and-white photographs can be a lot of things. They can exist in the commercial realm, they can be fine art, they can be documentary or scientific in nature, they can be made on film or digitally," explains photographer and teacher Tina Tryforos. While shooting in color on your camera or smartphone is always an option, pursuing black-and-white photography is a great way to explore the art form.

Black-and-white photos are a helpful way for beginners to learn the art of photography. By eliminating the complexity of color, you can better understand your camera tools and explore how light, aperture, ISO, and shutter speed affect each other. "Making photos in black and white can immediately change the way we view and interpret those images," says artist and professor Ariel Wilson. Creating black-and-white images can let you approach photography as an art form, a study in light and composition, instead of as a way to document your life for social media.
Black-and-white photography tips.
Find inspiration in shades of gray.
Before jumping in and creating photos, look at the work of other artists working in black and white. Explore famous, historic work, like Fan Ho's black-and-white street photography of Hong Kong in the 1950s and 1960s. Famous black-and-white landscape photography, like the work of Ansel Adams, is another well from which you can draw inspiration. Or check out art with a clear message, like the work of black-and-white photographer and nature conservationist Nick Brandt. Find work that inspires you, and observe the techniques those artists used. When you know what style of images you like, it's easier to make photos that you'll like too.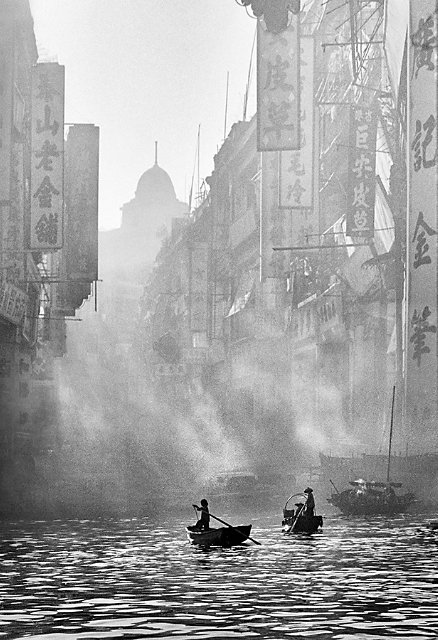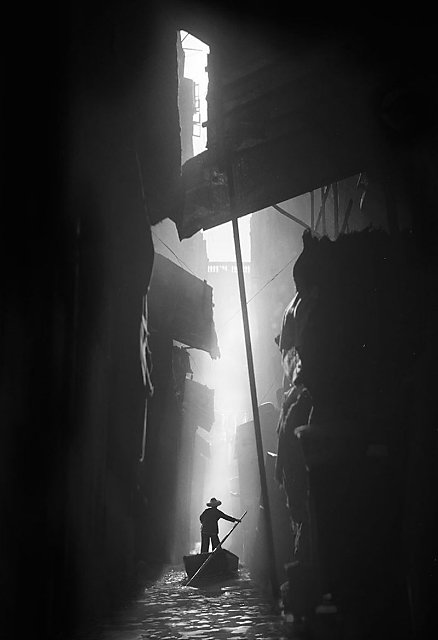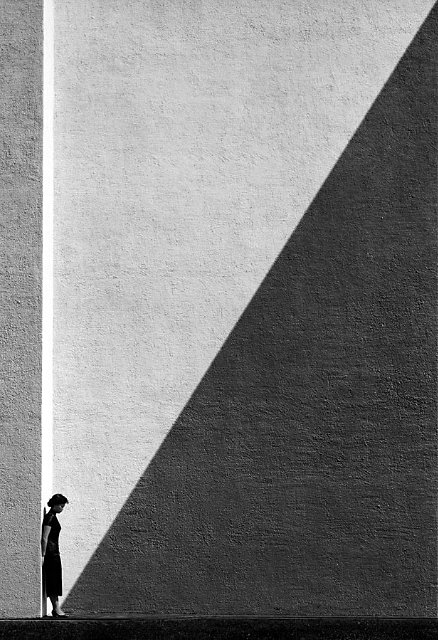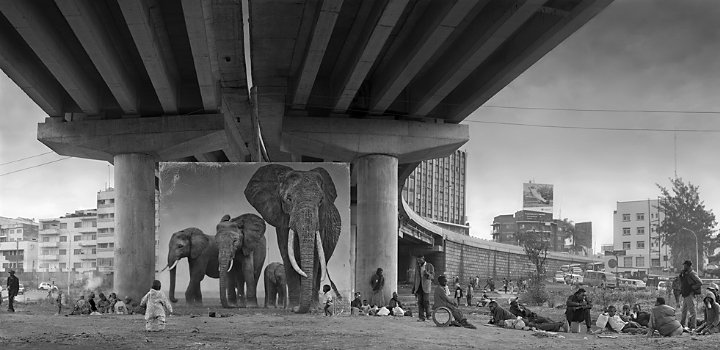 Image by Nick Brandt
Master your camera.
"A good place to start is by understanding the technical components of your tools," explains photographer and professor Adam Long. When you know the ins and outs of your camera and your editing tools, it gets easier to create the photos you want to make.
For beginners, understanding the relationship between aperture, shutter speed, and depth of field will help you make superior images. See how focusing on light, dynamic range, and composition can help hone your skills and get you started. If you're using a digital camera, look for a setting that allows you to see monochrome via the camera screen. Images change when they're in black and white, and shooting this way can help you compose your image more effectively without getting distracted by color.
We're used to seeing the world in full color, and it can be difficult to understand how those colors translate into shades of gray. "It's hard to get your brain to know that a really bright red is going to come out pretty much the same as that deep blue in your final image," explains Long. Help your eye to compose photos in black and white by creating lots of color-free photos. Experiment by shooting bright colors in black and white, and see how objects change when done in monochrome.
Different subjects train your eye in new ways. Black-and-white portrait photography is another great way to practice and build skills. "I highly encourage beginners to photograph either strangers or people that they don't know," explains Long. When you photograph someone you don't know, you don't have any preconceived notions about them or how the photograph should look. Consider trying some black-and-white street photography, and you might just capture something unexpected or interesting.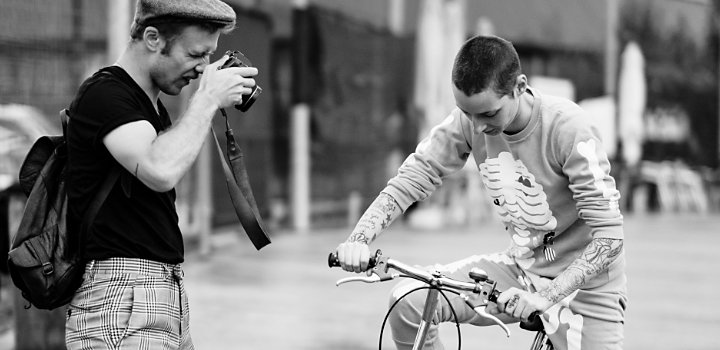 Explore the art of editing.
When creating digital photos, shoot with a DSLR or digital camera that saves your raw files separately. Even if you're using the monochrome setting to view images in black and white through your camera, it's important to save the raw color file, not just a black-and-white JPEG. This gives you more opportunities for post-production editing and photo manipulation.
Stunning black-and-white photos and impressive color photography share a lot of the same characteristics. It all comes down to composition, contrast, tone, and light. If you decide to shoot color images and want to edit them in black and white, there are post-processing tutorials that can help. With Adobe Photoshop or Lightroom, it's quite simple to transform any image into black and white using a preset. From there, those shades of gray can be manipulated in almost endless ways.
Experiment with mood and emotion in your photos by changing exposure and contrast levels in your images. Tweaking these settings can help you understand how tone affects a photograph and the story that photo is telling. By highlighting the midtones, you can make an image more calm or relaxing. By creating high contrast and eliminating your midtones, you instantly make it more dramatic. Depending on your goals, either tactic could be effective. 
Challenges in black-and-white photography.
Beware of clichés.

"I often see beginners replicating images they've seen out in the world, just to see if they can do it. And of course they can do it!" says Wilson. If you're striving to create truly stunning grayscale photos, focus on your own vision. Instead of simply recreating images, "I would much rather see people walk out their front door and photograph the block that they live on," says Long. Avoid clichés by photographing something unique or something that truly interests you.
Print your black-and-white photos.
Whether you're using film photography and printing your photos in a darkroom, or you're a digital photographer who's tweaking images in Photoshop, make sure to view an analog version of your black-and-white photos. Seeing your monochrome images on paper or in person is quite different from viewing them on a digital screen. Printing your images can help you engage with them as art, versus seeing them as a quick snap of your camera. It can help you better analyze the dynamic range and composition of your images, too.
The art of black-and-white photography is a skill to learn, just like any other. But without the confusion of color, it's a wonderful starting ground for beginners, as well as for photographers looking to advance their skills. Next time you're ready to snap a photo, consider what it would look like in grayscale. You might just find a new art form to pursue.
Edit your photos online today.

Fine-tune your photos right from your browser with the Adobe Photoshop Express online editor. Crop, retouch, and adjust your photos in just a few clicks. Get unlimited edits with a free account.
You might also be interested in…
Get Photoshop Lightroom.
Edit, organize, store, and share photos from anywhere.
7 days free, then ฿380.92/mo (inclusive of VAT).