How to design compelling Facebook ads.
Discover how to create thoughtful Facebook ad campaigns that convert to sales.     

Not your average ad.
It can be a challenge to promote a business on the Facebook news feed. There are dozens of different ad platforms, tons of target audiences and various ad styles to choose from. Ads can also become expensive and, over time, may not provide the high-quality returns that marketers want to see. Quality advertising of any kind varies based on its medium and goal, but what sets Facebook ads apart from many other platforms is the emphasis on discovery.
With a platform like Google AdWords, you're looking to find new customers. With Facebook advertising, you're hoping customers discover you and your brand. When they're using their feed, they want to discover new things and that's reflected in the design of Facebook ads. Embracing this marketing strategy will help you to generate greater returns with your ads.
Explore the elements of a good Facebook ad, the types of ads you can run and how to design your own ad with Adobe Premiere Pro and Photoshop. 
Social proof and advertising.
To succeed with Facebook ads, you need to become familiar with the concept of social proof. Social proof is a psychology term that refers to a concept called normative social influence. The idea is that people are much more likely to engage with and interact with a brand or products if they appear to conform to existing social norms or familiar concepts. The more natural and compelling an ad appears to be (to the person the ad is targeting), the more likely that person is to engage. The secret sauce of designing Facebook ads leans heavily on the concept of social proof.
Your ads need to have social elements confirming them, whether that's endorsements by influencers, positive reviews or a similarity to other products that your customers already know and like.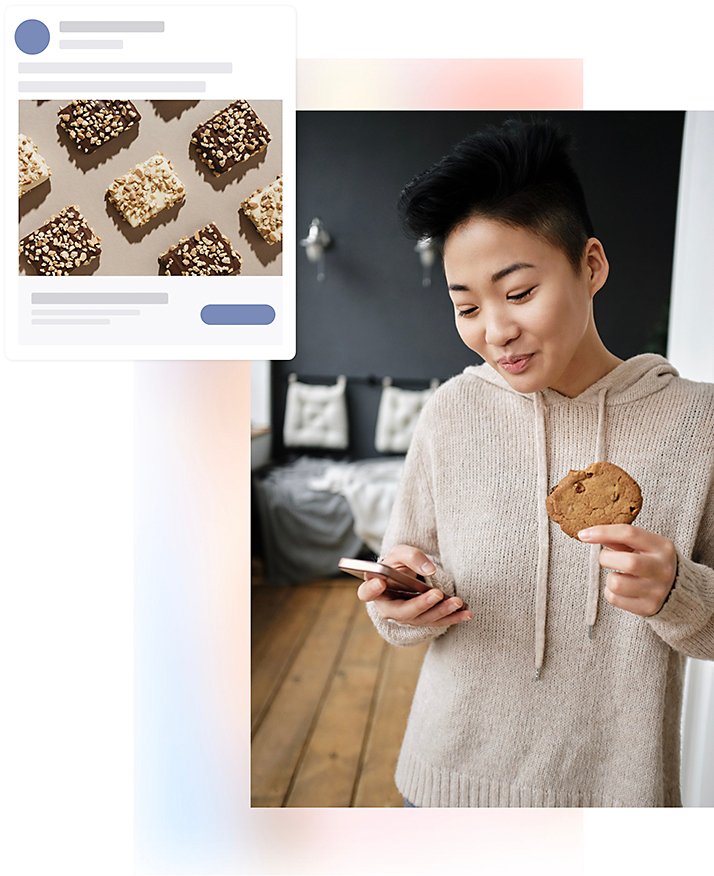 Elements of a quality Facebook ad.
Each ad you design for Facebook needs the following elements working together with the idea of social proof through credentials, user reviews or endorsements from an expert or familiar face:
Primary text
The description is the moneymaker — this is your primary messaging and where your most compelling ad copy needs to go. Outline what the product is, what it does and the value it creates for a customer. Depending on the ad type, stay within a working range of 125 characters. Anything longer than that will be truncated, so make every character count.
Headline
In other ad formats, the headline is the most important. But in a Facebook ad, the headline isn't the first thing a user sees because it's located under the image and after the primary text. Because of this placement, you want something clear and concise, but the description will be the hook for your text. A quick testimonial quote can work well here.
Call to action
Facebook has a limited set of choices for CTA buttons (for example, "Shop Now"). These are what your audience will click to go to your store. Choose the one that makes the most sense for your ad.
Images, photos and videos
Depending on the type of ad placement you choose, some compelling imagery or video (GIFs can work, too) is essential to draw the eyes of your prospective audience.
Business information
A key component of any ad is relevant business and social media information. You want your ads to communicate what you're selling and what your business is trying to accomplish. Give your customers that essential "in" to your social media accounts and other engagement opportunities.
It also doesn't hurt to consider your A/B testing strategy. Try creating two versions of an ad, each slightly different, so you can see which works best for your products or with your audience. Additionally, identify the conversion rate (the rate at which customers accomplish an advertising goal) that you'd like to see as a metric of success. This will help you to track the effectiveness of your ads.
Types and formats for Facebook ads.
Facebook ads appear in three areas on the social media platform: user feeds, streaming video and Stories. Know the design constraints and considerations of each so you can ensure that your ads pop — and convert. The best Facebook ad is one that works best for your business objectives and value proposition. Choose your ad designs accordingly.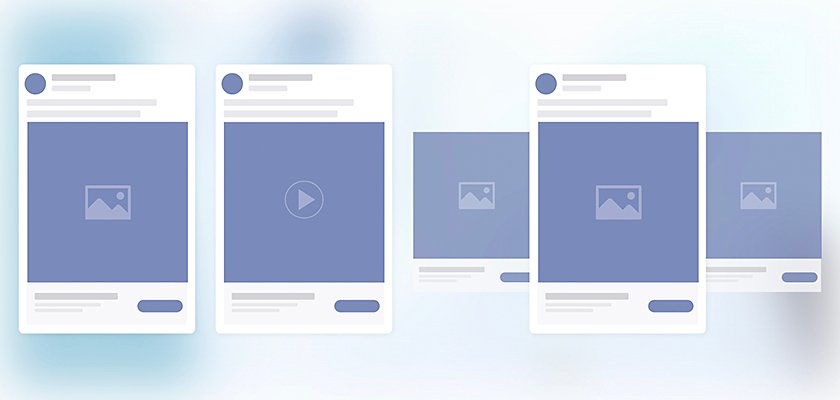 Single-image ads

The single-image ad is the most familiar and commonly used advertising on Facebook and Instagram. It resembles a status update, with a few extra options like a call-to-action button.
For this style of ad, make sure that your image is clear, high resolution and clearly communicates what you're selling. The accepted formats are PNG and JPG and the dimensional requirements can be found on Facebook's image ad specs page.
Video ads bring motion to users' Instagram or Facebook feeds. They break the monotony of scrolling, so they can be a very effective tool for advertising products.
However, video ads can take significantly more time to create. There are different aspect ratios required for viewing on mobile versus desktop — find the appropriate parameters for a video ad here — so you may have to output multiple sizes of a video ad. Make sure that you create a full plan for a video campaign as well. It can be helpful to break a longer single video into bite-sized chunks for better ad coverage. 
Collections, Carousels and Stories ads
Collections are a mobile advertising feature that both Facebook and Instagram offer. They give the user a large cover image or video with a slideshow beneath it. When users tap it, an Instant Experience opens — a customisable shop front landing page integrated with a Facebook Business account. Collections are significantly involved, so make sure to examine the specific image sizes and formatting requirements of creating one.
Carousel ads appear on both mobile and desktop experiences on Instagram and Facebook. These ads offer a slideshow of status updates, photos and video.
Stories ads are designed for display in both Facebook and Instagram Stories. This format works well for quick, engaging advertising because users cycle through Stories quickly. Make sure your Stories ads are punchy and to the point.
Specific formatting information for all ad styles can be found by searching "design specifications" in Facebook's Business Help Centre.
Building ads with Adobe products.
Adobe software makes Facebook ad design easy. Additionally, Creative Cloud helps ensure that there's collaboration across your teams and you'll have an easy time keeping track of the latest updates to ads (as well as easy uploading to mobile experiences).
Use layout tools to create great Facebook ads.
You'll likely be creating several ads of different sizes, formatted for different uses. The Photoshop Artboard functionality is a powerful asset that helps digital marketers streamline their process of creating ads with similar design elements.
It's easy to create as many artboards as you need and they're easy to organise as well. When you create a new document, simply check the Artboards box and your canvas will have small arrows you can click to create as many artboards as you need. For instance, you can make one artboard for your Carousel ads, one for a straight image ad and another for the thumbnails for video.
Browse an enormous collection of sample ads, stock photos and templates to use as inspiration or a foundation in Adobe Stock.
Snappy video edits as a sales tool.
Whether you're working on a multi-day shoot with actors or creating a quick motion graphics spot, the foundations start with Premiere Pro. If you're new to video ads, explore this introduction to video editing. For more experienced editors, there are many great tutorials online and they're often a great place to source inspiration for your next ad and give you the motion skills you need to take your work to a higher level.
When it comes time to export, Premiere Pro is a great option. There are export presets that meet the file size and formatting requirements for Facebook ads and Instagram ads, easy to locate under the Presets bar in the Export menu.
Facebook has the flexibility you need to create effective video- and image-based ads. Build your skills and follow your ambition to create intriguing ads that keep the new customers coming. Plus, find the design tips and inspiration you're seeking on Behance, where you can explore many more creative examples.
More topics you might be interested in…
Choose the combination of apps your business needs, from single apps to our all apps package.
Whether you need one app or all the apps, it's all manged from the management console.  You can assign, remove, reassign simply and easily. Unlimited job postings on Adobe talent and 1TB storage.
£27.99/mo per licence (excluding VAT)

When your business needs just one or two critical apps. Your Team gets access to your selected apps.*

£65.49/mo per license (excluding VAT)
Get 20+ Adobe creative apps including Photoshop, Illustrator, InDesign, Adobe Express, XD and more.

* Acrobat Pro, Lightroom and InCopy single apps come with 100 GB storage.