An overview of video production.
Learn the basics of how to make a video or film, from first draft to final cut. Plus, get expert tips to help you nail every step of the video production process.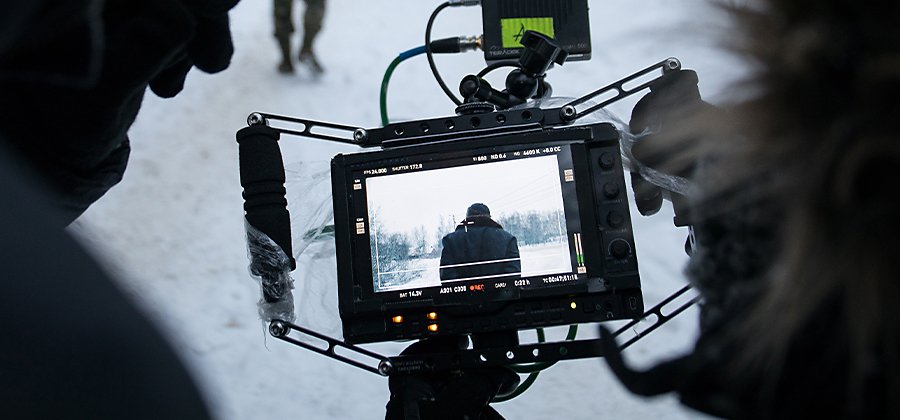 Pull back the curtain on movie magic.
Everything looks effortless and smooth when you watch a finished film or video, but the reality is that you see only the result of months or even years of hard work by a huge team of people. You can break the film production process down into three phases: pre-production, production, and post-production. It may sound daunting, but with industry advice on how to run your own production like a pro and insights into each part of the process, you can take your first steps into video production.
Pre-production
The first part of any video project is pre-production. This encompasses everything needed to lay the groundwork for the whole project, from financing to planning, hiring, and everything in between. For a full-length film, this planning phase takes a long time: anywhere from three months to a whole year. The goal is to work out as many kinks as possible before production starts, so that the rest of the project runs smoothly and stays on budget.

Pre-production will look different for every project. A local marketing video and a high-budget music video will have different resources, budgets, and creative priorities. But no matter what type of video you're making, don't cut corners on pre-production planning, as it sets the tone for the rest of the project.
A look inside the planning process.
Producers and the director are usually the first people to get a project off the ground. While the director is in charge of all things related to creative direction, the producer is in charge of the logistical elements of film production, such as securing funding and hiring crew members. Often, this person will hire a company to handle video production services and contract their own production team.
Writers, cinematographers, and the director work together to storyboard the film and work on scriptwriting. With many films, the script is already completed, and the only work needed is to decide how to translate it for the screen. Meanwhile, the production team must scout locations and talent, finalize budgets, and set the project timeline.
"Generally, you want to have a director and a cinematographer on board so they can scout together and talk about which locations would and wouldn't work," adds videographer Hiroshi Hara. One essential item you should make during pre-production is a shot list. This will guide your shooting schedule once you get to production and ensure that you don't miss any critical shots.
It's not too early to start thinking about the video's release either. Set aside time to outline a marketing strategy that will be executed alongside the film's production to give it the promotion it needs.
Before you shoot, the team should be aligned on strategy and direction for the whole project. "The schedule will shift as you go, but the hope is that you can work out all potential issues during pre-production so that during production, you can really just focus on performance and capturing the best image possible," says Hara.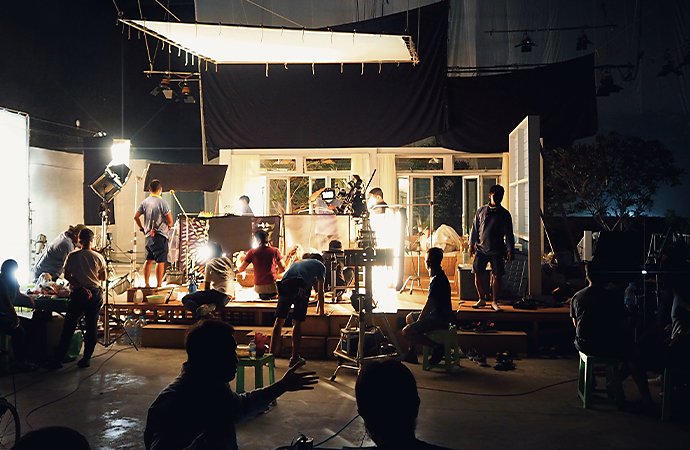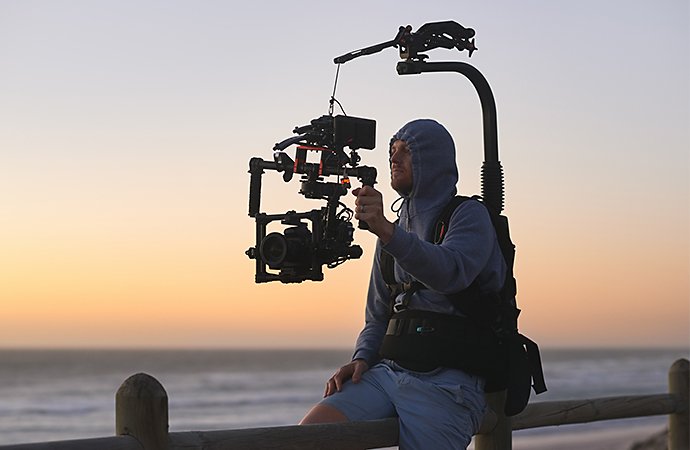 Production
Once you complete your pre-production outlines, it's time to put your plan into action. Also called principal photography, the production phase is when you shoot your footage on location. Any B-roll, voice-overs, or other sound effects needed for the final film are also recorded during this stage. For a full-length film, videography can take anywhere from one to three months, while a short promotional video or explainer video might wrap in just a day or two.

Filmmaking is a large undertaking no matter the scale of your video project, with many hands involved to bring it to life. Make sure you build a crew that can cover every area on set. A small crew that covers the essentials could include a camera operator or videographer, director, producer, sound mixer, and gaffer to handle lighting.
Tips for when you work with non-actors or on corporate videos.
The advantage of actors is their experience; they know how to take direction and are more comfortable on set. But in many instances, such as video marketing, you'll be working with non-actors to produce professional video content. In these scenarios, you'll need to tailor the filming process for your client. Instead of sending them a call sheet along with the rest of the crew, just send an email that clearly explains when and where they need to be, along with any other requests.
"If you're shooting with non-actors or businesses, you want to make the best use of their time. Get all your lighting, sound, and the camera all ready using stand-ins," says videographer Margaret Kurniawan. "Then you can have them come in a lot later and already be ready to go."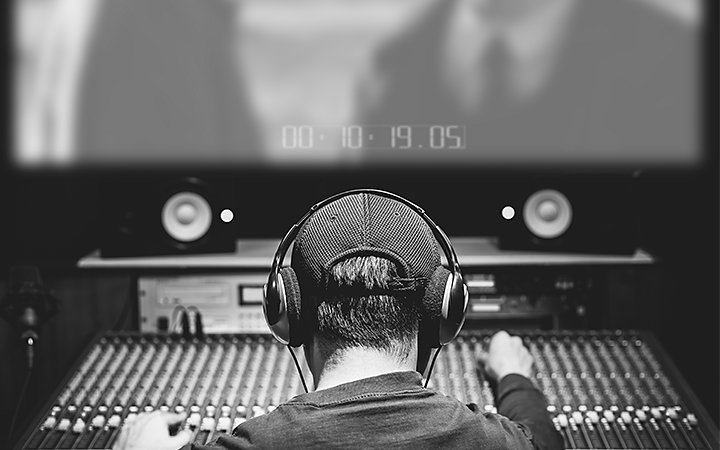 Post-production
Once you've got all your footage, you're ready to take it to the editing booth. This step of production has its own team of specialists who work to organize, compile, sequence, and enhance raw footage into high-quality video. Colorists do color correction and color grading, while sound engineers mix audio recordings.

The editing process won't happen overnight; it can take several months depending on the size of your project. Editing is kept to a tight timeline, just like principal photography, but this phase does allow you time to get every piece just the way you want it. For a polished final product, editors opt for industry-standard video editing software such as Adobe Premiere Pro. Learn more about the process of video editing:
How to do crosscutting:
Learn more about this compelling technique that lets you follow two narratives at once.
Now that you understand the big picture, you're ready to start the journey through your own video production from start to finish.
Do more with Adobe Premiere Pro.
Make visually stunning videos virtually anywhere — for film, TV, and web.
You might also be interested in…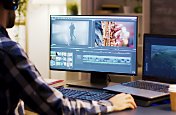 Heighten the artistry, efficiency, and emotional depth of your work with these useful techniques.