Spark your passion for fashion illustration.
From haute couture to bohemian chic, fashion is its own form of art. Follow this step-by-step guide to craft a stylish illustration that stands out.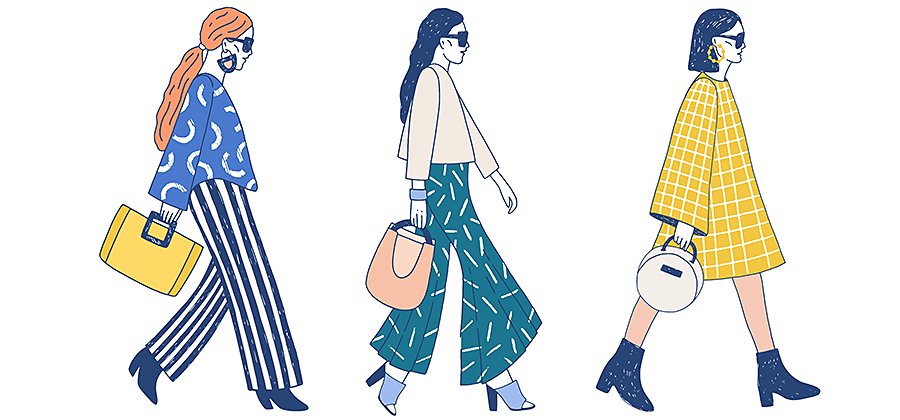 An introduction to fashion illustration.
If you have an eye for what's en vogue and want to sharpen your fashion drawing skills, follow the lead of famous artists like Meagan Morrison, Antonio Lopez, and David Downton and learn the art of fashion illustration. Unlike a fashion sketch, fashion illustration is more focused on the figure wearing the clothes and less on a particular clothing item or accessory. "It's meant to capture the mood and personality of the figure featured," explains fashion illustrator Bijou Karman.
Fashion illustrations are found in magazines, promotional ads, and boutiques as stand-alone pieces of artwork. Alternatively, technical sketches called flats are used by fashion designers to convey the idea of a design to a patternmaker or fabricator. "Technical design sketches in the fashion industry usually stick to strict guidelines, but the beauty of illustration is that fashion artists are free to make figure drawings and digital art that are much more creative," says Karman. "You can really do anything."
Get started with tips from fashion illustrators.
According to Karman, all it takes to start a work of art is an idea: "Fashion illustration is all about being inspired by something someone else has done and filtering it through your own lens." Grab your sketchbook and follow this step-by-step guide to make your illustration one of a kind.
When you think of Italian artist Rene Gruau's distinct painterly style or British designer Hayden Williams's detailed illustrations of Rihanna, they both have one thing in common: a unique point of view. To find your personal niche, consider the vibe you want to create. "A splashy or more graphic interpretation of your character can help bring your artistic vision to life," offers fashion designer and illustrator Zoe Hong.