Spark your passion for fashion illustration.
From haute couture to bohemian chic, fashion is its own form of art. Follow this step-by-step guide to craft a stylish illustration that stands out.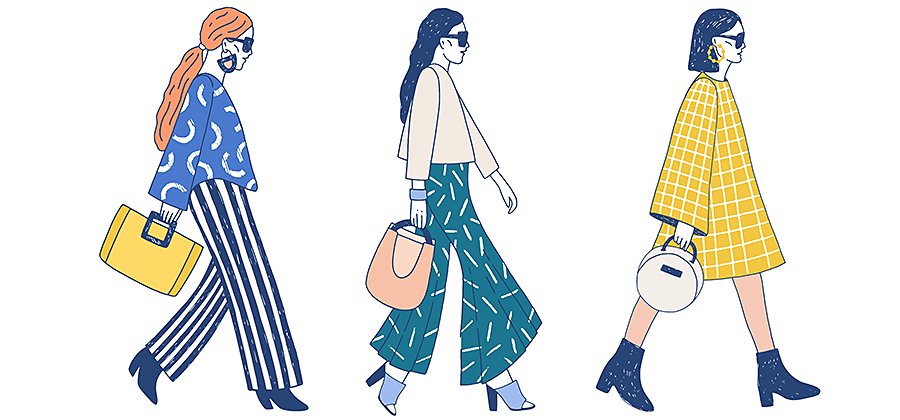 An introduction to fashion illustration.
If you have an eye for what's en vogue and want to sharpen your fashion drawing skills, follow the lead of famous artists like Meagan Morrison, Antonio Lopez, and David Downton and learn the art of fashion illustration. Unlike a fashion sketch, fashion illustration is more focused on the figure wearing the clothes and less on a particular clothing item or accessory. "It's meant to capture the mood and personality of the figure featured," explains fashion illustrator Bijou Karman.
Fashion illustrations are found in magazines, promotional ads, and boutiques as stand-alone pieces of artwork. Alternatively, technical sketches called flats are used by fashion designers to convey the idea of a design to a patternmaker or fabricator. "Technical design sketches in the fashion industry usually stick to strict guidelines, but the beauty of illustration is that fashion artists are free to make figure drawings and digital art that are much more creative," says Karman. "You can really do anything."
Get started with tips from fashion illustrators.
According to Karman, all it takes to start a work of art is an idea: "Fashion illustration is all about being inspired by something someone else has done and filtering it through your own lens." Grab your sketchbook and follow this step-by-step guide to make your illustration one of a kind.
When you think of Italian artist Rene Gruau's distinct painterly style or British designer Hayden Williams's detailed illustrations of Rihanna, they both have one thing in common: a unique point of view. To find your personal niche, consider the vibe you want to create. "A splashy or more graphic interpretation of your character can help bring your artistic vision to life," offers fashion designer and illustrator Zoe Hong.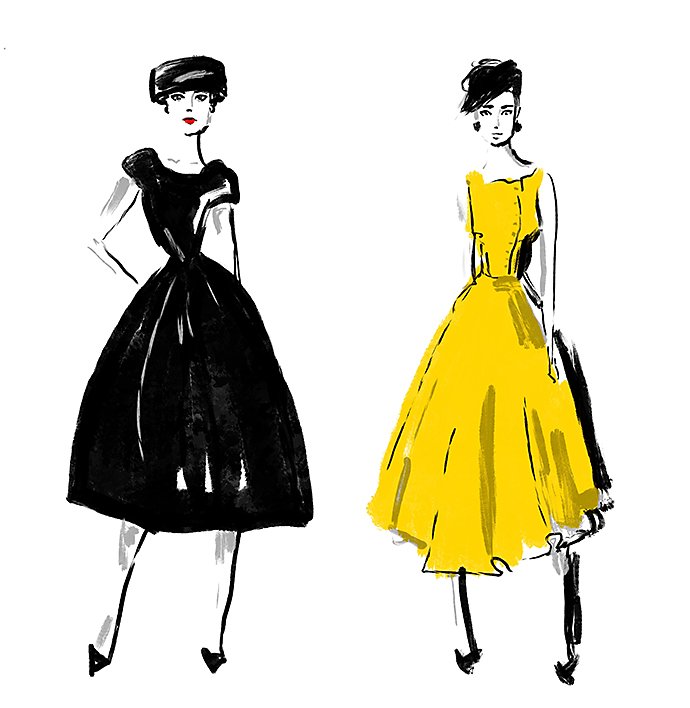 2. Pick your subject.
For Karman, "selecting something strange, unusual, or interesting is always good because if it's a known, classical subject (like a woman in a Lester painting) it's not going to be as compelling as something that people haven't seen before." And if you want your illustration to look effortless, keep it simple. "The subject shouldn't be too complicated," advises Karman. "I find that, personally, I don't like when there's a lot going on in the piece. Simplicity is more powerful." A female figure wearing an amazing hat, a pair of shoes with complex embroidery, or a textured t-shirt can all be the beginning of something beautiful.
In fashion illustration, the figure you're drawing is usually divided up according to the size of the head. "The total height of an adult human being is anywhere from 7 to 8 head lengths, on average. Fashion models are, on average, 8 to 9 heads tall. Fashion figure illustrations exaggerate that further, using 9 to 10 heads, even going up to 11 heads for very exaggerated styles," says Hong. In the history of fashion, the 10-head figure has been the standard elongated proportion for female figures. But Hong confirms there's also room to break with tradition: "We are definitely starting to embrace different body types. The 8½-head proportion is a more realistic length of body, and is much more modern-looking these days."
Think of your figure's pose as the foundation of your design drawing. It dictates how the garments will hang off the form, bringing life to the different fabrics and silhouettes featured. First, play with curves and other geometric shapes to create body elements, then practice sketching different poses to see which ones give the most realistic movement to your character's look.
Imagining how the clothes will appear on your figure allows for unbridled creativity. "If I choose to make an article of clothing the focal point of my piece, it will usually feature interesting proportions or a beautiful color combination. It's something that I can imagine myself translating onto paper, like depicting feathers with a certain brushstroke or capturing chiffon material with a light wash of paint," says Karman. Always keep in mind the fabric you are featuring and stay true to its texture and pattern to give your fashion illustration a realistic touch.
Try mixing up different materials.
Illustrators often use different drawing materials to evoke specific moods. "The goal is to bring an energy, flow, or personality that might not have been part of the original designers' vision," says Karman. Infuse your own sensibility into your fashion illustration using pencil, charcoal, and paint materials individually or mixed together.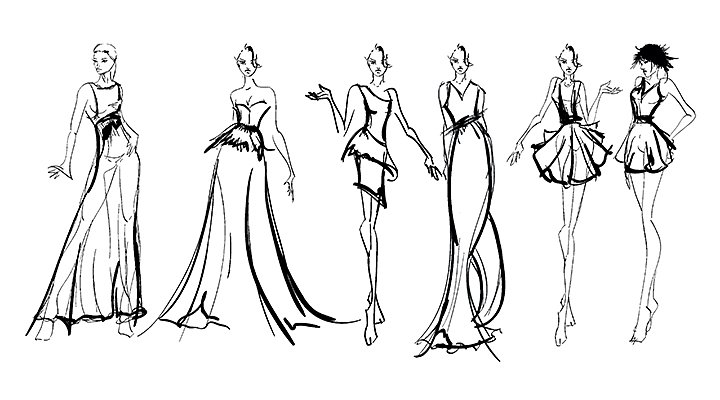 Pencil
Pencil sketching helps you create shadows, transitions, and accurate lines in your fashion illustration. And for illustrators like Karman, it's the first step in translating the art in your imagination onto paper. "I usually work quite small on Bristol paper and do a very light, very quick pencil sketch from the reference image. Then I go over and erase it a little bit to make it even lighter before moving on to the next material." Charcoal can be used as well. Charcoal illustrations can be looser and more expressive, with dramatic gradients and organic lines.
Fashion illustrators often work in marker. "Marker allows the artist to create a range of textures easily and quickly that capture shadows and objects more naturally," Hong says.
With watercolor paints, you can use different pigments to create natural nuances and transparency. "This method is airy and soft with a lot of depth. It's one of the easiest ways to create splashes of color merging into another color," says Hong.  Or you might choose gouache paint that offers richer, thicker, and darker shades for a more opaque aesthetic.
Touch up your fashion illustration in Adobe Fresco.
Once you've completed your design drawing on paper, you can scan it and use a digital drawing app like Adobe Fresco to make it look more polished. Channel your inner impressionist painter with the watercolor brushes and create beautiful textures that blend and bleed like physical paint. Or use the vector brushes to create precise lines that can scale to any size. 
Whether you peruse Harper's Bazaar, watch New York Fashion Week, or pick up tips from the Parsons School of Design, ample opportunities abound to spark inspiration for your fashion drawing. Take a cue from professional fashion illustrators and try experimenting with different subject matter, clothing items, and materials to find your personal style.
You might also be interested in…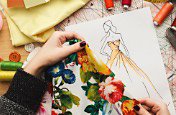 How to draw a eyes.
Simple tips for crafting realistic eyes can help you get better at drawing this emotive feature.