Support your marketing efforts with a marketing plan.
Plan a marketing strategy with these best practices on target markets and marketing tactics.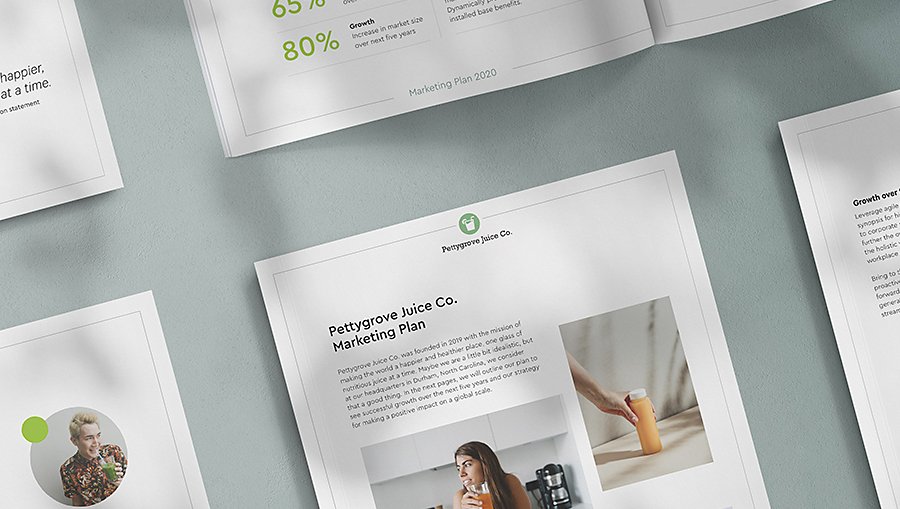 What is a marketing plan and how do you create one?

A marketing plan is a document used to organise your business's marketing goals and to establish your strategy to meet them. It's a roadmap for how to launch a small business or a new product or service. It starts with your mission statement and leads to who your target customers are and how you plan to reach them. Your plan should include research about your market and customer base, what marketing materials and methods you plan to use and how you plan to measure your success.
It might seem tempting to skip the planning phase and jump straight into ad hoc marketing campaigns, but taking time to craft a marketing or business plan will pay off in the end. It will keep your marketing efforts focused on long-term objectives. Marketers who set goals and document their strategy are more than 3 times as likely to report success in their endeavours, with the most organised among them being nearly 4 times as likely to report success. 
Marketing plan best practices.

The best marketing plans show a deep understanding of both the business and the audience. Be thorough; include all the important details about your company and map out the logistics of how you will meet your business goals. Below are the key components to include in a strong marketing plan:
Details and differentiators.
Start with basic information about your business: name, location, what you provide and key differentiators. Then write out your business objectives, your mission statement and your unique selling proposition. A unique selling proposition is the key piece of information that sets your offer apart from competitors' offers. For example, other businesses in your area selling organic cotton t-shirts may exist, but maybe your business is the only one donating to charity with every purchase.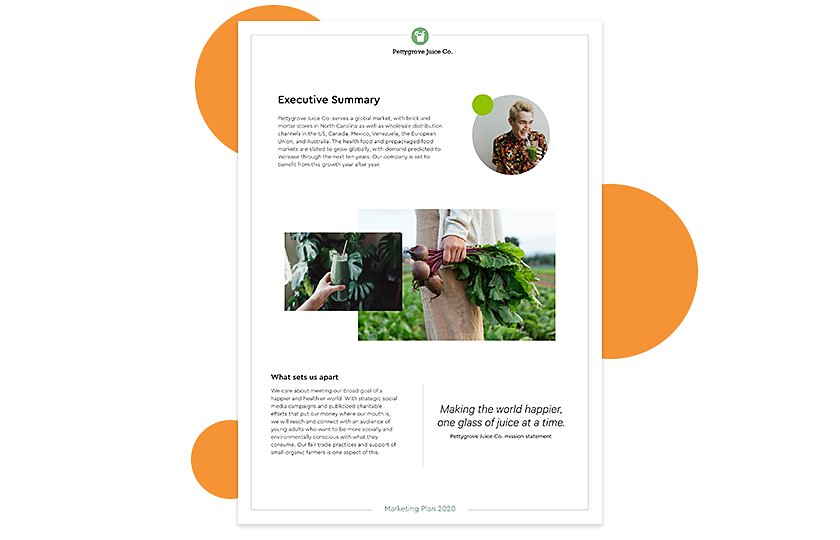 Position in the market.

Define the industry you'll be doing business in and include research that goes into the details on the state of your industry. Maybe your business has cornered a niche market or is set up to succeed in a larger market due to growing demand. Make realistic goals on how to set yourself apart and how much of the market share to aim for. A competitor analysis can help here — describe your competition to help clarify ways to stand out.
Strengths and weaknesses.
A situation analysis shows that you understand your company's strong points and areas for improvement. One method for this is to do a SWOT analysis, a four-quadrant grid devoted to strengths, weaknesses, opportunities and threats. Use your analysis to help your team brainstorm ways to meet your unique goals.

Target audience analysis.
Describe exactly who your potential customers are and what their needs might be. Market research companies can provide stats based on the space you're doing business in, even going so far as to define buyer personas that can be used to help predict behaviours. This can shape your content strategy, informing plans to capture your audience's attention in various marketing channels through voice, imagery, storytelling and more.

Marketing objectives and measurements.
List your marketing goals. Be specific about what types of business you want to win and how you plan to get your portion of the market share. Next, establish data tracking guidelines and key performance indicators (KPIs) or what you'll use to measure your success. Your measurement might be the number of products sold, the number of subscriptions sold, the number of downloads or any metric attached to your specific objectives.

Marketing channels and strategy.
Outline each of the marketing activities you plan to carry out and how they support your content marketing strategy or how you plan on framing communications for your audience. Go into detail about what marketing channels you'll use and why. This may include physical marketing materials, like print ads and flyers and digital marketing efforts, like social media marketing and search engine optimisation (SEO). Today, an email newsletter and a social media strategy are common components of basic marketing strategies. Depending on your market, you may also want to take advantage of promoted social posts, digital ads, podcast ads, targeted video ads and more.

Logistics and financials.
Add logistics and financials to create a complete business plan that can be used to convince potential investors that you'll provide a good return on investment (ROI). Include your marketing budget, planned roll-out of marketing campaigns and financial speculations that outline how much you believe your company can make in its first one to five years — or the next five years, if your business is already established. Infographics, charts and graphs illustrating your financials can help to captivate your audience.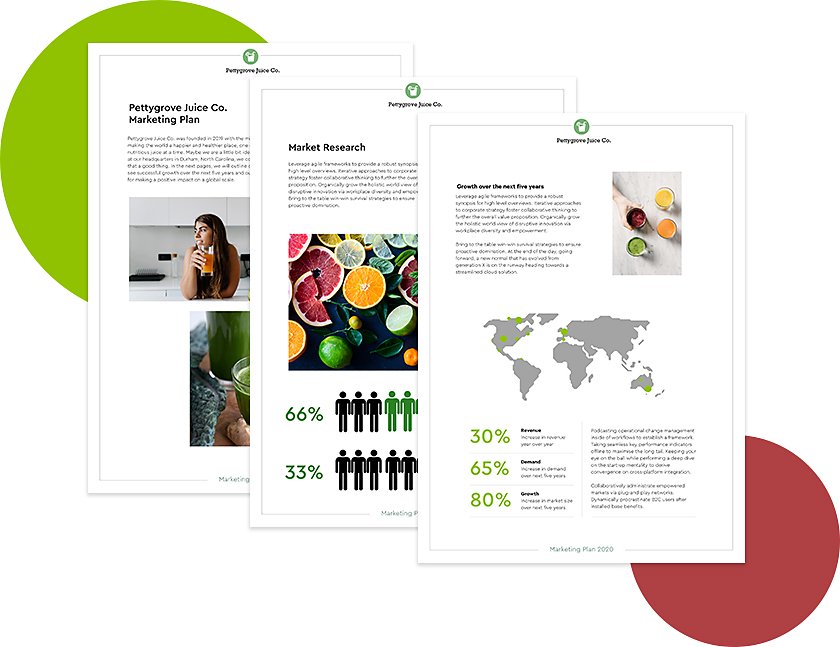 Executive summary.
The executive summary is a consolidated version of your marketing plan. Create this section last, even though it will live at the start of your document. Devote one small summarising paragraph to each section of your plan, giving readers all the information in a quick, one-page rundown.

Examples to get you started

Printed marketing plans.


You may want to create a sleek, printed design to hand out to your audience, like this simple, monochromatic booklet.  In an app like Adobe InDesign, you can start from scratch to create book layouts or start from marketing plan templates like these:
Digital marketing plans.

A digitally presented marketing plan offers many benefits. Create a plan that's as easy to share as a URL. You can embed links or motion graphics, easily share your plan online, and create a responsive design that adapts to different screen sizes. A slideshow template is a great option if you need to present your marketing plan live, like this one featuring multiple colour theme choices. Apps like Adobe Express are a good option for this type of design and you can try the Adobe Express online template free even if you don't yet have a website for your business.
Create your marketing plan today.

Get tools your team needs to create and execute a complete marketing programme, from developing your brand identity to creating social assets, with digital design apps like the ones in Adobe Creative Cloud for teams. Make logos, graphics and charts with Adobe Illustrator. Design marketing materials like postcards and brochures in InDesign. And once your organisation is up and running, take all your paperwork digital with secure PDFs in Adobe Acrobat. Plus, work with the most up to date logos and assets for every project using Cloud Libraries. 
Find creative ways to grow your business.
CUSTOMER STORIES

See how Adobe customers are building great experiences with Creative Cloud for teams.
Choose your Creative Cloud for teams plan.
All plans include the Admin Console for easy licence management, 24/7 tech support, unlimited job postings on Adobe Talent and 1 TB of storage.
A$54.35/mo per license (Incl. of GST)

Your choice of one Adobe creative app such as Photoshop, Illustrator, lnDesign or Acrobat Pro.*

A$127.54/mo per license (Incl. of GST)
Get 20+ Adobe creative apps including Photoshop, Illustrator, InDesign, Adobe Express, XD and more.

* Acrobat Pro, Lightroom and InCopy single apps come with 100 GB storage.