Create effective training videos that keep the viewer's attention.
High-quality training videos make learning memorable. Learn what goes into professional videos that educate and inform.
What is a training video?
Training videos teach a viewer how to do a job, use a product, or perform an action. Like explainer videos, training videos present complex information in a clear way for a beginner audience.
"A training video is basically instructions," says training video producer Mohammed Alkhadher. It's common for organizations to use video content or e-learning materials to train new employees, or get existing employees up to speed on new rules or business practices.
Here's how you can create video content that effectively supports an organization's training program.
Different training videos for different audiences.
There are three main types of training videos, all of which speak to different audiences and are distributed in different ways.
Marketing training videos.

Aimed at customers, these assets illustrate how to use a product or service and are often public-facing. They usually live as online videos on Vimeo or YouTube videos, and can be a powerful tool for marketers focused on customer retention and relationships.
Internal training videos.
Typically, these are videos designed to instruct members of your team. Employee training videos are generally not public-facing, and most often live on a learning management system, or LMS, where an organization keeps training materials such as employee handbooks, onboarding materials, and other online training resources..
Partner training videos 
Similar to internal videos, this learning content is aimed at an organization's business partners. Like internal training videos, these are often stored and distributed via an LMS, along with other B2B or partner resources like webinars or PowerPoint presentations.
Each type of training video has different needs. "Understand your audience, the intent, and the distribution," says digital producer Matt Monnin. "Am I training somebody on information or on action to perform? The purpose can influence how you approach it creatively."
What goes into a good script.
The first step to a great training video is to distill the information and craft it into a script that will be the backbone of your content.
Read the manual.
Training videos are always based on some preexisting information that a company wants to give the audience. That information can come from a product manual or specifications document, an employee handbook or bylaws, or local laws and regulations.
When you make a training video, the first person you need to train is yourself, and you need to know the target material inside and out. "With a training video, you have to quickly become a subject matter expert," says Monnin. "Otherwise, it's going to be obvious that you don't know what you're talking about."
After you've outlined the material to the best of your abilities, make it conversational. "I don't want it to sound like I'm reading straight out of the manual," says Alkhadher. "If people wanted that, they'd read it themselves."
Make the lessons seem real.
Good training videos often put issues in a real-world context. Usually this is conveyed by actors that dramatize the kind of situation an employee or customer might encounter, often with a voice-over that adds commentary. Training videos can dramatize customer service scenarios, the installation or upgrade of software, or a regular task workers must perform.
These situations need to be relatable, and in the world of corporate training videos relatability can be fragile. If the dialogue is off or the scenario is unlikely, it can distract the audience. Your characters need to talk like real people in real circumstances. 
"When I see a bad tutorial, it tends to be based on situations that aren't really realistic," says Alkhadher. "Something where they're reiterating the product name three times in the same sentence."
One of the best ways to be effective is to keep an eye on video length. "Cutting through the fluff makes you more relatable," says Alkhadher. "Don't put a two-minute intro on a thirty-second tutorial." Respect your audience's time, whether they're customers or fellow team members.
Training video production.
With your content nailed down, now it's time to produce your video. Follow these tips to make the production process more smooth.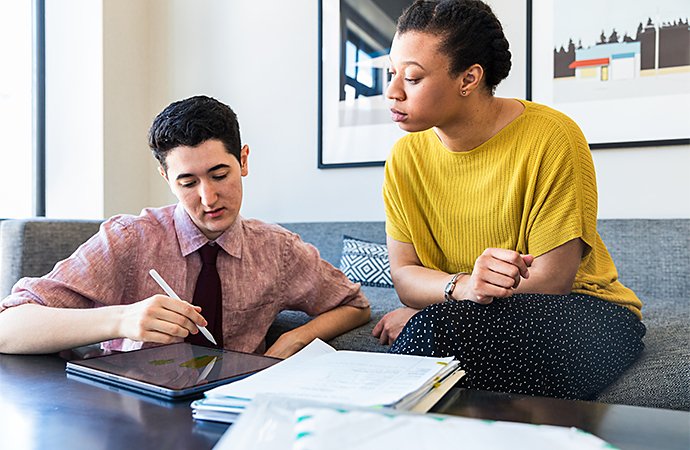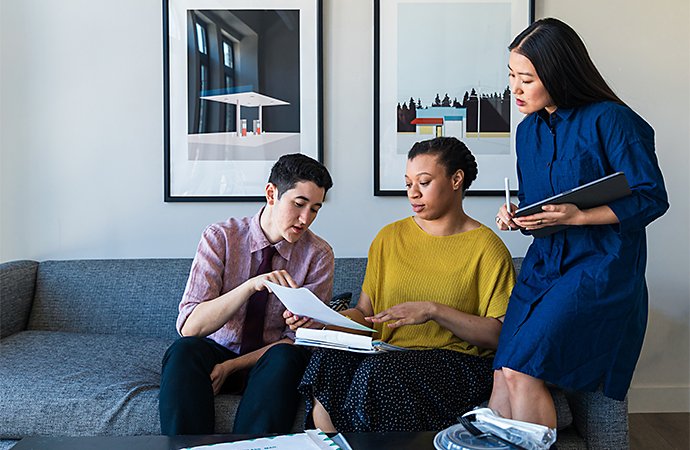 Approval is a process.
After you've written a script, you'll need to get approval from all of the stakeholders about what you've written. Those stakeholders can include managers and owners, department heads, business partners, or a legal department. Expect to go through multiple rounds of revisions and rewrites, and make sure everyone who needs to see the material weighs in. "You want to get as much as possible approved before you start moving," says Monnin.
Training videos can look like nearly anything. They can be everything from a simple slideshow with a voice-over to ornate whiteboard animations. Live-action training videos are the most common, though. Most often, you'll be getting a camera crew and actors together to make the script come to life.
Shoot the whole script.
During a shot, make sure you record every word of the script as it's written. Due to the approval process most corporate training videos have to go through, it's key to have someone keep track of what parts of the script have been recorded and how many takes each section has required.
It's possible that you might have stakeholders or people in charge of approvals (like subject matter experts or legal personnel) on set during a shoot. If you do, be prepared to be flexible based on their expertise and input.
Post-production and final approval.
After the cameras stop rolling there's still a lot of work to do. "Post-production is when you have a bunch of raw material. You do all your cuts, get your selects, and assemble what's called a rough cut," says Monnin. Most of the time you'll assemble that rough cut into something you can show stakeholders. Get ready for another round of approval and feedback.
Sound mixing and sound editing are a big part of post-production. "You can capture audio on camera," says Monnin, "but you may also have voice-over narration that you're capturing separately. They may have to be layered together." There might be some audio from the actors that you didn't quite capture on set as well. If you filmed with a green screen, this is also a time to add in background effects.
Once things are approved — and you have all the audio you need — it's time to polish the video. Make sure transitions are smooth and that audio and video flow together. Add annotations and final graphics where you've called for them in the script. These elements can help make your video memorable, and that in turn goes a long way toward learning retention. Export your video files and then do one last round of approval with stakeholders.
When you're done, your organization will have a video learning resource that it can use for years to come — with new hires, new customers, and anyone else who needs to learn a little bit more.
Do more with Adobe Premiere Pro.
Make visually stunning videos virtually anywhere — for film, TV, and web.
You might also be interested in…
Get Adobe Premiere Pro
Create flawless productions with the industry-leading video editing software.
7 days free, then US$ 20,99/mo.