An introduction to Photoshop for marketers
Even if you are not a graphic designer by trade, create pro-looking marketing assets like ad banners, beautiful websites and social tiles with the powerful features and tools of Adobe Photoshop.
Photoshop is not only for the professionals; it can also be used by marketers, small business owners or entrepreneurs to create their own unique and professional-looking assets.
 You can start doing many simple things in Photoshop without formal training, from image resizing and editing, to combining photos or designs, removing objects from a picture or adding text and graphics.   
Becoming more familiar with Photoshop's features will help you create your own consistent, high-quality assets that can be used for a variety of marketing needs, such as social media tiles, blog graphics, infographics, or product mockups.
This introduction to Photoshop will explore the ways you can work with Photoshop to create and edit images and designs that express your brand and business.
Combine, retouch pictures, add or change colours, and make unwanted stuff disappear. With Photoshop, everyone can.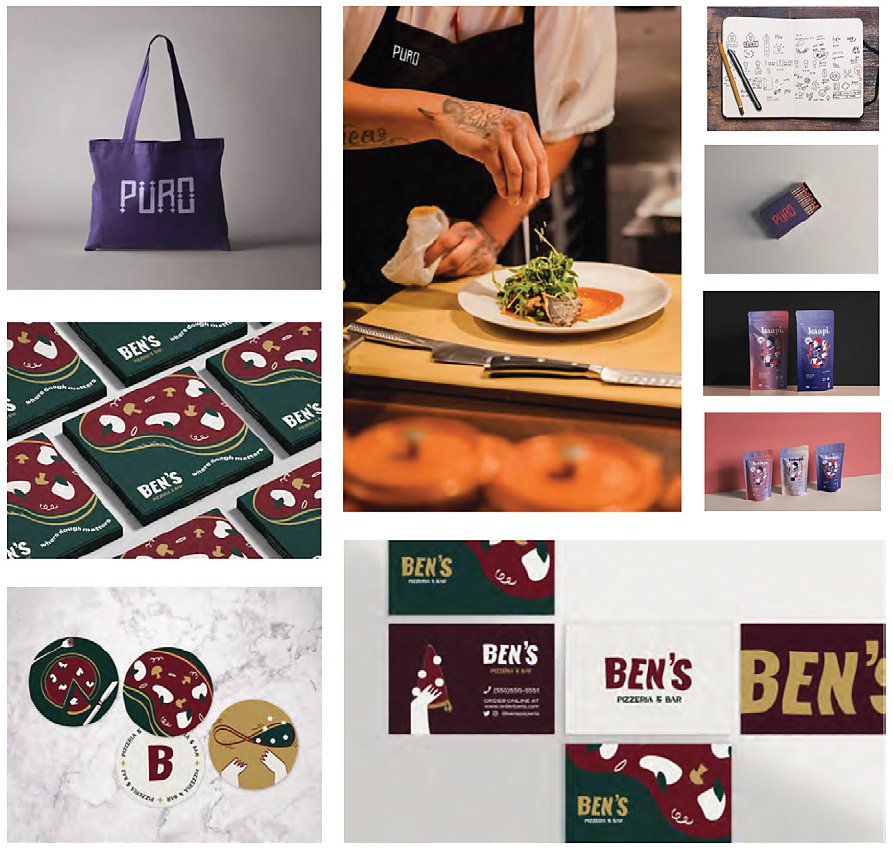 Combine, retouch, add text, combine pictures with layers
You use layers to perform tasks such as compositing multiple images, adding text to an image, or adding vector graphic shapes. You can apply a layer style to add a special effect, such as a drop shadow or a glow.
 Layers in Photoshop are where your design's images, text or objects live. They are a way to move, edit and work with one element of your content without changing or affecting any other layers.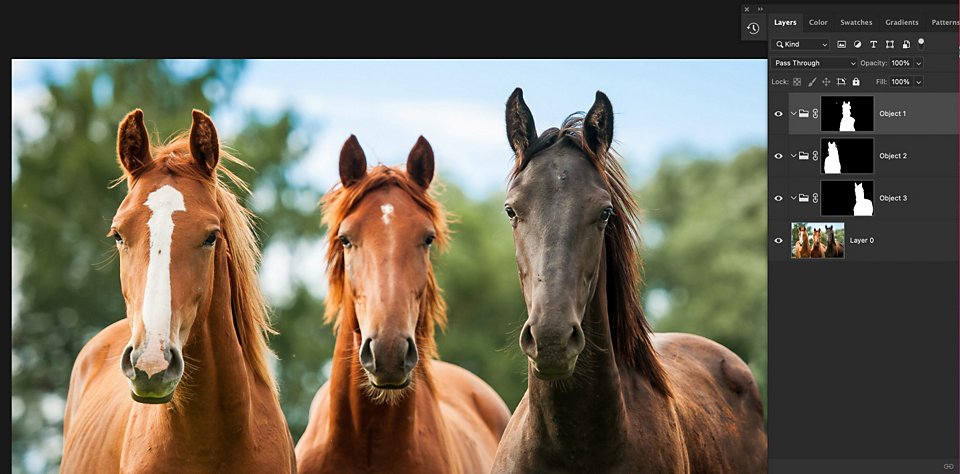 Layers are found in the Layers panel on the bottom right of the screen. Clicking the eye content next to each layer in the layers panel is a way to show or hide that specific layer. If the windows panel is not showing in your workspace, go to Window in the top Menu bar. Within the Window dropdown, the panels that are marked with a tick are the ones displayed on your screen. To open the Layers panel, click Layers.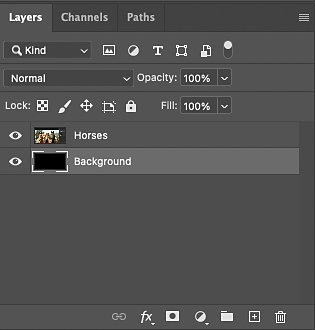 To create a new layer, click the Create a New Layer icon at the bottom of the layers panel. Within your new layer, you can add images to your design by choosing File > Place Embedded, navigating to an image file in File Explorer (Windows) or Finder (macOS), and clicking Place.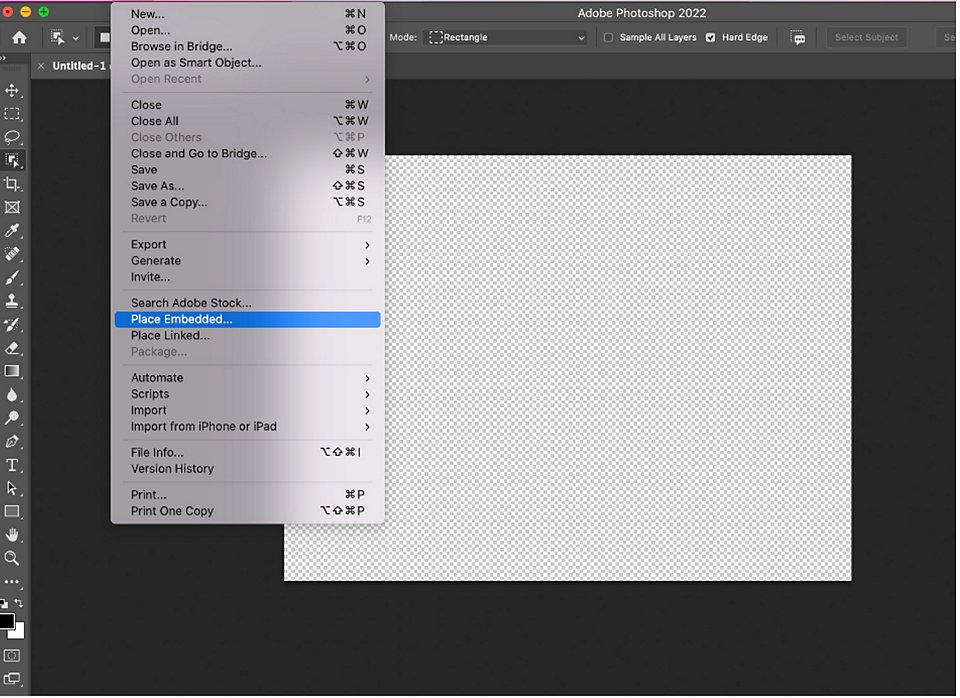 Using layers is a way to composite multiple images, text or vector graphics, and makes designing professional-looking social media assets, logos or product mockups much easier.
Retouch or remove objects, change backgrounds in a click
Use the Object Selection tool, Select Subject, Quick Selection, or Magic Wand tools to make quick selections in Photoshop.
With selections, define an area that you can further edit to enhance your images and composites. You can easily use any of the various selection tools in Photoshop to quickly make a selection.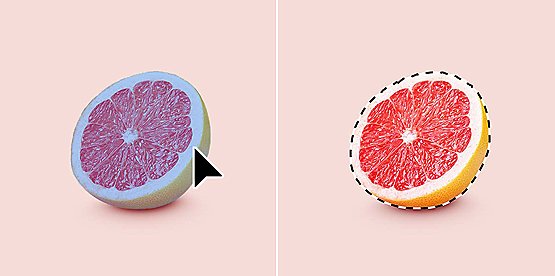 With the Object Selection tool, you can draw a rectangular region or a lasso around an object, and the tool will automatically select the object inside the defined regions. This is a more accurate way to preserve details in your selection, which helps save time spent on perfecting your selections.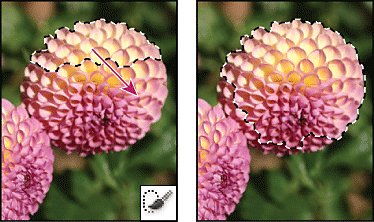 The Quick Selection tool is a way to quickly "paint" a selection. Using the brush, drag over your selection. As you drag, the brush expands outwards and automatically finds and follows the edges of your selection. This is a quick and easy way to select one area of your image.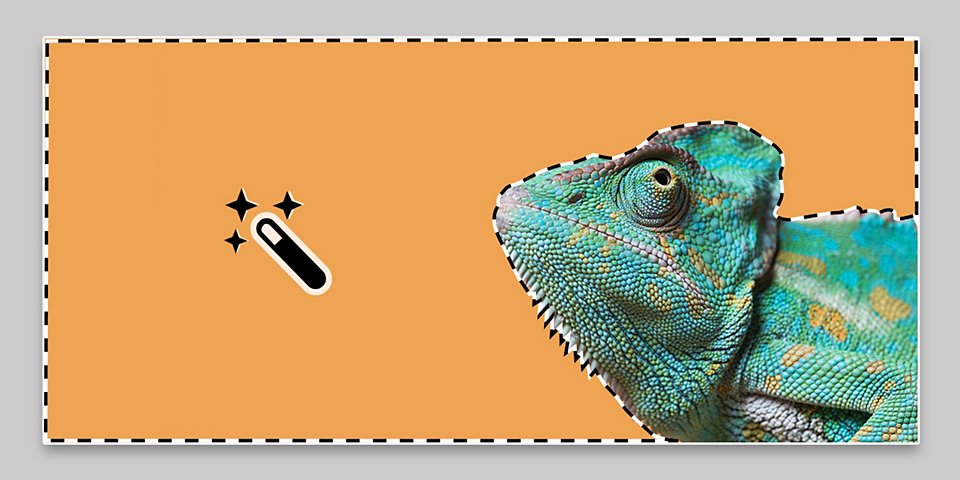 The Magic Wand tool is a way to select based on colour. Using the tool, click on the image area that you want to highlight. The Magic Wand tool will then select the entire surrounding area that is the same colour. 
Saving and exporting files in Photoshop
There are a few different ways to save your work in Photoshop. Here are some tips on how to quickly save the changes made to the original file and export them in the correct format if you are a marketer.
Go to File > Menu > Save. If you intend to make further edits to your design, save the file as a .psd (learn about psd files) to ensure your layers remain editable.
Alternatively, you can see the advanced saving menu by going to File > Menu > Save As. You can then pick the desired file format from the pop-up window that opens. Save as a PNG or JPEG if your design is final and you are ready to share it elsewhere.
Do more with Photoshop
Discover other important Photoshop skills like how to bulk edit images, how to create product mockups and how to design print material.
Discover the powerful editing capabilities of Photoshop for all your design needs, from social posts to photo retouching, ad banners to beautiful websites.
Tip: Creative Cloud Library
When using Photoshop, or any of the Creative Cloud apps, it's important to keep your project-specific designs together.
Creative Cloud Libraries are a way to collate the design elements from your projects, clients, or teams within any of the Creative Cloud apps. This means you can take your design from one place to another, such as taking your logo from Illustrator into Photoshop. The Creative Cloud Library will also store design elements such as Colour Swatches, Colour Themes, Paragraph Styles, Character Styles and graphics. Having these elements stored within the Creative Cloud Library helps you to develop consistent content in a timely and efficient manner.  Learn more
You might also be interested in…