An ultimate guide to Presets in Lightroom. 
Learn how to create, download and manage your own Presets in Lightroom. 
With Lightroom presets, you can quickly apply subtle or dramatic edits to your images - with the click of a button. Presets can speed up your editing and help take your images in new and exciting directions.
What are Presets? 
Presets are saved adjustments that can provide a quick and easy way to apply enhancements to an image, whether those edits are subtle and change only a single slider or change several and give the image a completely different look and feel. You can use presets that come with Lightroom, have Lightroom recommend additional presets using AI, download presets from the community and even make your own.
Presets can also include masks and, with Adobe's AI masking, can be adapted to different images with different environments, subjects and backgrounds. Presets are also a great way to spark inspiration. A quick look through Adobe Photoshop Lightroom's Preset library can help you experiment and try new features. You can quickly preview how a preset will appear on your image by simply hovering over it in the Lightroom app. When you find a preset that you like, simply click the preset to apply it.
Types of Presets:
There are range of Lightroom presets available for free within Lightroom.
Premium presets are installed by default. They can be located under the Premium tab of the presets panel and have many different uses. Adaptive presets use Ai to mask and alter specific features of a photo such as the subject or a sky. Other presets can give your photos a stylistic edge, like a vintage or a cinematic feel. There are also presets designed to specifically enhance certain types of photography, like Night Photography or Travel Photography.
Recommended presets have been developed by the Lightroom community and are suggested based on images with similar content. The Recommended tab is located right next to the Premium tab and can be used as a great source of inspiration and education.
You can filter recommended presets by many different treatment categories, like Subtle or B&W. If you see a preset you like, hover the cursor over the preset thumbnail and click "More like This" to see similar presets. To save a preset to use again, hover on the preset until the three dots appear in the corner. Click the dots and then press 'save to your presets'. From there, the preset will be available in the Yours tab.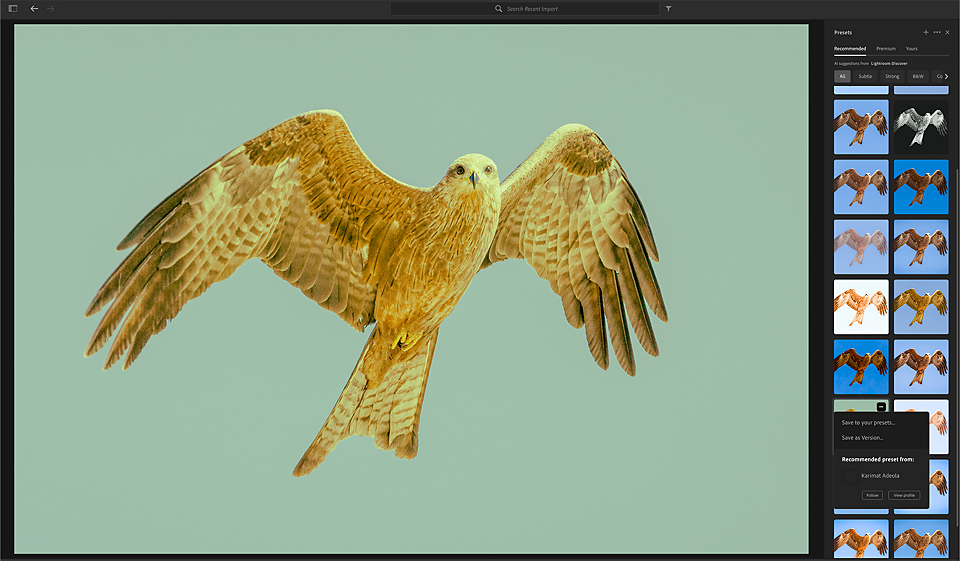 The Yours tab includes your own presets or those that you have downloaded from other sources.
Create and save your own presets
Creating your own preset is particularly efficient if you have your own unique style and if you use the same treatments repeatedly. Automating this process can streamline your editing workflow and free up your time to spend on more minute details.
Making your own preset is very simple - after editing your photo, click the Plus icon and select Create your own preset. A dialogue box will popup, where you can edit the name of your preset and assign it to a Group (another word for folder) to help organise your presets.
You can then check the settings that you want to save within the preset. For example, if you have settings that you apply over and over again when colour grading, you may save a preset that only includes Colour Mixer and/or Colour Grading but doesn't include Effects like a vignette because you might not want to apply a vignette to all of the images that you apply the colour grading changes to. 
After saving a preset, you can find it in the Yours tab for easy access.
You can organise the presets you have created using Groups. This is an easy way to keep track of Presets that are relevant to a specific use case or perhaps a specific client. You can do this during the Create a Preset action. Alternatively, you can move a preset by right-clicking on it (control-click Mac) and then selecting Move to Group, then selecting the relevant group.
For more presets, make sure that you check out Discover in Lightroom where you can filter on photos that have downloadable presets. Then, simply choose 'Save as preset' to download the preset which you can then find and apply under the Yours preset category. 
How to install Presets in Lightroom
If you want to install a customised preset that you've downloaded from the Internet, you can install them by going to File > Import Profiles and Presets.
Locate your preset in the dialogue pop-up and import. To use the preset, press the slider icon on the right-hand panel to enter the Edit panel and then click Presets. Your installed presets will appear under the Yours tab.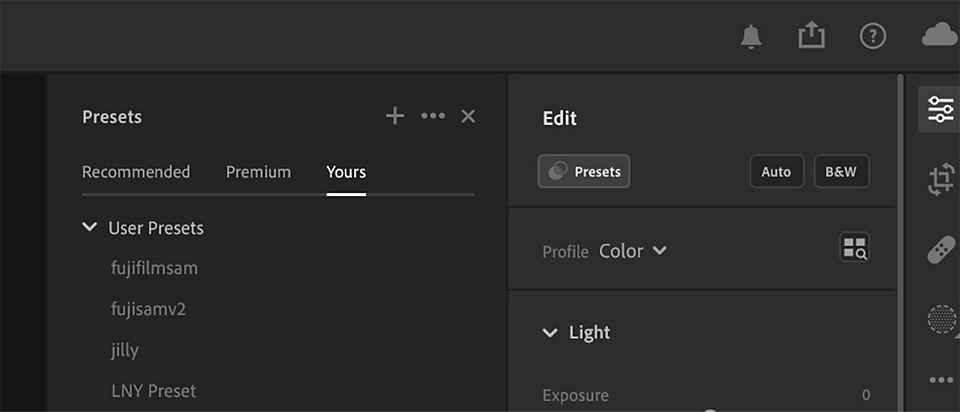 Do more with Adobe Photoshop Lightroom

Take your photo editing to the next level. Discover Adobe's principal evangelist, Julieanne Kost's other image editing guides, including how to edit specific parts of an image, how to easily edit colour with colour grading and how to make light adjustments in Adobe Lightroom.
For more Lightroom tutorials, visit the Adobe Photography Explore page.
You might also be interested in…