Inspiration for all.
Introducing Adobe Live for Business. 
A programme where we invite industry-leaders to share the most inspiring and exciting projects from their careers and how their businesses are currently addressing business challenges, driving new innovations and developing pioneering ways of working.
Aimed at those who want to learn from their peers in similar businesses, dealing with similar challenges, we will leave you with insight and learnings to keep you inspired to drive change in your own role and company.
HM Land Registry talks digital transformation in the property sector

Wednesday 24th March 2021 at 3PM GMT

As with many industries, legal and public sector bodies are on the road to digitising their operations, with the pandemic accelerating the rate of transformation for many – HM Land Registry is one of them.
In this Adobe Live for Business episode, we'll be joined by Mike Harlow, General Counsel, Deputy Chief Executive and Deputy Chief Land Registrar at HM Land Registry who will be in conversation with John Jolliffe, Senior Strategic Development Manager at Adobe to discuss how HM Land Registry is digitising its operations and the legal complexities that have accompanied this journey. This includes the migration towards electronic signatures, the use of digital identities, and streamlined application verifications.
More than a trend: Sustainability shapes design processes
Wednesday 3rd February at 3PM GMT
With the increasing importance of sustainability, what role does this play in the design process? In this Adobe Live for Business episode, we'll be joined by Chris Weir and Oliver Boulton from Unilever who will be in conversation with Matthew Mifsud (Adobe).
During this session we will discuss Unilever's focus on sustainability and their mission to ensure that 100% of their plastic packaging is designed to be fully reusable, recyclable or compostable, and the important role that design plays when it comes to sustainability.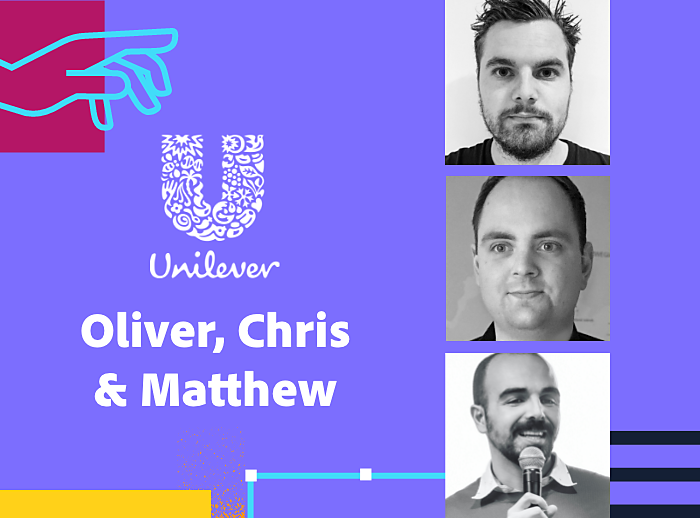 Our team in front of the camera.
Adobe Live
Are you interested in product hacks and insights from the creative community? 
Check out Adobe Live Daily.