5 key criteria to get IT buy-in for your video technology platform.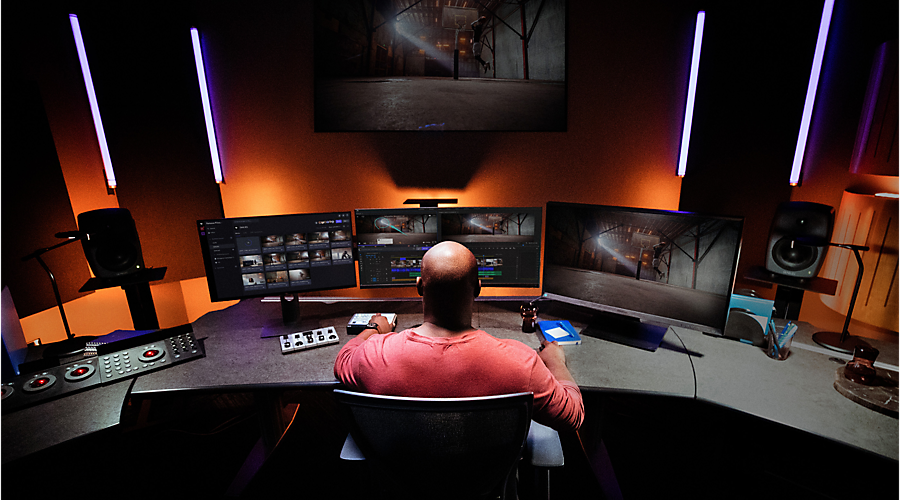 Video content creators face a number of pain points and challenges in turning out high-quality video content. As the demand for video content production increases, so does the need for tools to improve workflows, bring collaborators together, and keep projects moving forward quickly and efficiently. It's crucial to partner with your IT and media operations teams as you evaluate new video production tools to ensure you can implement the best technology for both your team and your business.
Getting buy-in on new video technology requires getting IT approval of your chosen vendor. Any new solution you recommend for your teams should also meet IT criteria. That criteria usually includes streamlined user access, security and compliance, effective communication, and manageable costs. Understanding the IT evaluation process can speed up approvals and ensure you can implement the best technology to support your team's needs.
Ultimately, investing in a video platform that meets requirements for IT — as well as creative and media operations — will improve processes and output for your entire video team. Here are five IT-specific decision criteria to consider as you move through the tech evaluation process.
1. Security is the top priority.
For a new tech vendor to make it in the evaluation process, security is often the first box to check. "Security and in-network requirements are the initial focus for IT as it considers any technology," says Thomas Zampa, Adobe solutions consultant.
As a result, you've got to assess both ROI and security as you look at new technology. No matter how easy a solution makes your work, it won't get the IT sign-off if it introduces security risks or other complexities.
Try answering the following questions as you determine your options:
Is this new service a data processor or controller?
What kind of PII (personally identifiable information) does this service require?
Where does the vendor operate geographically, and what are the resulting standards for data management and storage?
What security accreditations does the vendor hold?
For administrators to feel confident in a platform's security, they need to be able to check the accreditation and architectural security boxes. But Zampa also says they can't forget to think about end users as well. "User error is all too often the cause of security incidents. A streamlined user interface and experience can do wonders to remedy this. When I evaluate a tool, I need to be reassured that my users, both technically inclined and not, can use the platform efficiently and securely." A feature like Frame.io's Watermark ID, for example, can help companies prevent user errors like unauthorized sharing of pre-launch video content and identify where errors happened.
2. User permissions are easily managed.
When it comes to permissions, admins need to be able to keep things in check as users move around on projects and teams. Project ownership, role-based access, and security privileges are all permission-related factors that administrators weigh as they evaluate tech solutions.
"Administrators will look for interoperability, integration, and automation when evaluating tools to meet their video team's needs," says Zampa. Solutions that will get a thumbs-up from IT are ones that make it easy to assign, change, and delete user permissions as their business needs change so the right people always have access to the appropriate content and functionality. And when everybody knows where they are supposed to be — and allowed to be — work gets done quickly and efficiently while maintaining provisioning best practices. A solution like Frame.io provides granular access controls at the team and project level for both internal and external stakeholders.
3. Administrative management is simple.
As your business grows, your technology must keep up with the demands placed on your video production teams so they can keep creating quality content. And while smooth workflows are the secret to this success, you've got to ensure that scaling your technology doesn't result in skimping where you need it most — both for creatives and administrators.
Here are some administrative considerations to keep top of mind as you scale:
Option to increase licenses as needed
Updating seats can be a nightmare if you have to add them manually as individual new licenses. Look for vendors who provide self-upgrade options or other simple ways to purchase additional seats as your organization scales.
Ability to set up accounts and projects
As you grow, so will your asset pipelines and project administrative teams. Look for a system that lets team members configure projects and workflows without significant IT overhead.
Customizations that support multiple teams
Modifications are mandatory to scaling. You need a platform that accounts for the unique needs of growing teams. Look for solutions that allow for distinct team setups and workflows so you can provide flexible solutions for everyone on your video team.
4. Tech stack integrations are efficient.
When video production budgets get tighter and timelines get shorter, you need to cut inefficiencies and streamline workflows across the board. Working with technology that smoothly integrates into your current tech stack — including existing project management, asset management, publishing, and distribution platforms — can cut out manual tasks and automate repetitive workflows so your team can focus on high-impact creative work.
IT has a distinct set of considerations when it comes to video integrations:
Hardware integrations
The latest technology can connect your onset devices with cloud-based file sharing and storage platforms. As with any hardware integration, IT will weigh things like passwords, local access, firmware, connectivity, and encryption to make sure the new tech can work well with your existing setup.
Software integrations
New solutions should sync with your existing business and creative tech stack so you get the results you're hoping to achieve. IT wants to be certain that the benefits of increased productivity, accurate data, faster decision-making, and cost-effectiveness all happen as smoothly and securely as possible.
APIs
Custom APIs make it easy for IT or even project teams to automate and streamline repeat tasks. When IT evaluates APIs, they'll look at things like developer involvement, end-user boundaries, coding, and certificate validation to keep these triggers usable and useful.
Find out what support the vendor provides to help connect their technology with the tools you use today. If integrations aren't smooth — or possible — you might have to consider an alternative approach that allows you to meet IT and production needs effectively.
5. Pricing plans meet IT requirements.
IT teams care about the cost of any new platform, just like you do. However, IT is specifically concerned with understanding if enterprise features or needed customizations are considered add-ons, or if they're included in the overall platform price. Typically, IT is looking for tech with a simple billing model — such as a single price for each user — and with as few add-ons as possible. Solutions like Frame.io that include unlimited users and industry-leading security features like SSO and two-factor authentication without add-on costs can smooth the approval process. 
Invest in all-around technology wins.
When your video technology is on top of IT concerns and admin needs, you can be sure you're giving your production team great tools for great work. Evaluating video tech solutions for these specific IT requirements will ensure that you have no problems getting sign-off from IT when you're ready to onboard a new vendor. From user permissions to security to integrations, a video technology platform that's focused on keeping work flowing while protecting your company's IP and data will provide value to your creative team — and ensure your IT team gives their vote of approval.
Adobe can help.
Frame.io is a scalable video collaboration platform that can cut video turnaround times by 31% and improve client satisfaction by 36%. Accelerate your production workflows by sending media right from your camera to stakeholders anywhere with Camera to Cloud. Streamline your creative process with centralized asset storage, seamless integrations with Adobe Premiere Pro and After Effects, and frame-accurate video reviews so you can collaborate in real time with distributed team members. Protect your creative assets with enterprise-level security and access controls. With a modern video workflow, your team can work at the speed of creativity.