Learn how to create a resume for college or as a college student.
Learn how to write and design a strong resume that highlights your relevant skills and professional experience.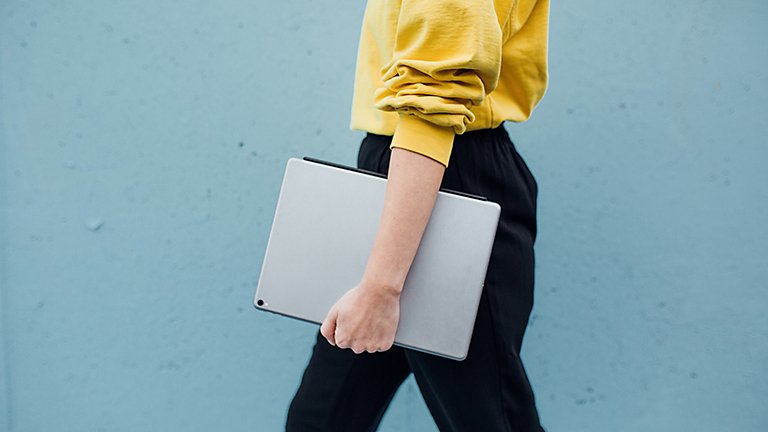 What is a resume and what makes a good one?
A resume is a condensed list of your work experience, education, skills and achievements. A college resume can be used to apply to college or an internship, in a job search for a part-time job or on-campus work opportunity or even after graduation, as a record of what you did during school. Whether you're a high school student applying to college or a college graduate applying to grad school, you need a resume.

A good resume is all about what information to include and how you design and lay out that info. Resumes and cover letters are your opportunity to make a good first impression with recruiters or potential employers. A college resume is often a little different from a standard professional resume, mostly because students have less experience. To counter your lack of experience, you can highlight other benefits or strengths, like academic achievements, extracurricular activities. and community service.
What to include on your resume as a student.
Use the resume sections below as a guide to what information you should include in your resume writing. Feel free to add or delete things that aren't applicable to you. If you don't have much work experience, build it up by highlighting your volunteer or leadership experience.
Your name and contact info
Put your name, email and phone number at the top of your resume. If you have a website or social media account that showcases your skills or experience, include links to those too. You want recruiters to be able to reach you and find out more about you.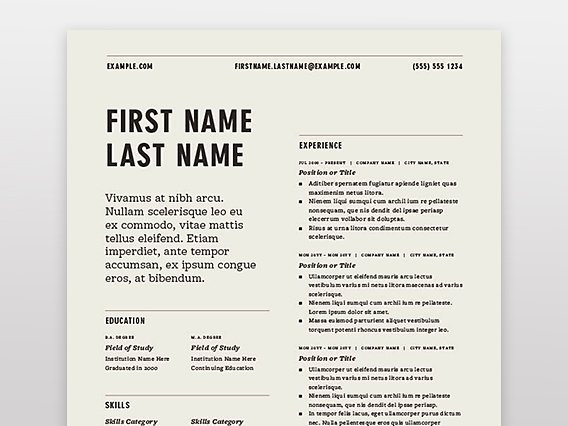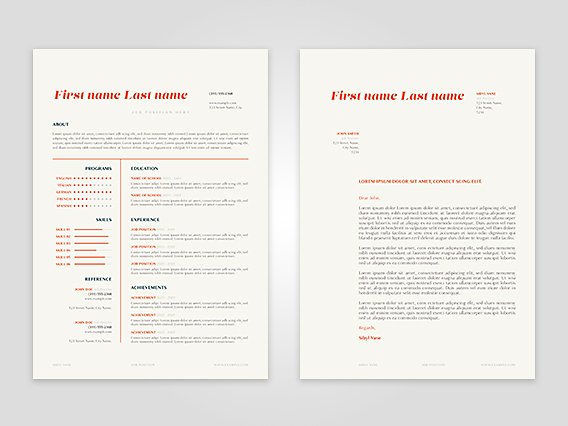 Work experience
The main section of any resume is the work history and job experience section. Whether it's an internship, a summer job or babysitting for your neighbours' kids, include your experience and give a brief explanation of your role and responsibilities. Use action verbs to keep it positive and impactful and focus on the positive results and lasting impression you made in that role.
Skills section
If you're applying to a specific college programme or job description, talk about the relevant skills that make you an excellent candidate for that programme or position. These can include soft skills, like good communication and interpersonal relationship building or technical skills, like graphic design or programming. List them all. This is also a good spot to call out any foreign languages you speak. 
Leadership experience
If your professional work history is limited by lack of experience, that's okay. Expand on your abilities in the leadership section instead. If you were president of the debate club, sat on the student council or were the captain of your swimming team, college admissions departments want to know. Don't forget to expand on the additional responsibilities of each leadership opportunity.
Extracurricular activities
Whether you participated in sports, the arts, science clubs or musical instruments, consider including your extracurricular activities. This section gives you an opportunity to share what you're passionate about and how you've used that passion to achieve. Extracurriculars take time and show work ethic, commitment and responsibility, so don't be afraid to include a list of the clubs and teams you participated in.
Volunteer work
Community service is another way you can show initiative, empathy and activism. Whether you regularly volunteer at a retirement home or spend a weekend helping at your local food bank, think about including it in your college resume.
Education section
Don't forget to list your educational experience. If you're applying to college, include the name of your high school and your graduation date. If you're a current college student or recent graduate, add the name of your university, community college or programme, as well as the degree you're working toward and your expected graduation date. This is also the perfect place to include any academic awards or achievements you've received, like a spot on the dean's list.
Relevant coursework
If you're applying for a specialised programme or professional job, consider including the classes or courses you've taken that apply to that role. If you're applying to a film studies programme, include a list of classes or courses you've taken that give you experience in and exposure to videography.
How to design an eye-catching resume.
While the content of your resume is highly important, how that information is laid out can make a huge difference. If you have great experience but it's buried in your resume, recruiters and hiring managers might not find it. Plus, a beautiful or interesting resume can grab attention and make people pause while considering your experience.

Thoughtfully design your layout.
Resumes should be skimmable. People reading them often have a stack to get through, so they don't have that much time. Break up your experience into sections, like those listed above and use bullet points to highlight your responsibilities for each. You can also use white space and columns to add breathing room and draw the viewer's eye down the page and to important information.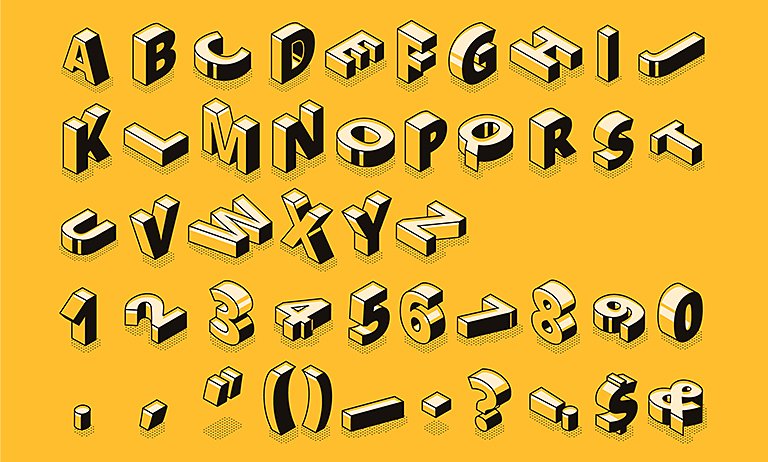 Pick the right font.
Another way to make it more readable is with the perfect font. A sans serif font can give your resume a more modern feel, while serif fonts can look more authoritative and professional. You may also want to use different fonts or styles for different parts of the resume. You can put the title of each section in bold, for example. Or put your graduation dates in a thin, nondescript font. Whatever you use, make sure it's easy to read and doesn't distract from the content..
Use graphics and icons.
You don't need to rely solely on words to communicate your point. Add an infographic or simple design to capture attention and illustrate your skills. If you have experience working or studying internationally, you could include a map with highlights of where you've worked. Or incorporate a bar graph that illustrates your experience with different technical software.
Consult sample resumes.
Look to resume examples for reference and see what formats and layouts you like. With Adobe InDesign, it's easy to download a ready-made template and customise it for your needs. Different resume templates have different formats, so delete the sections you don't need or that aren't applicable. By starting with an existing design, you can save time and focus on perfecting your resume.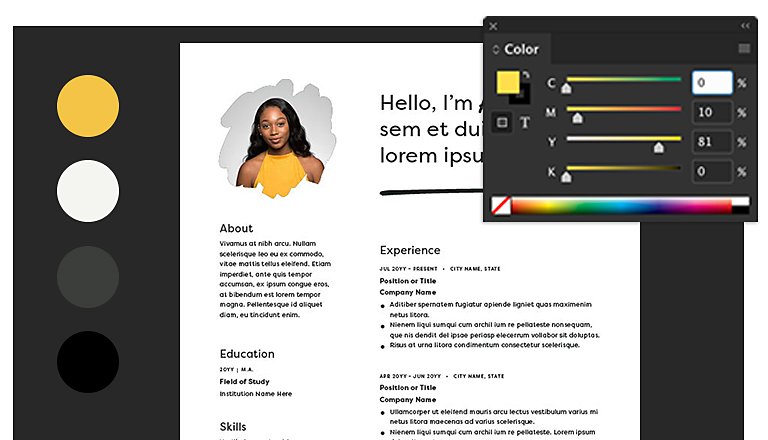 Make it personal and impactful.
In the end, a resume is a way to quickly showcase who you are through your skills and experience. Make it something you want to look at. Use design elements to add a personal touch, like incorporating your favourite colours and make your resume easy to skim by keeping it concise.
Whether you're a high schooler filling in a college application or a college student in job seeker mode, start your college resume today with a little help from InDesign.
Explore related creative projects and topics…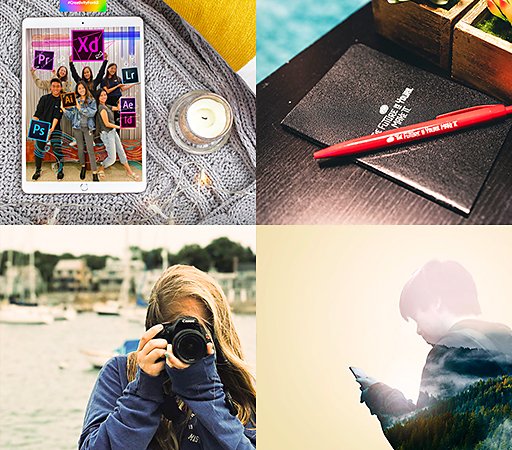 Shaping the future. One student at a time.
Adobe Ambassadors and campus clubs make it easier to get started with Creative Cloud.

Get the apps on all your devices.


Access the latest version of all the apps.
Students get all apps for the price of a single app. 
Creative Cloud for students and teachers 
Get 20+ apps, including Photoshop, Illustrator and lnDesign. Save over 65%.
---