Football photography guide: soccer tips from expert Mark Leech.
Want to learn about football photography? I've built my skills shooting the beautiful game at the highest level in a career spanning four decades (and counting).
For England, I captured the David Beckham red card in 1998, the Stuart Pearce penalty celebration in 1996. I was there when Arsenal beat Liverpool to lift the First Division title in 1989 and at every title decider since.
I'll share my thoughts on everything from shutter speed to stadium layouts to help make you a better photographer. Plus, I'll reveal the biggest moments of my career behind the lens of world football.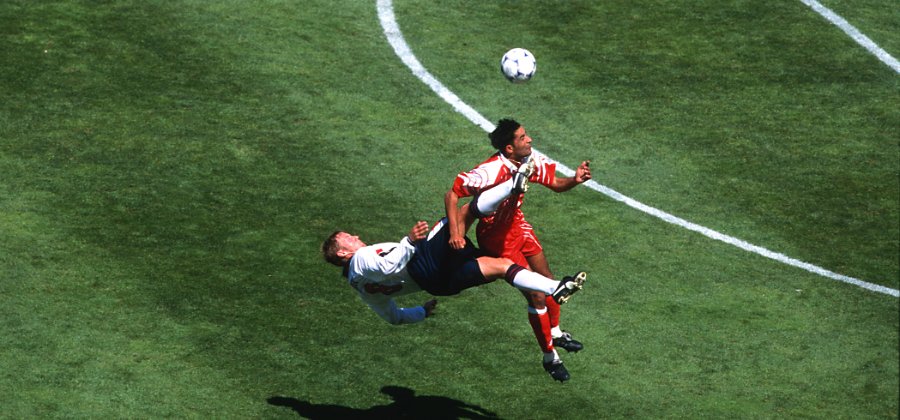 What is football photography?
To me football photography is about more than standing behind the camera and clicking the shutter. It's about capturing the emotion and atmosphere of the game. 
If you're doing it right, you have frozen it in that moment – when it's frozen like that, it is something special. You can have numerous TV cameras at a match, but sometimes it's the solitary photographer who best captures the game in a single still frame.
My philosophy is perhaps best summed up by a photo taken even before my time. On a cold, foggy afternoon in 1964 the iconic Observer photographer Gerry Cranham used a remote camera behind the net to capture Spurs keeper John Hollowbread mid-air as he jumped to keep warm.

The picture became an instant classic because it told a story. Paint big pictures with your camera. The best shots don't need a caption.
Football photography tips.
My football photography career has taken me all around the world to every major tournament – from the World Cup to the Champions League. Here are some things I've learned along the way.

Set your own narrative.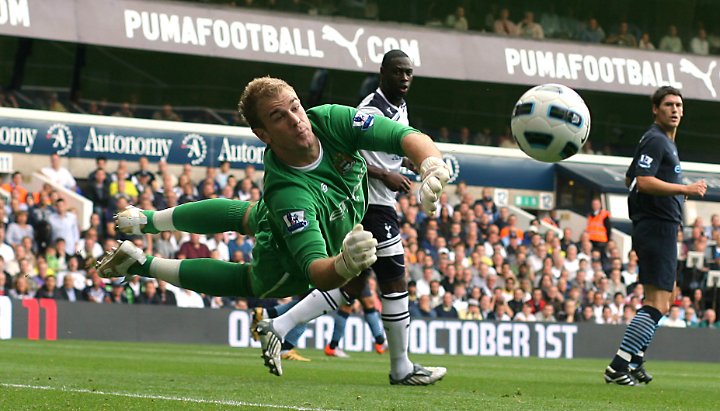 Modern football photography is agenda-led – getting the shot that suits the narrative. For example, in the Chelsea-Manchester City European final the story was Aguero scoring the winner in his last game. So, photographers focused on Aguero. But it never happens – they often miss the true moment of the game.
At a Spurs-Manchester City game around 2010, photographers shot from the corner to await Spurs' goal celebrations. But I wasn't on the guy shooting – I was on the keeper, Joe Hart. Shooting on 85mm lens, I captured the moment Hart dived and tipped the ball around the post. My photo got used in every Sunday paper.

Vantage points: Know what you want.

There's no such thing as a perfect vantage point – unless you have a crystal ball. You see the TV camera follow the ball all the way in. But you can't do that with a still camera – so you must choose your spot. You must know what you want to get.
Modern football photographers flock to the corners to capture goal celebrations. But we've all seen a thousand goal celebrations. Close-up behind the goal and on the TV gantry (when allowed) offer great alternative views. The best football photos capture a player's athleticism and ability on the ball. Did you ever see pictures of Stanley Matthews or George Best sliding on their knees?
Remember the fans and culture.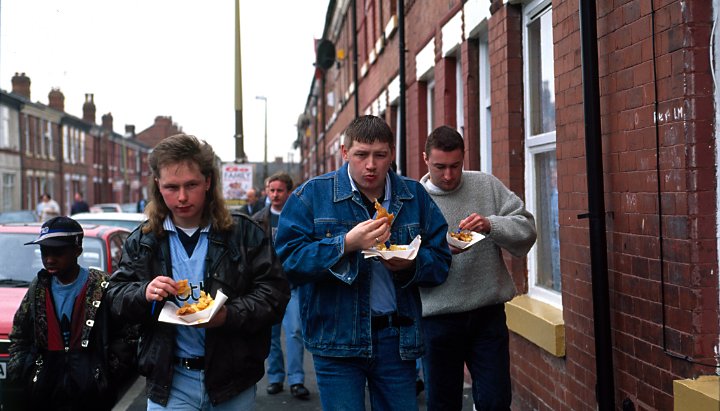 Football photography is also about the culture – the fans, the stadium, the weather, the ground staff. Outside the stadium before kick-off, you might just catch this fan who looks 'wow' in their massive scarf and badges.
I remember these lads before a Man City-Man United game in the '90s walking towards me with mullet haircuts and stonewash denim, eating fish and chips. As they got closer, I snapped. And it's a very pleasing picture. It's not Caravaggio, but it captures a moment of football culture.
Take it the honest way you see it.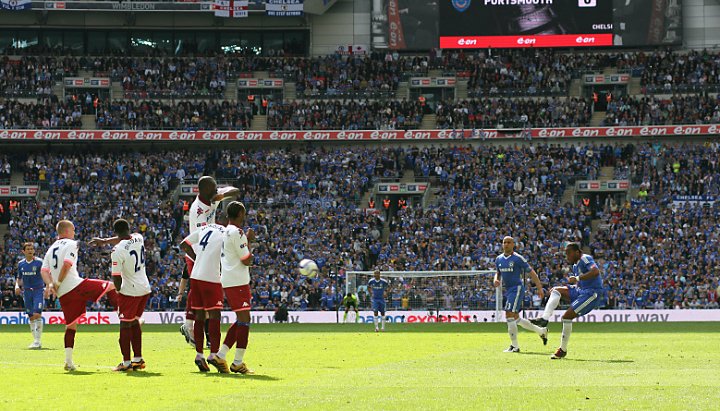 Drogba scores the winner for Chelsea in the cup final with a free kick. I told the story – the honest way I saw it with an 85mm. It's got 'Chelsea 0 – Portsmouth 0' on the scoreboard and the light just coming in through the back, and the ball coming over the wall.
Everyone else got the celebration. Someone later said to me, 'I don't see pictures like that in the newspaper. Who did you take it for?'. I said, 'I took it for me'. Surely if you have a camera, you can tell a story? Take it the honest way you see it.
Choose the right lens for rain.
I went to Arsenal – Manchester United a few seasons back and it started lashing down with rain. I thought, I need a 50mm standard lens to get more of the rain in. And several players came at me in different directions, and it just looked perfect with the 50mm lens.
Set your exposure for night games.
Shooting a night game is now the easiest thing because the light's not going to change. Once you've been to a ground, say the Emirates, you can download an old picture and see the exposure used and simply mirror it. Shooting a night match is the easiest for exposure.
Daylight brings sunlight and shadow.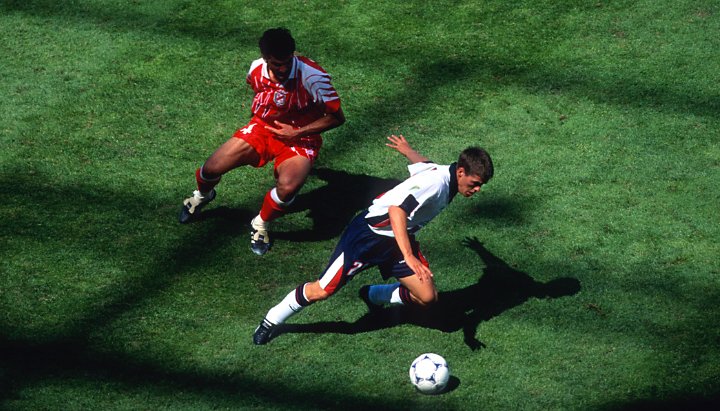 Daylight games are more difficult. A sunny day. Going from shadow to sunlight is three stops difference. That's a challenge. But with the modern cameras you can have two settings: your shadow setting and your sunlight setting. This enables you to overcome these problems.
Never switch off (even for a second).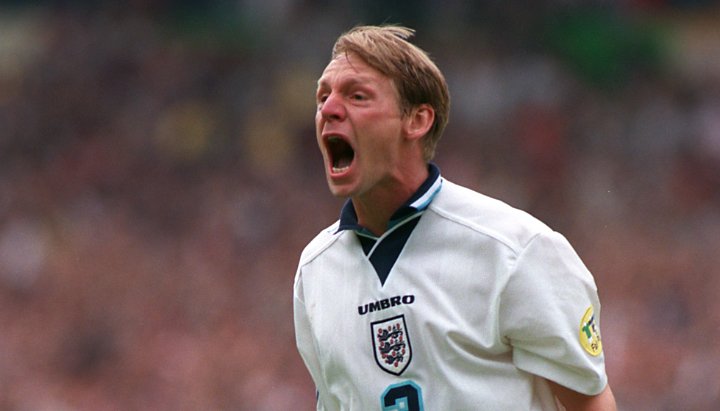 I was there at Italia 90 when Stuart Pearce missed that penalty. When he scored one against Spain at Euro 96, I was there too. And it was great. He absolutely went for it. And I was ready for it. You can't look away for one second. The ball went in and Pearce froze as if to check it had really gone in. And I was like, 'come on, do something'. And he did.
Slow time down like Scholes.
I remember Paul Scholes scoring against Scotland in 1999 ahead of Euro 2000. He flicked the ball up past Colin Hendry and it's in the air and you're thinking, 'hit it, hit it, hit it – I'm on you now, I am all lined up'. And it seemed to be forever. Watching back on TV, it was a one-second delay. But when you're taking pictures, if you're on your game and doing it right, you are slowing down time.
Best football photography settings
Camera settings are as important to football photographers as anyone else who makes their living or spends their spare time behind the lens. Here are some thoughts on the main ones.

Aperture is measured in f-stops. Wider apertures are lower numbers. Aperture used to be the main setting you would tweak to deal with changing light conditions in stadiums, as shutter speeds over 1000th were unavailable. Back in the '80s, floodlights were very poor at the grounds – so you had to use really low apertures as wide as possible. Some lens apertures were as wide as 1.4, but I can't imagine shooting on manual focus with a wide open lens now.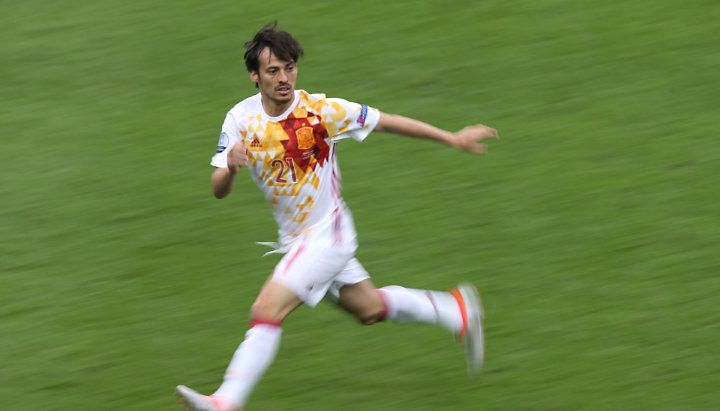 Shutter speed is a tool to control motion in your photography. Fast shutter speeds (1/1000 +) freeze movement. Slower shutter speeds (15th +) blur movement – but I wouldn't use this too often. Modern football photographers want to eliminate all movement. To freeze the action perfectly still. But I like to see movement in a picture, so use slower shutter speeds. There's one picture I took of John Barnes where everything is moving, but Barnes' head is still. That picture got used and used.
Exposure.
Shutter speed, aperture and ISO combine to create exposure. Photographs are created when light enters your camera and interacts with the sensor. Exposure is how those light levels are balanced. Too much light will leave you with an image that's too bright or overexposed. Too little light and your image is too dark – or overexposed. The different settings you choose for shutter speed, aperture and ISO are essentially that image's exposure.
Essential tools for football photography.
As well as the tips for shooting and the different settings, there's the gear itself to think about.
Camera.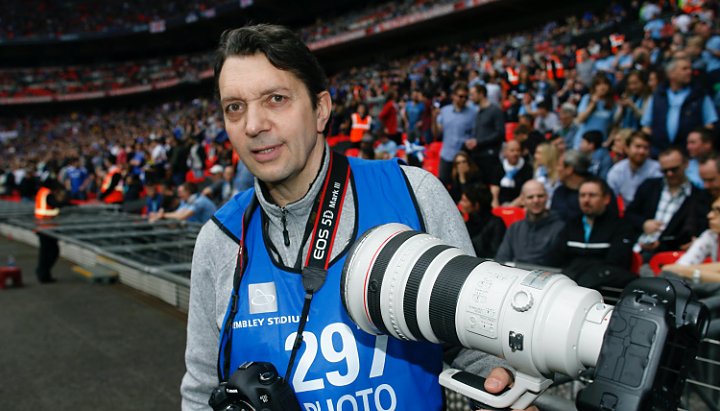 Most football photographers shoot with a DSLR camera. These autofocus, never-miss, high-performance cameras make it harder to take bad shots.
They have large sensors for packing detail into your photos, fast and efficient autofocus, the flexibility of interchangeable lenses, and fast burst mode for taking lots of photos very quickly.  
You can zoom out and capture the whole moment perfectly across tons of frames catching the player as they run off to celebrate. Or shoot from the halfway line and crop it to look as though they're much closer.
It's less likely a photographer, provided they have the right camera, will shoot poor-quality photos. Pre-digital, there was much more disparity. When I started in the 1970s, we used SLR cameras with analogue film. Lots could (and did) go wrong.
Monopod.
The humble monopod is an essential part of the football photographer's kit. It's essential for keeping a telephoto lens stable and secure when you're shooting at slow shutter speeds to capture movement.
Because your camera shutter is staying open for longer to let light in, this increases the chances of movement blurring the photo. A monopod can help to keep things nice and steady.
Zoom/telephoto lenses.
The lenses are as important as the camera. And there are many different lenses you can use for football to get different effects and shoot from different perspectives.  
But the 400mm 2.8 max aperture is the best football lens. If I look back at the best pictures I have taken, a lot of them have been on that lens. They're great for getting the tight midfield action and edge-of-the-box action, as well as things like portrait shots of players in kit. If you had to have one lens, that's it.
But I also like an 85mm prime lens. Though not suited so much to top-flight games, it's ideal for lower leagues, where you're able to get in closer behind the goal.
How I became a professional photographer
I've been shooting football matches for over 45 years at games all over the world. In 2012, I won the Barclays Photographer of the 20 Seasons award.

I've covered England all over the world – including Stuart Pearce in 1996 and David Beckham in 1998. But it all started many moons ago when I was a kid reading football annuals at home. I would just stare at the photos for hours.  
But until I was 16, I'd never owned a camera. There were no camera shops where I grew up, in Harlow New Town. It was only when I went to Holborn for a job interview that I saw one of these for the first time – and it blew my mind.
I got my first break when I was 17 in 1974. I was working as a photographer's messenger at Highbury and managed to sneak off and take a picture that became iconic: Arsenal's Brian Kidd stealing a policeman's hat after scoring against Manchester City. It was over in a split second.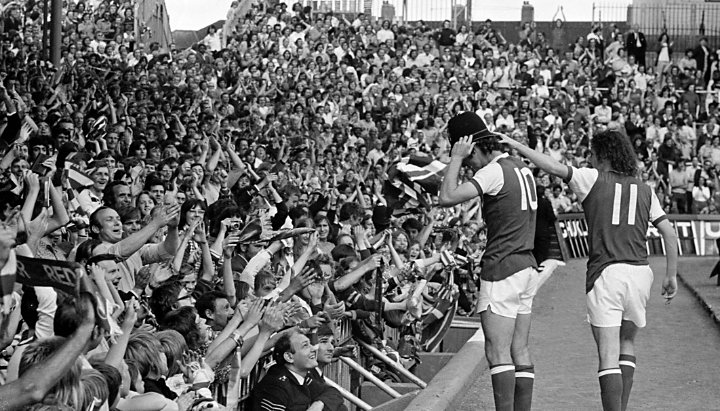 I was worried my boss would be mad with me for taking the picture. But the guy in the darkroom said: 'You've got to print this.' That gave me a lot of belief I could do it.
My favourite spot to shoot from.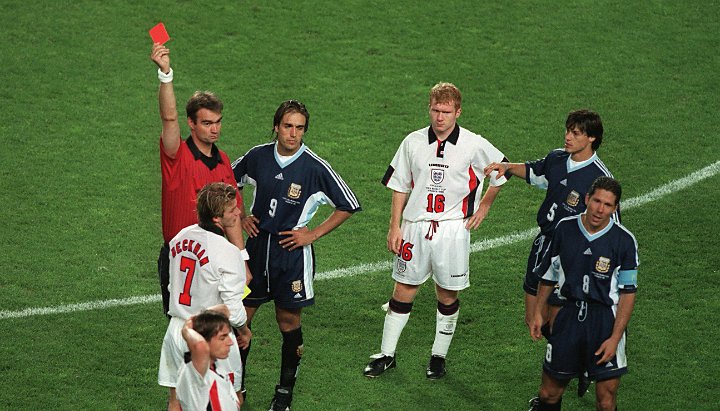 Covering the World Cup in 1998. England vs Argentina at St Etienne was a massive game. I couldn't miss anything. So, I shot alongside the TV cameras, looking down on the pitch. And it all happened: Beckham sent off, the referee holding his red card up looking straight at me. Michael Owen scoring – and then later coming off in tears. It had everything. That position up on the TV gantry almost, I love working up there.
My favourite stadium.
Highbury was my favourite stadium, though it wasn't always the best for pictures. My dad took me one day – even though my mum would rather drag me around an old cathedral. But that was it – Highbury was my architecture. There was just something about Highbury that got me.
Of the modern places, the new Tottenham Stadium is wonderful to work at because you can still get close to the goal line and you've got a nice perspective. The old Wembley gave you incredible light – wonderful for pictures. Even cup final day, extra time, there wouldn't be any shadow on that pitch.
Memories of night games past.
Many moons ago, I went to shoot Newcastle United vs Liverpool in the middle of November. Lashing down with rain, it was pitch black when I got there at 3pm carrying a 400mm 5.6 Novoflex lens. The Geordie photographers said, 'what have you brought that lens for? Have you seen these lights?'. They were right too. I would have used a slow shutter speed and there wouldn't have been many pictures coming out of that night match.
Memories of analogue film.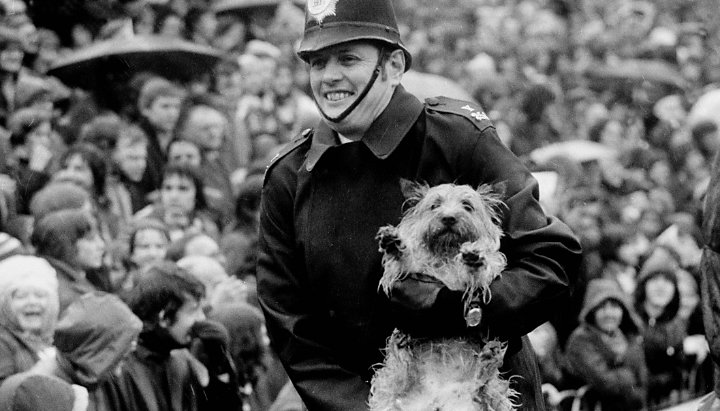 The thing is, pre-digital, we didn't know whether we'd got the shot. I remember England vs Switzerland at Euro 96. The ref blew his whistle and gave handball against Stuart Pearce. I thought I had it – the shot. But I had to wait to find out. There was no little LED screen on my camera. We had to wait till the end of the game, drive back through all the traffic, process the film and then view it on a Lightbox. It was agonising. But there it was: Stuart Pearce's hand on the ball.
My best moment.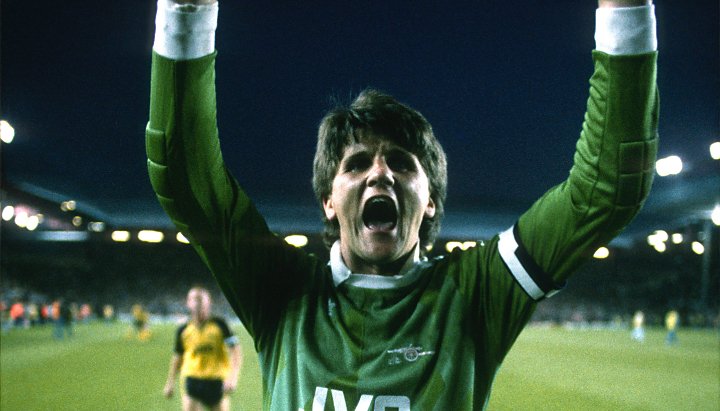 Arsenal vs Liverpool at Anfield in 1989 to decide the old First Division title. Arsenal won 2-0. It was just an incredible moment. The police made me move out wide from behind the goal, but I still got the Michael Thomas goal. The light was so bad. When I went out wide, I had to shoot at f/2.8 and literally there was no light and I had to go down to a 250/1. But I got the goal. It's one frame, it's not perfect, but there aren't many pictures of it.
Pictures still making me jealous in 2021.
I've been working in sports photography for over 40 years, but I love it when a picture still makes me feel jealous. Every now and then a picture makes me feel, woah – come on! Take the Champions League final of 2021: the picture was static Aguero, with Chelsea's players celebrating all around him. That was the picture to get. I dreamt about it the night after, having to get there to get the shot.
I feel like I've been slowing down. But maybe I should just go back out for one more season? After all, I'm still trying to get a frame to beat the one I took in 1974 of Brian Kidd in the policeman's helmet. Use your camera to paint big pictures, to tell stories. Don't be formulaic – no matter how easy it seems. Create your own style.
About the author.
Mark Leech has been a football photographer for more than 40 years. His work has appeared in newspapers and magazines around the world, and he has covered seven World Cups. He was named Barclays Photographer of the 20 Seasons in 2012. He owns the agency Offside Sports Photography. He's an Arsenal fan and shares amazing retro football photos on Instagram @welloffside.