Although it's less well-known than the famous A4, A5 size paper is still used every day for a whole manner of different purposes. 
The 'handheld' dimensions of a5 paper make it easy to distribute in large volumes, making it ideal for creating greeting cards, booklets, magazines, flyers and notebooks.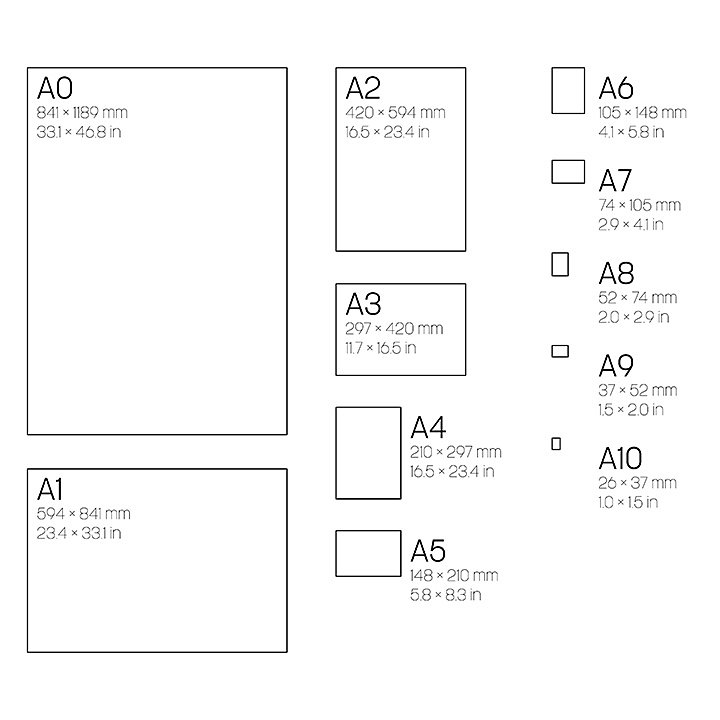 Size of the different paper formats of the A range in mm
The A5 paper size belongs to the 'A' series of paper formats which, from A0 right through to A10, retain their proportions between width and length. For example, the width of the A5 format is equal to the length of the A6 format. Similarly, the length of the A5 format is equal to the width of the A4 format. 
This correlation between paper sizes was first described in 1786 by the German scientist Lichtenberg, then normalised in 1922 by Porstmann and the German DIN 476, to evolve towards the ISO 216 standard in 1975. 
The dimensions of a5 paper.
The A5 paper size in cm is 14.8 x 21 cm and 148 x 210 mm in millimetres. It has a printing area of 312.5 cm² or 0.031 m². The A5 paper size in inches is 5.82 x 8.26, with a printing area of 48.43 sq inches.
Format

Width x Height  
(in mm)

Width x Height  
(in cm)

Width x Height  
(in inches)

A0

841 x 1189

84.1 x 118.9

33.1 x 46.8

A1

594 x 841

59.5 x 84.1

23.4 x 33.1

A2

420 x 594

42 x 59.4

16.5 x 23.4

A3

297 x 420

29.7 x 42

11.7 x 16.5

A4

210 x 297

21 x 29.7

8.3 x 11.7

A5

148 x 210

14.8 x 21

5.8 x 8.3

A6

105 x 148

10.5 x 14.8

4.1 x 5.8

A7

74 x 105

7.4 x 10.5

2.9 x 4.1

A8

52 x 74

5.2 x 7.4

2.0 x 2.9

A9

37 x 52

3.7 x 5.3

1.5 x 2.0

A10

26 x 37

2.6 x 3.7

1.0 x 1.5
Size chart of the A format series in mm, cm and inches
As we have seen, the standardisation of formats keeps proportions consistent: 
A5 = ¼ of A3

A5 = ½ of A4

A5 = 2 x A6

A5 = 4 x A7
When it comes to A5 pixel sizes, it depends on the image resolution used for your file: 
The printing of an A5 format in 300 dpi (dots per inch) is based on 1754 x 2480 pixels/inches

The printing of an A5 format in 200 dpi is based on 1169 x 1654 pixels/inches

For a low-resolution in 72 dpi, it will correspond to 421 x 596 pixels/inches
The A5 paper size is one of the smallest printable formats in the A range, making it widely sought after by both professionals and individuals alike.
Different uses of the A5 paper size.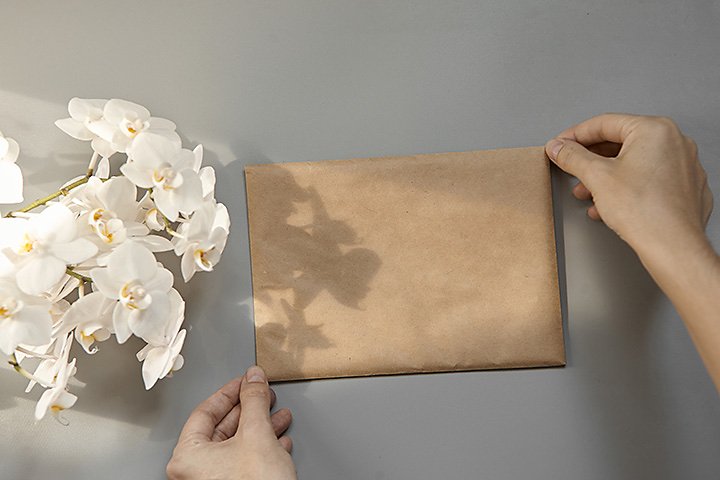 Photograph of an A5 envelope
A5 paper is particularly popular in the publishing and stationery sectors, where it is commonly used for books, diaries, greeting cards and A5 sized notebooks.
In the advertising and communication sectors, A5 size paper is also widely used for promotional leaflets, brochures and booklets and other presentation material. 
As it is half the size of an A4 sheet, the A5 format is ideal for graphic creation too. Many use it for offset printing and it is perfectly suitable for personal printing.
Making a flyer using the A5 paper size.
Different layouts for an A5 flyer
The A5 paper size is one of the most common flyer formats, along with the A6 paper size. It is therefore the classic flyer and advertising leaflet format. Its dimensions make it possible to insert text content and images, while also allowing for easy distribution by hand or post.
If you are looking to print a flyer in A5 format, there are several options available. 
Start from scratch and set your imagination free or have a look at the guides available online to inspire you and create your own flyer. 
Desktop publishing software such as Adobe InDesign will allow you to create all types of layouts and designs. 
In short, the A5 paper size is ideal for spreading your message, leaving you with endless possibilities.
Frequently asked questions.
Is 5 x 7 bigger than A5?
According to the ISO 216 standard, the A5 paper size is 5 .8 x 8.3 inches - just marginally bigger than 5 x 7. 
Which paper size is bigger, A4 or A5?
The larger the number is, the smaller it is in paper size. A5 size paper is half the size of A4, allowing two A5 prints to be printed on one sheet of A4. 
What is A5 paper size used for?
A5 paper is primarily used for printing flyers, notepads and booklets. Due to its size, A5 is a cost-effective option for small businesses and start-up companies. 
Learn more about paper sizes and graphic design.
This content may also be of interest to you... 
Learn about the versatility of this file format and discover how to use it in your design work.