A8 size paper is one of the smallest paper sizes belonging to the 'A' series of paper, defined by the ISO 216 standard. Due to its small size, A8 size paper is restricted to a few very specific uses. The most well-known of these is undoubtedly the business card. To use A8 size paper properly, let's first discover its main characteristics.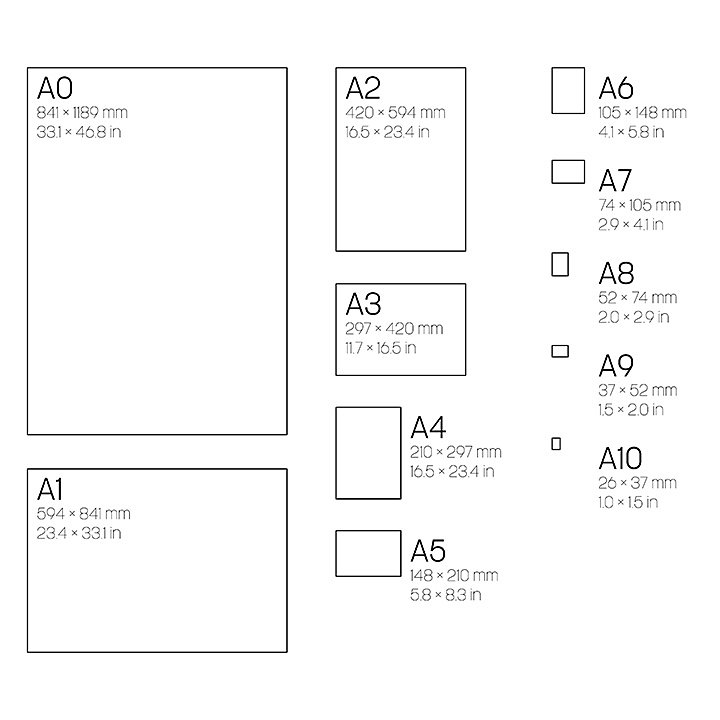 Dimensions of different types of paper in the A series in mm.
A8 paper dimensions.
The dimensions for A8 size paper in cm, inches and mm, when used in digital media, are as follows:
5.2 x 7.4 cm.

52 x 74 mm.

2.0 x 2.9 in.
When A8 is printed out for use in physical media, its printing surface is:
38.06 cm².

5.89 in².

0.04 m².
Format

Width x Height  
(in mm)

Width x Height  
(in cm)

Width x Height  
(in inches)

A0

841 x 1189

84.1 x 118.9

33.1 x 46.8

A1

594 x 841

59.5 x 84.1

23.4 x 33.1

A2

420 x 594

42 x 59.4

16.5 x 23.4

A3

297 x 420

29.7 x 42

11.7 x 16.5

A4

210 x 297

21 x 29.7

8.3 x 11.7

A5

148 x 210

14.8 x 21

5.8 x 8.3

A6

105 x 148

10.5 x 14.8

4.1 x 5.8

A7

74 x 105

7.4 x 10.5

2.9 x 4.1

A8

52 x 74

5.2 x 7.4

2.0 x 2.9

A9

37 x 52

3.7 x 5.3

1.5 x 2.0

A10

26 x 37

2.6 x 3.7

1.0 x 1.5
Table of dimensions of paper sizes in the A range in mm, cm and inches.
In the graphic design and printing industries, resolution is everything. If you want to know the measurements of A8 in pixels you must first find out the resolution of your file:
For a resolution of 300 dpi, you will get 614 x 874 pixels per inch.

For a resolution of 200 dpi, you will have 409 x 583 pixels per inch.

For a lower resolution of 72 dpi, you will get 147 x 209 pixels per inch.
The more pixels per inch (PPI) there are, the more information there is in the image, which will improve the precision and overall quality of the result.
The dimensions of the formats presented in the table preserve their proportions between width and height. The width of A8 size paper is equal to the length of the A9 size paper and the length of A8 is equal to the width of A7.
One sheet of A8 size paper is the same as:
two sheets of A9.

four sheets of A10.

half the size of a sheet of A7
This correlation between the formats in the A range of paper was first outlined in 1786 by the German scientist Lichtenberg. in 1922 that the aspect ratio of √2 was taken up by Porstmann and the German DIN 476. It is this formula that guarantees the preservation of proportions between sizes.
A8 size paper is among the smallest sizes of printable paper in the A range and, as such, is unable to convey a lot of information. However, if it is used well, A8 can be a very effective way to communicate.
What is A8 paper used for?
Business cards
Due to is small size, A8 size paper is often used for the creation and printing of business cards, labels and stickers. To guarantee high-quality printing, it is important to prepare the file for printing and make sure that the image has a resolution of 52 x 74 mm at 300 ppi. Don't forget to add a bleed margin of 3 mm as well to ensure that the result is exactly how you imagined.

Create a business card using A8 size paper.
To properly visualise the size of A8, it is a good idea to take a look in your wallet: loyalty cards and business cards have almost identical dimensions (85 x 55 mm or 90 x 50 mm on standard versions).
To create and print your design on A8 size paper, you can use desktop publishing software such as InDesign to help you master everything from colour and composition to typography and graphic design.
Even in the digital age business cards are an essential tool. So, it's good to be aware of all their key characteristics when making and printing your own.
Frequently asked questions.
Is A4 bigger than A8?
Yes, A4 is bigger than A8 size paper. Within the 'A' paper size format, the lower the number, the bigger the paper size. The aspect ratio √2 means that A8 is 16 times smaller than A4.
How small is A8 paper?
A8 paper is one of the smallest paper sizes in the A format, measuring just 5.2 cm x 7.4 cm. It is commonly used to create business cards, labels and tickets.
Learn more about paper formats and graphic design.
This content may also be of interest to you...
Learn about the versatility of this file format and discover how to use it in your design work.