Why do an engagement shoot?
An engagement photo session is an excellent opportunity to capture the happy couple, flush with the excitement of their upcoming wedding — all while making great photos to use for "save the date" cards, invitations, and engagement announcements on social media.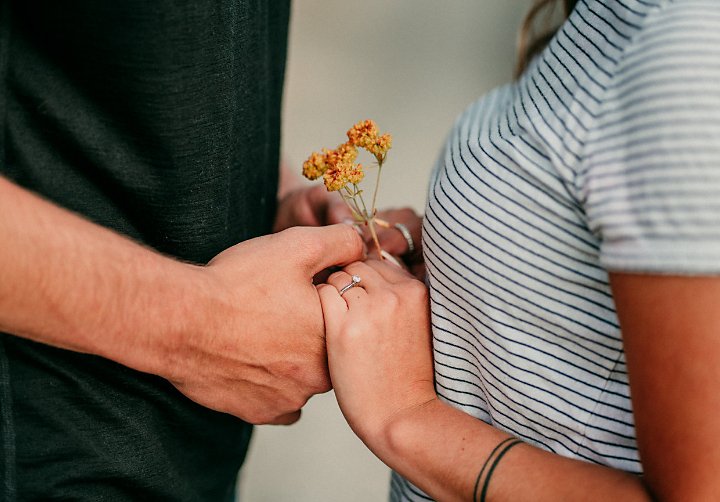 The top 5 engagement photoshoot poses.
Whether you're shooting your own engagement photos or you're aiming to start a professional photography business — the key to a successful engagement photoshoot is making your subjects look at ease. The right poses can create a naturally romantic atmosphere that tells the story of a couple's love for each other. If you're searching for engagement photo ideas, these popular couple poses are a great place to start. 
This pose is a classic for a reason. Starting your photoshoot with a simple pose like this helps put your subjects at ease in front of the camera before you move on to more affectionate poses. As a bonus, close-up shots of the hands together are also a great way to show off engagement rings.
2. Standing side by side.
Photograph the couple walking toward you side by side. Your subjects are going to wind up doing this when they leave the altar on their wedding day, so this pose is a fun preview of what's to come. 
3. Standing back to front.
Have the taller of your two subjects stand behind their partner with their arms around them, resting their chin on top of their partner's shoulder or head. This pose conveys warmth and intimacy while keeping both of the couple's faces in frame.
4. Holding faces close together.
For a more personal engagement portrait, photograph the couple standing nose-to-nose or forehead-to-forehead. Get pictures with their eyes both open and closed to capture different moods. The couple looking at each other and laughing makes for a lighthearted image, while a black-and-white photo of them forehead-to-forehead with their eyes closed creates a more serious mood.
If your subjects are comfortable with a little bit of PDA, a quick peck on the lips is a sweet moment for a picture.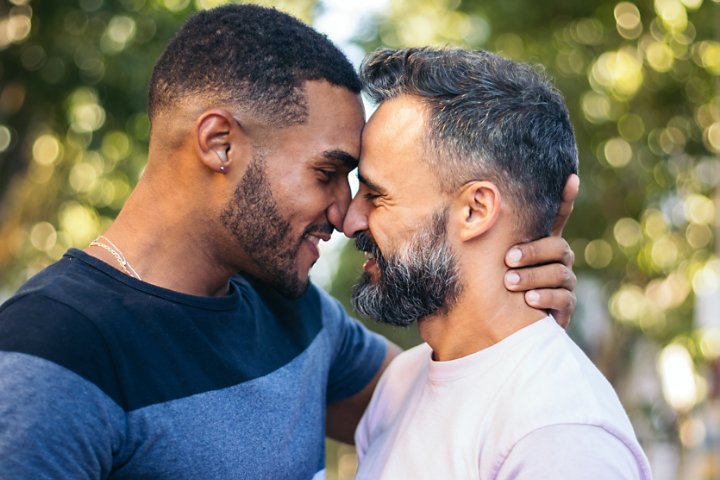 How to make engagement photos feel natural.
An engagement session needs to feel fun and spontaneous, as though you're capturing candid shots of the happy couple in the wild.
Talk to the couple before the photoshoot.
To plan more personalized photos, have a conversation with the couple a few days before the photoshoot to get a feel for their passions and shared interests. These details can inspire fun poses and photo props for the shoot day. For example, if the couple you're photographing loves to go bowling together, have them bring their bowling shirts to the photoshoot for a fun picture that incorporates their hobby.
Ask them about their relationship.
"To break the ice a little, I try to ask the couple questions about their relationship during the shoot and have them answer them to each other," says professional engagement and wedding photographer Dezerae Jobe. "So I'll ask one, 'What was the number one thing that caught your attention about them on your first date?' And then I'll have them give their answer to their partner. Those moments, where they're smiling or laughing, make some of the best shots."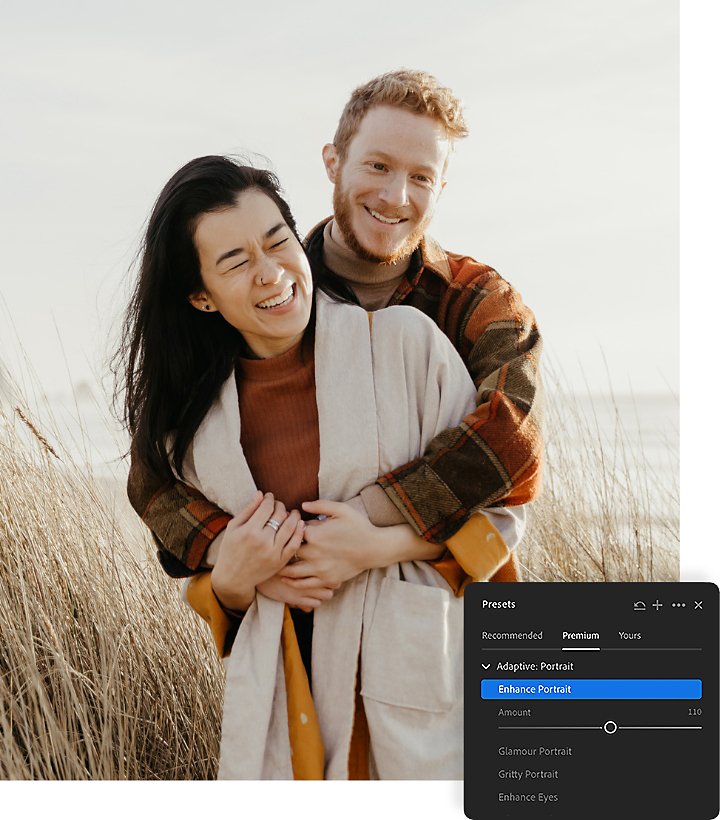 Enhance your engagement pictures.
Even the best poses can use a little post-shoot polishing. With photo retouching apps like Adobe Photoshop Lightroom and Adobe Photoshop, you can make all the tweaks and adjustments necessary for your pictures to look their best.
Edit, organize, store, and share photos from anywhere.
Use Lightroom to perfect your shots.
If you want to make easy changes that have a huge impact on the look of your engagement shots, use Lightroom to adjust multiple aspects of each image, including:


Exposure. Not happy with the lighting for one of your pictures? Move the Exposure slider to the left to tone down an overexposed image, or push it to the right to increase the light in a dark image.
Colors. If you want to boost a picture's golden hour hues, open the Color Mixer panel and use the sliders to increase individual colors' luminance and saturation.
Presets. Explore professionally designed Lightroom photo presets that work like filters to speed up your workflow. Automatically apply multiple edits at once to achieve a specific look. The Lifestyle collection of presets lends itself exceptionally well to engagement shoots. Find them under Presets › Premium › Subject: Lifestyle.
Blemishes. Use the Spot Healing Brush tool to quickly dab away shoot-day pimples, out of place hairs, or a wrinkle in someone's shirt.
Make seamless transformations in Photoshop.
Whether a curious bystander wandered into the background of a shot or one of your subjects managed to drip ice cream on their shirt between pictures, Photoshop is great at making distractions disappear. Use the Content-Aware Fill tool to remove a selection from your picture, and Photoshop will automatically fill in the space left behind with matching elements from the surrounding image.
Add a logo or watermark to your images.
If engagement and wedding photos are your business, it's a good idea to add a watermark to your pictures to help get your name out there and attract new clients. You can create a watermark or logo in Photoshop, save the file, and then create a Photoshop action to quickly add it to images before you send them out. With Lightroom you can easily add the watermark or logo while exporting your processed images.
---
Capture romance on camera.
A good engagement photo captures its subjects' joy and excitement as they look forward to their big day. With the right poses and the proper touch-ups, it's easy to create pictures that commemorate a couple's love for years to come.
---
---