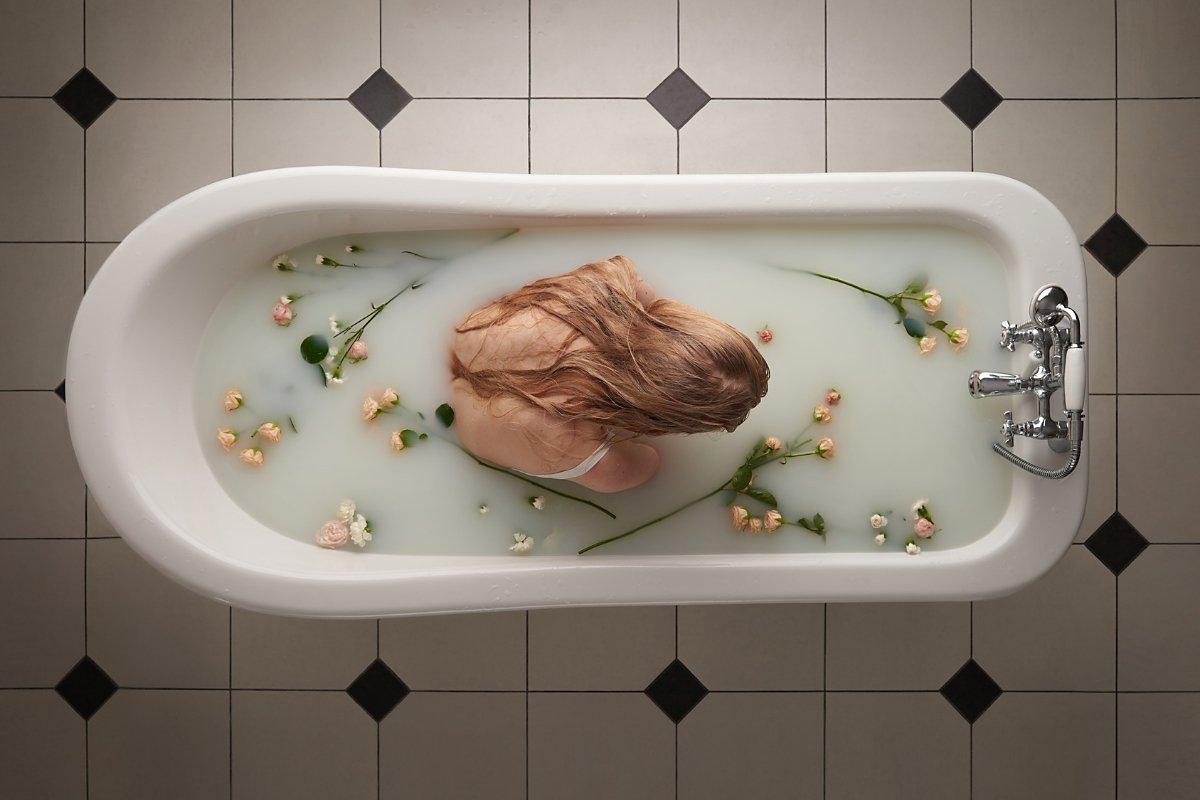 Immerse yourself in milk bath photography.
Discover all you need to know for sublime milk bath photoshoots.
What is milk bath photography?
Milk bath photography is a type of portrait photography that places subjects in a tub full of milky water, often with floating props like flowers, fruit, or greenery. Photographers use this style most often for maternity, newborn, and artistic photoshoots.
With a gallon or two of milk diluted in water, you can create white or negative space around your subjects that helps them stand out. The milk provides a frame for your subjects' faces and bodies while adding a touch of dreaminess or surrealism to each photo.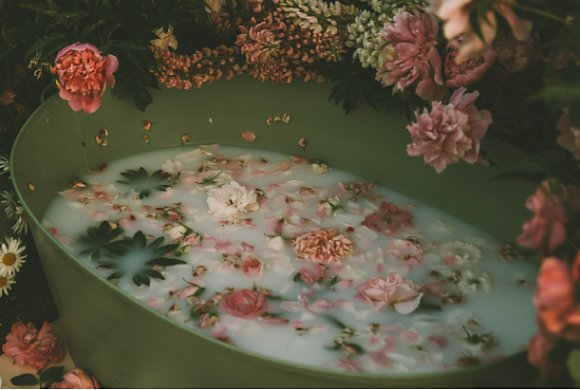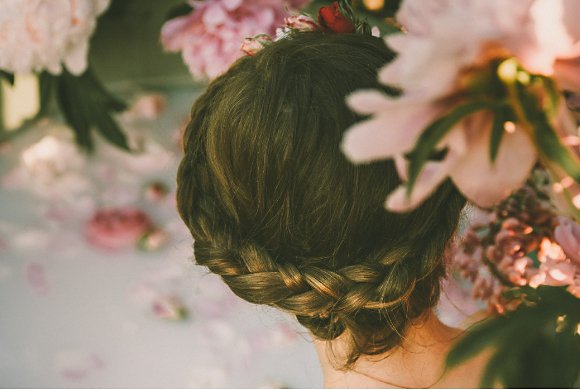 How to plan a milk bath session.
Start by talking through the milk bath shoot with your subjects. Look at photos online and create a moodboard to make sure you're aligned on the look. Then you can make decisions about location, wardrobe, props, and composition.
You can do a milk bath photoshoot in any bathtub, or even in an inflatable kiddie pool, but a deep clawfoot tub may look best if you want the tub itself to be in the photos. You can book a hotel room with a nice bathroom, or, if you're thinking of doing a lot of milk bath shoots, you can find a used clawfoot tub for sale online.
If you're willing to put in the work, you can move the tub to a scenic outdoor location and set it up there. Just be sure to bring a camping stove and pot to heat the water. Your models will be happier (and you'll get better photos) if they're not shivering during the shoot.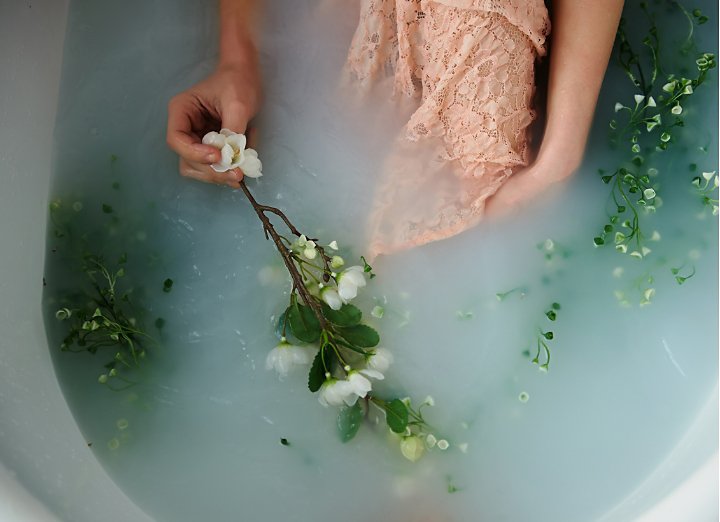 Decide on wardrobe and props.
For maternity photos, aim for fitted clothes to show off the baby bump, but remember that your models should feel comfortable. They can wear their own clothes, or you can find inexpensive lacy dresses or sheer fabrics online.
For props, you can use fresh flowers, citrus slices, or other fruit to float in the water. "Use real flowers," photographer Dezerae Jobe says. "Fake flowers just don't float properly, but I do decorate the outside of my tubs with fake ivy."
Keep your color palette in mind, and buy props that will work with the colors you and your subject want to use. For extra color, add food coloring or a bath bomb to the water.
You can use whole milk, skim, soy, coconut, or any other kind you prefer. "I've tried powdered milk and other ways, but my best go-to is a couple gallons of two-percent milk," Jobe says. Make sure to find out if your subject is vegan. If so, you can use a plant-based milk.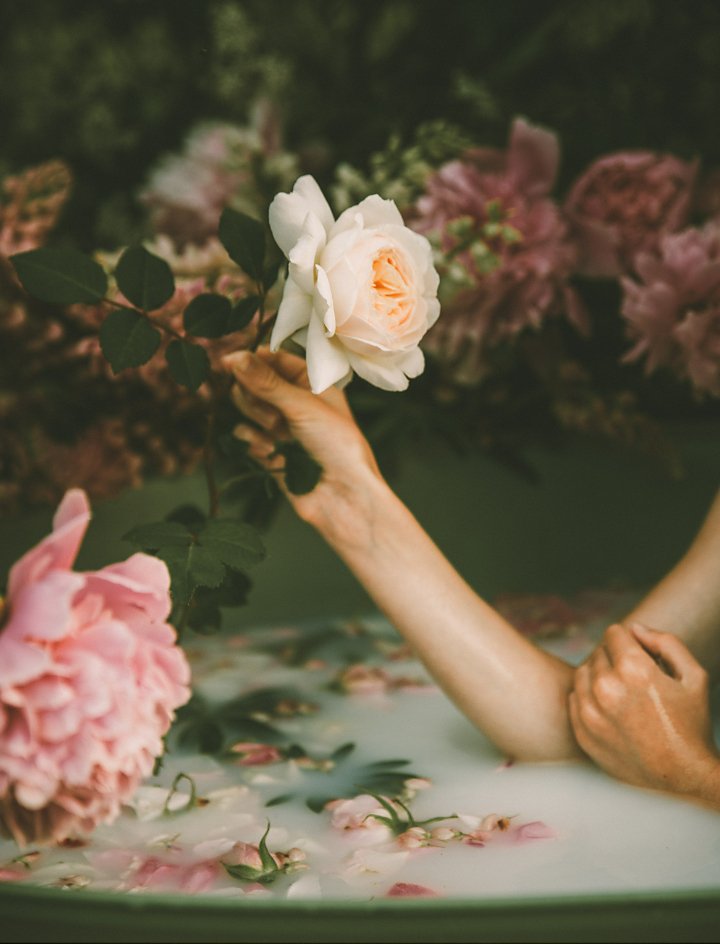 Make sure you have all the equipment you need.
Bring more than one camera lens if you can. Jobe likes her 85mm lens for close-ups, and she uses a 35mm for full-body shots. To get the appropriate distance from your subject for overhead shots, you may want to bring a sturdy step ladder to the shoot.
If your tub is indoors where there isn't enough natural light, try bringing portrait lighting elements into play. Use a bounce board (a white poster board) to bounce light from the window toward your subject or add artificial light with a softbox (a light with a translucent cloth over it) to spread the light around the room. 
Remember at all times to keep your subject safe. Pay attention to the water temperature — if you're doing baby photography, take extra care to keep the newborn safe and warm. Always be careful on wet floors, and be sure to help your subjects get in and out of the tub, especially if you're doing a milk bath maternity shoot.  
How to capture the best milk bath portraits.
Follow these steps to get the best results from your milk bath photoshoot. 
If you're using artificial lights, make sure they're ready to go before you fill the tub with milk and warm water, because the water will cool quickly. Have props like flowers and sliced fruit ready to go, but don't add them until your subject is in the tub and you can position them just as you like. Flowers can wilt quickly from warm water, so you may want to add them as you go.
Check the water temperature before you ask your model to step in. If you're doing a baby milk bath session, ask the parent to check the water before they place the baby in, and make sure they're there to supervise while you're shooting. 
2. Start outside the tub.
To get a variety of photos from different angles, take your time. "Have your subject sit on the edge of the bathtub and then slowly work up to getting into the tub. That way they're not just in the water, and then their hair's wet, and the session is over," Jobe says. 
3. Check your camera and direct your subject.
Take a look at your photos after the first few shots to make sure everything is working properly. You might want to open up the aperture to let in more light and achieve an ethereal look with a slightly blurry background. Encourage your subject to try different poses. 
4. Shoot from a variety of angles.
Get as many different types of shots as you can, including close-ups and full-body shots. Get some overhead shots but try to avoid appearing in the water's reflection. Then, work your way closer to the water.
"My go-to pose for maternity is always a lower angle, getting down where you can see their face, but their baby bump too," Jobe says. Just make sure you're using your camera strap so you don't accidentally drop it into the water.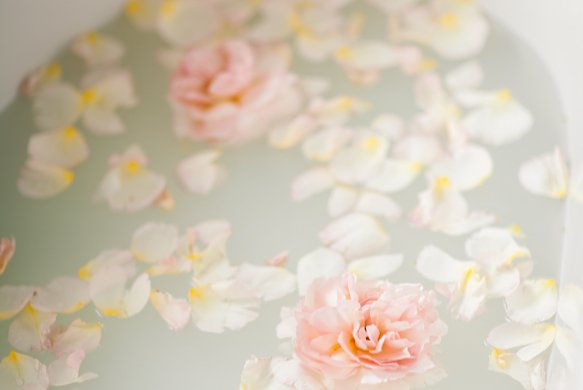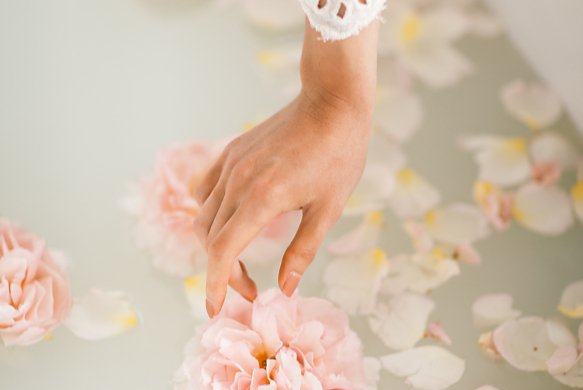 How to edit milk bath photos.
For adjusting colors and making other subtle edits, you can use Adobe Photoshop Lightroom. To completely transform photos and create photo composites, move into Adobe Photoshop. 
To manually correct the white balance, click the eyedropper icon in the Color panel and drag the eyedropper to a neutral part of your image. You can start with the white of the milky water. Another method is to adjust the Temperature slider until you're happy with how the white balance looks.
Edit efficiently in Lightroom.
Speed up your image processing and make images look consistent by applying your enhancements from one image to an entire photoshoot.
Improve one image by adjusting the Light, Color, and Effects sliders or using a Lightroom preset.
Choose Edit › Copy or select Command+C on Mac (Ctrl+C on Windows).
3. Paste your edits on other images.
Tap the G key to return to the grid view. Select similar images, and select Command+V on Mac (Ctrl+V on Windows) to paste those exact settings onto the selected images.
4. Make individual adjustments.
Refine each image to make sure each one looks how you want it.
If your reflection accidentally shows up in the milky water or you spot a distracting object you'd like to remove, erase it with the Content-Aware Fill tool in Photoshop. Select the Lasso or Object Selection tool in the toolbar and draw a circle or rectangle around the object. Then select Edit › Content-Aware Fill. Photoshop will use artificial intelligence to generate new pixels based on the surrounding pixels.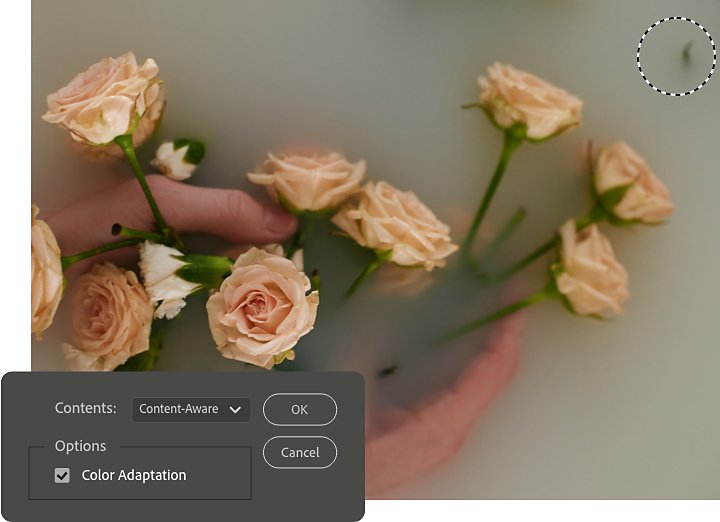 You might want to add a flower or another object to the image. Follow these steps to add props or move them to the right spot in post-processing. 
1. Select and copy the object.
Use one of the selection tools to select the element you want to add. Choose Edit › Copy or select Command+C on Mac (Ctrl+C on Windows).
Add the flower or other object by selecting Command+V or Ctrl+V. Then use the Move tool to position it in the right spot.
If the object doesn't look quite right, or if it looks too similar to another in the frame, you can make adjustments. Try inverting it or warping it with the Transform tool. You can adjust the vibrance or contrast of the object layer to make it match the photo, or, if the highlights and shadows of the added object don't match, you can use the Burn and Dodge tools to adjust the light and dark parts to make it look real.
Explore the loveliness of the milk bath aesthetic.
Milk bath photos can help your subjects appear ethereal or mysterious, but they can also highlight the sweetness of your subjects using elements found in nature. Add this extraordinary set-up to your photography toolkit, and don't be surprised when your subjects call to tell you how beautiful they feel.
---
---
Please make sure that the "dexter.base.react.umd" and "dexter.base.consonantcardcollection" clientlibs have been added to the template's Page Policy