Create a graduation announcement that celebrates accomplishments.
College graduation invitations and announcements are a great way to keep loved ones in the loop. Create one-of-a-kind designs with the tools and templates in Adobe Creative Cloud.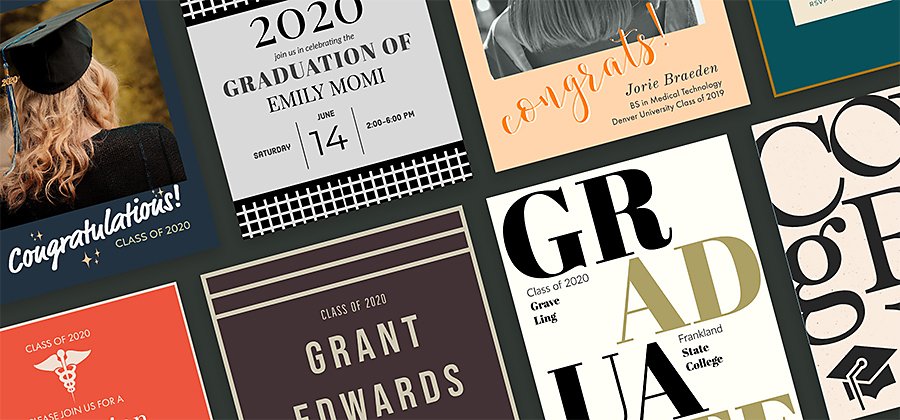 College graduation announcements are more worth it than ever.
With many college classes and graduation ceremonies happening online, invitations or announcements can be a great keepsake and an important tool for letting friends and family know you've graduated. Family members love to show them off and it helps you to remind people that you're about to enter the job market with your new degree. 
Share graduation photos and commemorate your hard work (or that of a graduate you know) with a unique graduation announcement. Invite people to an in-person or online ​graduation ceremony or use fun card designs as more casual graduation party invitations.
Graduation invitations versus graduation announcements.
Come up with a goal for what you want to communicate before you start your design. For example, you could use your creation as a ceremony or party invite or it could just be a simple, celebratory photo card.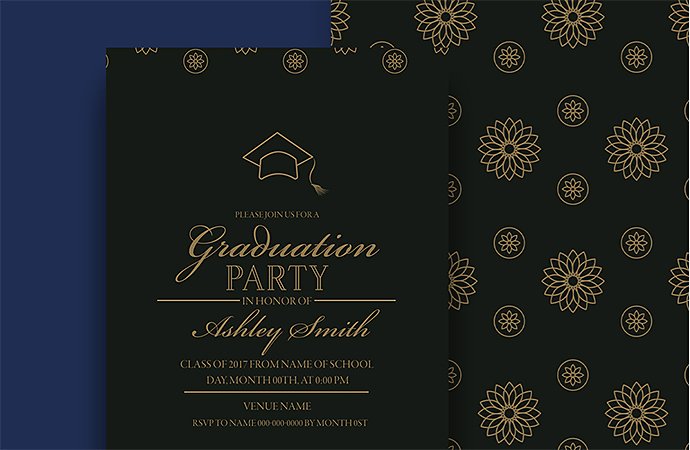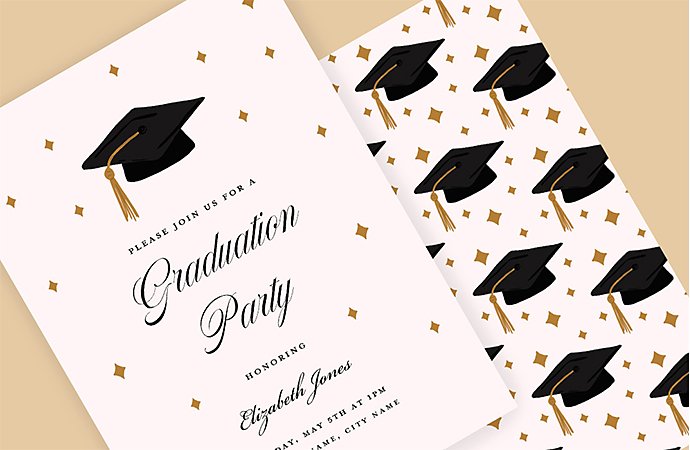 College or high school graduation invitations.

Use these to invite friends and family to the graduation ceremony or a celebration being hosted afterward. It's important to clarify if the invite is for a private celebration that you're planning, for the school's graduation ceremony or both. If you have a limited number of guests you can bring to the ceremony and you need your recipients to RSVP, include that information. Get them printed and mail them or send them digitally.
Explore graduation invitations
Graduation announcement cards.
A college graduation announcement is a way of letting your friends and family know you graduated and to signify your accomplishments, no event details needed. Print your announcement on high-quality ​card stock and your loved ones can keep them as mementoes. It's not uncommon to frame and hang a nice photo announcement.
Explore graduation announcements
Who and what to include on your college graduation announcement.
Make a list of who you want to send your invitations or grad announcements to, as well as all the essential information you need to add to your design.
When it comes to digital events, like graduation livestreams, the more the merrier. And if you're creating a graduation announcement, send it out to a wide network of people; include friends, family, neighbours, teachers and anyone who played a role in your success as a student. If you invite people to a physical event that has a limited number of seats, start with your immediate family and the people you care about most.
Your invitation or announcement wording is just as important as the layout of your design and your send list. Here are some things to consider, including:
Your full name


The name of the school


Your graduation year


The degree you're receiving


The time and place of the digital or in-person event


An RSVP request, if applicable


Gift requests, if applicable


A special message from you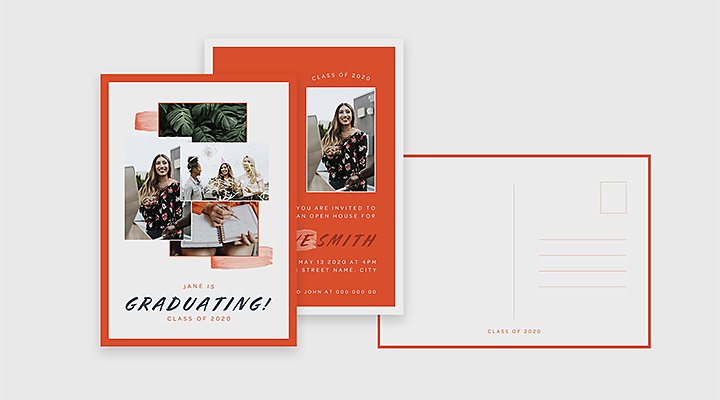 Design tips and examples.
Choose school colours and a gold foil accent to strike a traditional note. Use a personal monogram, your favourite colours or a graduation photo to craft a more individualistic look. Or create something unique with customised graphic elements. If you're printing your card, a bifold or trifold design will give you more space for a personalised message.
Explore what others have been making: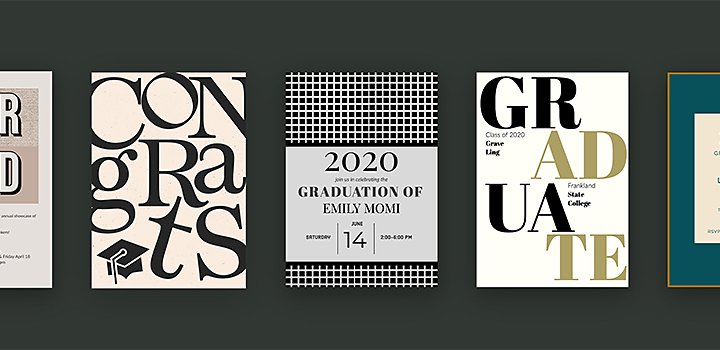 Create graduation cards of any kind with Adobe.

Get a head start with a free Adobe Spark template.

Use Adobe Spark to design a graduation invitation or announcement from a template for free in minutes.
Start from scratch with Adobe InDesign.
Follow the steps of creating a postcard or a flyer with InDesign. Then dive into making your graduation announcement. Download the grad announcement font pack or choose from thousands of Adobe Fonts.
Take your designs further with Creative Cloud.
For the most memorable graduation announcements or invitations, create your own photo composites and graphics in Adobe Photoshop or even painterly illustrations in Adobe Illustrator. Then pull your designs easily into a postcard or flyer layout in InDesign. Access your creative projects and assets from anywhere.
Amazing graduation invitations, announcements and more design projects are within reach.
Explore related creative projects and topics…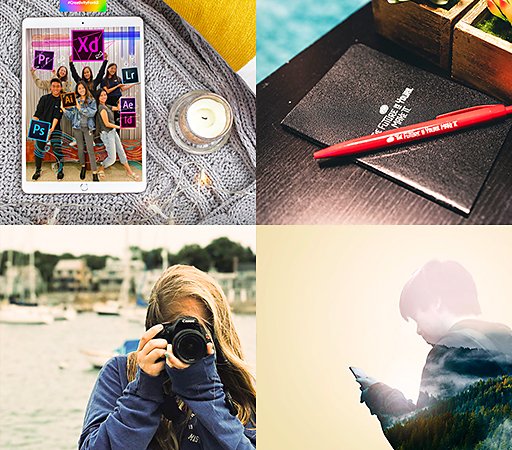 Shaping the future. One student at a time.
Adobe Ambassadors and campus clubs make it easier to get started with Creative Cloud.

Get the apps on all your devices.


Access the latest version of all the apps.
Students get all apps for the price of a single app. 
Creative Cloud for students and teachers 
Get 20+ apps, including Photoshop, Illustrator and lnDesign. Save over 65%.
---