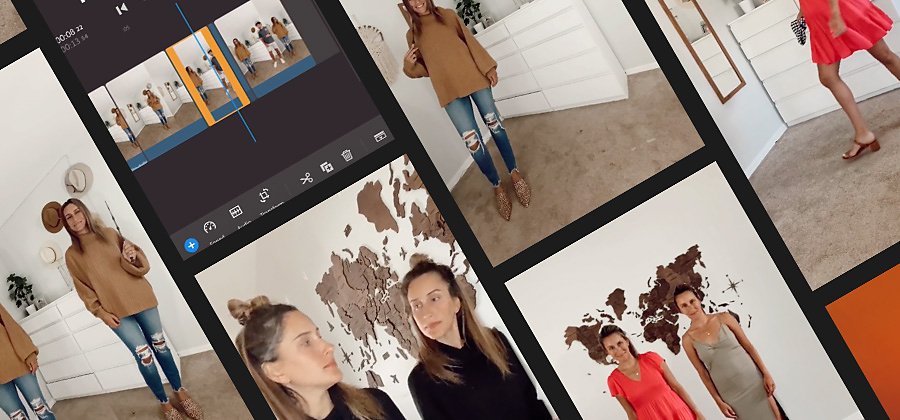 Edit Instagram videos like a professional influencer.
From iPhone videos to slow motion and other cool effects, discover techniques and editing tools to take your Instagram videos to the next level.
Not sure which apps are best for you?
Not sure which apps are best for you?
Take a minute. We'll help you figure it out.
Take a minute. We'll help you figure it out.
How video editing can make your Instagram story stand out.
If you're trying to gain more followers on Instagram, one thing you can always count on is plenty of competition. With so many content creators, video makers, and marketers vying for users' attention, the best videos are tightly edited and carefully optimized to draw the viewer in.
"I think social media got a little boring because everybody got good at taking photos," says Instagram content creator Teresa Ann Moon. "It's a little harder to make videos. So now we get to see how people can be creative and make something different."
Whether you're recording Reels, shooting video for your timeline, or making a longer video for IGTV, these expert tips will help you create the best Instagram content to grow your audience.      
Plan ahead to create high-quality videos.
The video editing process begins before you even start shooting. Planning out your recording session by writing a script and making a shot list can save you time and effort when you cut your video together.
"It's all about knowing what you're shooting and why you're shooting it," says filmmaker Colin Dougan. "Because if you have only the shots you need, it's a lot easier to edit than if you have to scroll through two hours of footage."
"Plan out your music, plan out your location, your scene, your transitions — literally write it all down," Moon agrees.
Editing turns video clips into video content.
Once you've recorded your footage, a variety of video editing apps are available to help you trim it, cut it, and add overlays and other special effects. If you choose to edit videos on your phone, you can use the Instagram video editor or a variety of third-party apps, like Adobe Premiere Rush — which features ideal video editing tools for mobile devices. But many content creators prefer to cut their videos using editing options on their desktop.

"I would say that for 90 percent of my videos I edit on my desktop in Adobe Premiere Pro," Moon says. "My videos are kind of involved, and with a mouse and a big screen I'm able to work on more of the intricate details."
Premiere Pro has a number of powerful editing features that can give your Instagram video a professional look. Use the Lumetri Color panel to color correct your footage, add eye-catching transitions and video effects, and apply various preset infographic panel templates to easily add text and other informational overlays to your video.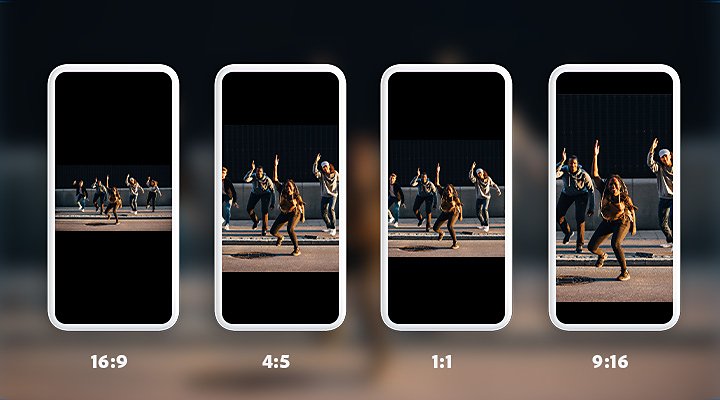 While you can post a horizontal video in your grid, Stories and Reels on Instagram are all vertical videos. "You want to use as much screen space as possible, because it's very easy to scroll past a small photo," Dougan explains. "If you upload a video with a standard 16:9 aspect ratio, it's a lot easier for someone's finger to slide right over that and scroll past. Now, if you reformat your video into something like a 4:5 aspect ratio, the slide won't go as far and you have a lot more of a chance for somebody to land on your video."
Obey the three-second rule.
You only get one chance at a first impression. On Instagram, you've only got a few seconds before your audience loses interest.
"You really need something to get people's attention in the first three seconds, because then they're more likely to commit to the rest of the video," Dougan says. "That's the most important part of your video. Don't open with a slow-mo intro showing something that has no importance to what they're about to watch. Let them know what they're going to see in the first few seconds.
"If they enjoy that," Dougan continues, "they'll stick around, and your work will speak for itself. For most of my videos, you'll notice that my first five seconds are usually pretty intense."
Instagram compresses your video as it's uploading, so it's important to be mindful of your file size to be sure that your video looks as good online as it does in your video editor. One way to do this is to compress your video after you've finished editing it. In Premiere Pro you can use built-in social media settings to save your video at the optimal file size, and then upload it to Instagram without leaving the program.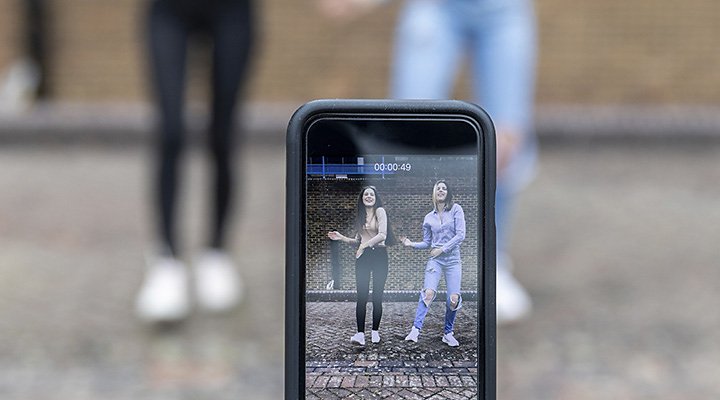 Although it can be tempting to create a longer video that includes everything you want to say, quick and to the point is the way to go.
"If they see it's too long, people are going to keep scrolling," Moon says. "About 15 seconds is your sweet spot for Reels, around 15 to 30 seconds for a feed post, and a minute for IGTV."
Don't give up on video clips that get left on the cutting room floor due to Instagram's shorter video format. YouTube is a great home for longer video formats, and you can link to your videos there from your Instagram feed for viewers who want to see more. When you're editing, it can help to cut together a longer video file for YouTube, Vimeo, or other platforms that includes all your favorite moments, then edit that version down to fit on Instagram.
Give your Instagram videos an extra boost.
Once your video has been edited and uploaded, take some steps within the Instagram app to make sure that your work reaches as many people as possible.
"When you're uploading a Reel, save it to your Instagram feed for at least 24 hours," Moon recommends. "That helps it perform better, and then you can remove it, and it'll still show up in your Reels section."
You can also use the settings menu to choose which screenshot from your video Instagram will show as a preview, so you can select the most eye-catching moment to grab the viewer's attention before they scroll on.