Wedding videos: A guide to filming a couple's special day.
Wedding videos are an increasingly popular way for couples to preserve memories of fairytale nuptials and simple ceremonies alike. Get expert tips on how to prepare for, film, and edit a beautiful wedding video.
Not sure which apps are best for you?
Not sure which apps are best for you?
Take a minute. We'll help you figure it out.
Take a minute. We'll help you figure it out.
Lights, camera, wedding bells.
It's the day the happy couple has been waiting for, and as the filmmaker responsible for the wedding video, you need to capture the special moments of the day and craft them into a gorgeous, cinematic wedding film. Whether it's an adventurous elopement or a lavish farm wedding, you can count on a fun, fast-paced, and long day of filming, from the first look to "I do" and beyond.
"You're telling that couple's love story through a lens they don't get to see," says wedding videographer Chris Printz. "The day goes super fast, and they only see it from one perspective. But there are so many things the couple doesn't see on their wedding day. My job is to film that and tell the story they're going to watch forever."

But it's more than just documenting the entire day. "Anyone could just stand in the back with a camera and press record," says Printz. Instead, as videographer Joshua Flom puts it, your job as a wedding videographer is to focus on the "visual storytelling of the wedding day," and each one presents its own creative challenges and opportunities.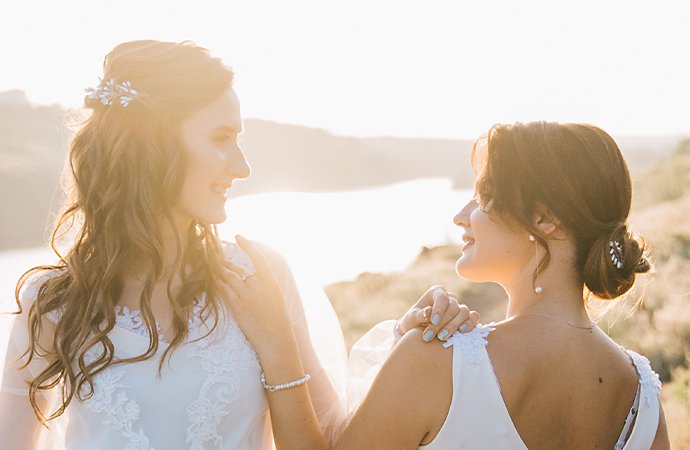 Prep like a pro for the big day.
Get to know your couple.
Build a strong relationship with your couple from the moment they reach out about availability and pricing. Most wedding videographers book up to a year in advance, so make sure to work your needs into the wedding planning early as well. This helps manage expectations about timing and capabilities and makes it more likely that everything will run smoothly when the action starts.
Ask the couple what three moments they're most looking forward to in the wedding. "Their answer tells me what I'll probably shoot more of," says Printz. It can also clue you in on which moments to emphasize in your final cut.
Wedding videos go beyond the happy couple. "Make a family shot list," suggests Printz. Learn from the couple which family members and loved ones are the must-have guests that they'll absolutely want to see in the footage. It will help ensure you get the shots you need on a hectic day.
Make a shot list.
Certain shots, such as the first look, the wedding vows, and the first dance, are wedding highlights you can count on at most ceremonies. Keep a shot list in your back pocket to refer to as the day unfolds.
"At some point, once you've done a few weddings, you're going to know which shots are the money shots," says Printz. Consider adding wide shots or aerial drone shots of the venue or landscape to help establish the scene, especially if it's a destination wedding.
Visit the venue beforehand.
You should also check with the venue about any rules or restrictions they may have that could interfere with your shoot. If you can, attend the rehearsal dinner, as this will be your rehearsal too. This gives you the chance to figure out how you will frame certain scenes, see the lighting in action, and become more familiar with shooting in the space.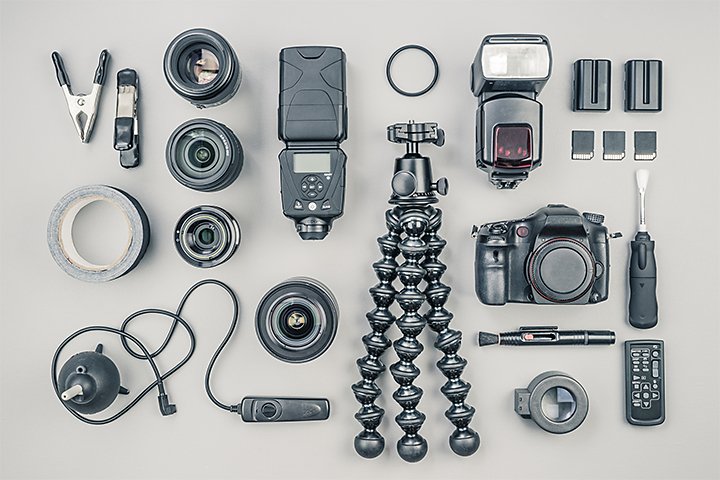 Any way you slice it, wedding videography requires a lot of gear. Even a bare-bones kit can fill out a large camera bag or case. If you don't know whether you should bring something, bring it anyways. It's better to be overprepared than underprepared since there are no reshoots when it comes to weddings.
Cameras
Cameras with a full frame sensor or Super 35mm sensor offer the highest resolution, and can create a shallower depth of field to help you get that cinematic look. But the industry adage that "the best camera is the one you have with you" rings true; it's better to work with a camera you know inside out than to miss a shot trying to handle an unfamiliar one.
If possible, it's best to have two cameras. That way you're prepared in case anything goes wrong with your main body. Or you can carry both cameras at once and not have to change lenses to change your focal length.
Lenses
A 24–70mm and a 70–200mm are good focal length options that will allow a wedding videographer to cover a lot of ground. "You could shoot the whole day on probably just a 24–70," says Printz. "But if you have a 70–200, it's great for ceremonies and speeches when you need to shoot from farther away."
Prime lenses — those with fixed focal lengths — usually have wider apertures, which allow for better low-light performance and shallower depth of field. But zoom lenses are the most versatile for weddings, where you have just one chance to capture moments in a variety of shooting situations.
Stabilization systems
Consider bringing a tripod, monopod, or a stabilizer like a gimbal to help you keep your shots silky smooth, because nothing takes the viewer out of a special moment like shaky camerawork.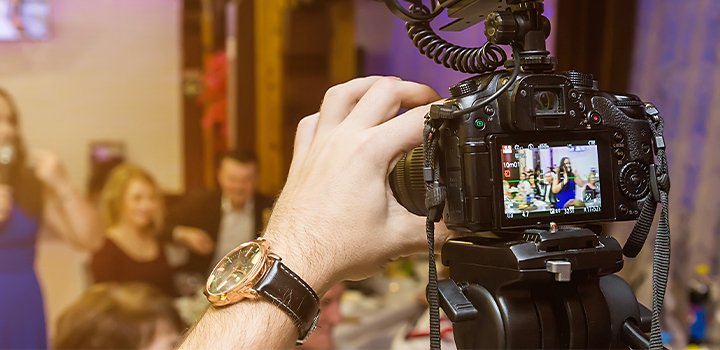 Lighting
"I bring my own lights to wedding receptions because I like to light the couple when they're dancing. DJ lights tend to be strobes with crazy colors, so I usually ask the DJ to let me use my lights for a little bit," says Printz.
For a more mobile option, you can bring an LED panel that attaches to your camera, or light modifiers that don't emit their own light but simply manipulate and redirect existing light. "If it's your first time, don't worry about lights right now," advises Printz. "Just try to shoot as much natural light as possible."
Audio recorders and microphones
"It could be the most beautiful wedding video you've ever seen. But if the wedding vows audio sounds horrible because I didn't record it correctly, it really takes you out right away," says Printz. "Audio is just as important as the visual component."
Bring a recorder and a lavalier microphone to attach to the groom's lapel if you'll be capturing audio of the day. Bridal dresses should stay mic-free, since the mic doesn't blend in as well. You can also bring a shotgun mic that attaches to your camera's hot shoe for recording other audio.
Extra storage and power
Weddings are long days, and you'll likely go through multiple batteries and memory cards. Avoid every videographer's worst nightmare by packing plenty of extra batteries, chargers, and memory cards, so you never miss a shot.
When you arrive at the venue, find a room or corner to set up your base camp and plug in your chargers. You can return to your base throughout the day to change out gear or batteries, or back up files on to go. Some like to shoot with dual memory cards in case one fails mid-shoot.
Things to consider as you film.
Embrace the unexpected.
Your shot list forms the backbone of the narrative, but it's the small, in-between moments that will make the video reflect the truth of the day. The best moments aren't always the biggest moments. Look for unstaged interactions that illuminate the couple's personality or that contribute to the tone and atmosphere of the day.
"The more you shoot weddings, the more you realize that you never know what's going to happen, and you just need to roll with it," says Printz.
Film lots of details too; from the wedding dress and the tux to the flowers, cake, rings, and table settings, opportunities abound. "I try to overshoot details, because you never know if the couple is going to ask if I got a shot of that one thing," says Printz. "And I don't want to say no. I'd rather just have a shot of it."
Shoot for contrast and depth.
"If you cut from a wide shot to another wide shot, you're going to get bored really quickly. You need visual contrast," says Flom. "Shoot a wide shot, then get a good medium shot, then go in and get a good tight shot. If you have those three angles for each moment of the day, you can tell a really good story."
Always be on the lookout for ways you can add layers and visual intrigue to your shot.
"Look at a Hollywood full-length film and there's a lot of depth. There's depth in lighting, in contrast, and there's physical depth," explains Flom. "If you're shooting a makeup shot, move the bride next to the window. Step two, let's turn off the lights. Step three, figure out a way to create some depth. Maybe you've got a beautiful white curtain — slide a bit of that in front of your lens. Now your shot has a unique, dreamy feel to it. When you create depth and stack up objects, you get a much more compelling image."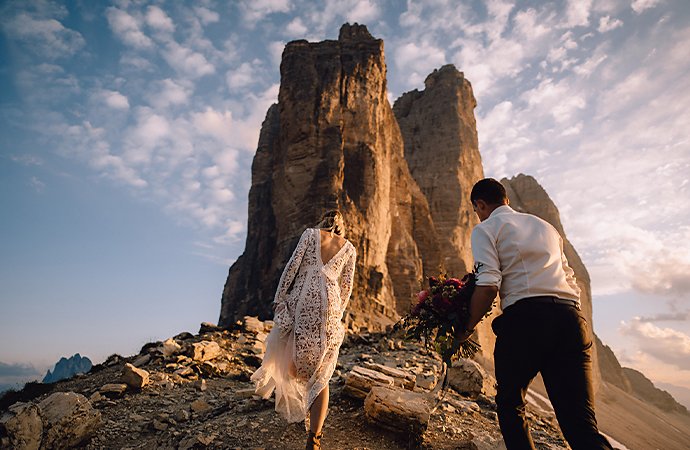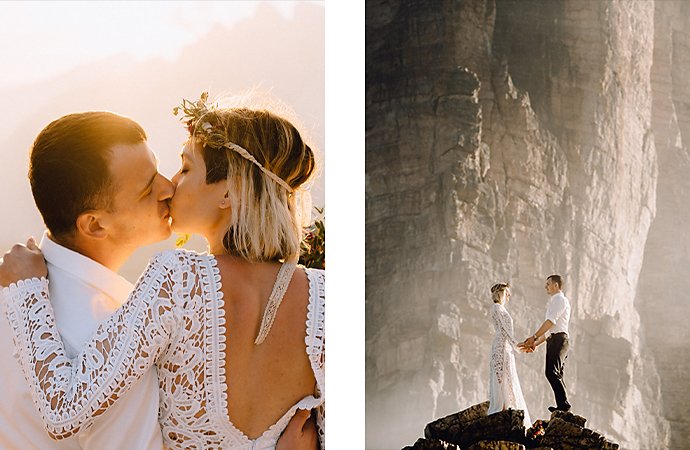 Tips for editing your video.
Back it up.

The first thing you want to do after wrapping the day is back up all your files. This may sound tedious but the importance of having an organized backup system cannot be overstated. Back up your memory cards onto a hard drive and a second hard drive as soon as possible. Storage is cheap compared to the possibility of losing your precious footage.
Shape your narrative arc.
Next, organize all your raw footage by scene or type of shot, then sift through your shots and make a rough selection of your favorites. As you think about how to cut and arrange your film, remember that like all good stories, yours should have a narrative arc to it. Set the scene, and then build to a crescendo that carries the most excitement or emotion.
Just because you need an arc doesn't mean it has to be chronological. "I used to do everything chronologically, but now I skip around," says Printz. "Everyone knows how wedding days go, so I can bounce around a bit and it will still make sense."
Stay true to the story and don't be afraid to get creative with how you edit. Ultimately, you want to walk away with a video that reflects the couple and your own unique style as a videographer.
Choose your audio and effects wisely.
"Don't pick a song before the wedding," advises Printz. "Music is very important. It can make or break a film. I like to make sure the song has some build, like a roller coaster. I don't like when it's one tempo all the way through."
Keep your transitions and extra effects to a minimum to prevent it from feeling overproduced. It's a good idea to talk with the couple early on about their style and vision for the video. Chances are they picked you because they like your unique style, but their input can help you make sure the video hits the mark.
Get into your groove as a wedding videographer.
For those of you who plan to create your own wedding video but are overwhelmed by the details, check out these tips to keep stay calm and catch incredible footage.
While there are certain times it's better to melt into the background with your camera, there are also times when you'll need to flex your directorial muscles to achieve your vision.
"The first thing you need to understand about the wedding day is that you're hired to be a creative director," says Flom. "So if you walk into a room and the lighting is horrible, you have the ability to look at it and say, 'What can I fix? What can I change?'" Sometimes all it takes is a gentle redirection to help a scene shine in its best light, literally and creatively.
Expect mistakes to happen. You'll miss shots and things won't go as planned, and that's all part of the game. With experience comes expertise, but no two weddings are the same, and even the best in business are caught off guard sometimes. Don't get discouraged; focus on making the best wedding video you can make, and take what you learned into your next wedding.
Lastly, don't forget to relax and enjoy yourself at the wedding. After all, a wedding is just a big celebration and you get to film all the fun.